At the foot of 15 narrow wooden steps, a lounge barely bigger than a bedroom holds an enthusiastic multicultural crowd grooving to the jazz stylings of Christian Lauretta and the George-Edouard Nouel Trio.
It's a Friday night on a holiday weekend in May, and the performers' Caribbean-influenced, Creole-flavored jazz has packed the Le Bab-Ilo bar. Clad in black tuxedo tails and a broad-brimmed hat, Lauretta is a captivating showman, dancing and engaging the audience as he sings in French and Creole. Along with pianist Nouel, bassist St. Aime Prosper and drummer Serge Marne, Christian leads a two-hour set featuring modern jazz tunes and American classics such as "Tutu," "Take Five" and "Moonlight in Vermont."
The 15th annual Festival Jazz a Saint Germain-Des-Pres is underway in Paris, but tonight some choose to gather at this family-owned, 31-year-old spot in Montmartre, where jazz first came to the city of love.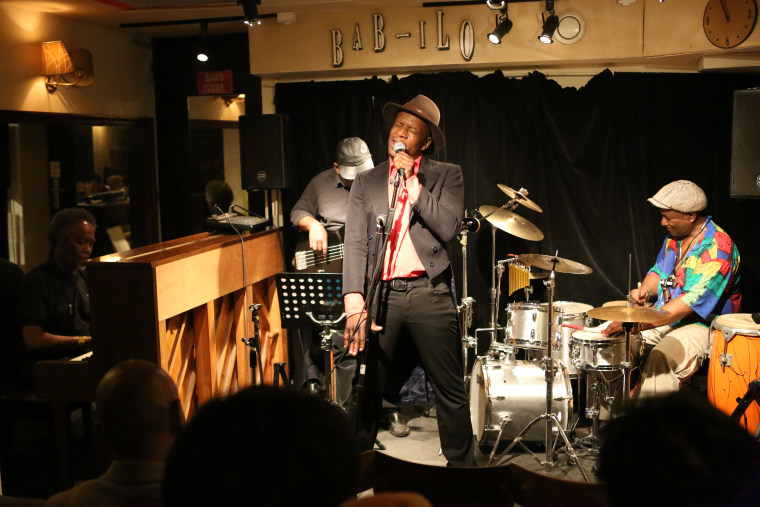 For decades, Paris has had a considerable hand in the development and nurturing of jazz musicians from around the globe. The rich roots of jazz run deep in Paris, where it landed after World War I with a small group of African-American troops in the 369th Infantry combat regiment. The soldiers had formed a jazz band during the war and returned to perform in France, where they were awarded the nation's prestigious Croix de Guerre for valor. The French embraced the veterans and their unusually soul-stirring music.
Nearly three in four of the French-dubbed "hellfighter" troops hailed from Harlem, where jazz was in full swing by the time they took up arms to fight under French command in the war. As jazz grew popular in Harlem, New Orleans, and other cities across the United States, it blossomed in Paris – particularly in Montmartre, which eventually became known as the Harlem of Paris. Jazz influenced by the U.S. and West Indies took shape within the small confines of basement cabarets and stone cellars.
Today, with jazz clubs at the forefront of the Parisian cultural experience, the city has become a haven for emerging artists—especially Black American artists, said Sean Jones, Chair of the Brass Department at Berklee College. Jones, a Mack Avenue recording artist, has performed in Paris for decades, including gigs with the Jazz at Lincoln Center Orchestra, the Marcus Miller Band and the noted Jazz in Marciac festival.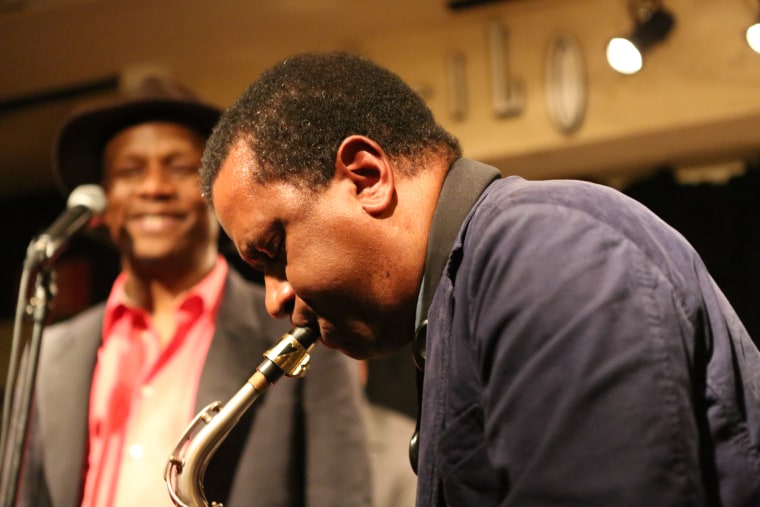 "There is a general acceptance for Black music in Paris that has definitely given Black artists a support system. You can find consistent work and government subsidies to cover housing and living expenses to pursue your craft."
The support is also evident in the expressive French audiences.
"They are a sophisticated audience that is not afraid to let you know that they are enjoying the music and what they don't like," Jones added. "They're opinionated. They are expecting you to bring something new to the table. No plug n' play. You know you'll perform on a different level because they push you."
Among guests this night at Le Bab-Ilo is Gilbert Ortole, who plays jazz saxophone as a hobby. He has walked 10 minutes from his home in Montmartre to support fellow jazz musicians, and later in the evening they invite him onstage to play alto sax on a couple of tunes.
"Jazz in France is similar to jazz in the United States, but it's different," says Ortole, who moved from Martinique to Paris in 1979 and says he has visited several jazz spots in the U.S. "We give jazz a Caribbean feel. There is also the French culture in the mix. It's a different way to play, but the source is common. The basis is American jazz. I was influenced by bebop and Charlie Parker and John Coltrane and many others."
Relaxing among guests, Ortole says he enjoys listening to jazz as much as playing.
"It's something I need after a day of work to relax."
Lauretta, speaking through an interpreter after the performance, says he began listening to jazz at the age of 11 and has been singing it for about 20 years. The Martinique native knows little about the history of jazz, only what Nouell – who also hails from Martinique – has informally taught him. But Lauretta knows how jazz makes him feel.
"It makes me feel like I'm flying, like I have wings."
[This story is the second of a three part series written by journalists from the Pittsburgh Black Media Federation reporting from Paris on the black diaspora. You can follow their trip on tumblr. Read part one here: Part I: Traveling Noir: Walking in the Footsteps of Black Americans in Paris ]