A number of portraits of tenured African American professors at Harvard Law School were discovered defaced on Thursday morning, marked up with a single slash of black tape covering their faces.
The incident is being investigated by University Police as a "hate crime."
In a statement released Thursday afternoon Harvard School Law Dean Martha Minow condemned the vandalism adding, "Here at HLS, we are focused on efforts to improve our community, examining structures that may contribute to negative experiences of any members of our community, and pursuing opportunities where the School can both change and support change."
Despite the low-brow vandalism at the Ivy-League institution, many students were stunned but not surprised, according to Rena Karefa-Johnson, head of Harvard Law's Students for Inclusion. She said a culture of exclusion and racism has been alive and well ever since she started classes two and a half years ago.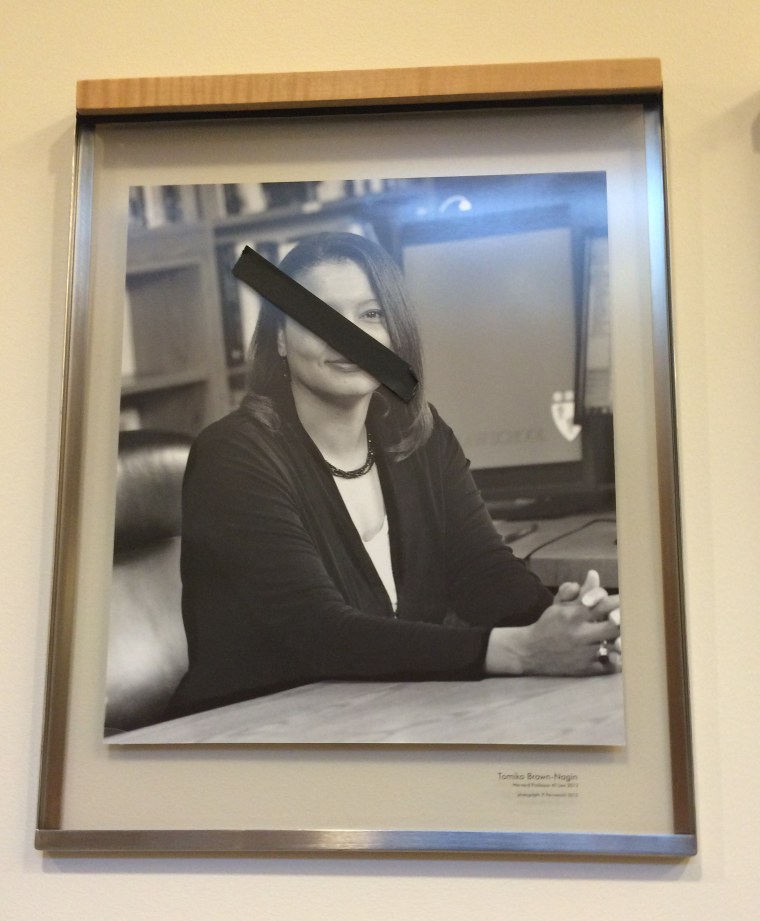 "People tend to be more elegant in their racism," she told NBCBLK. "But it is here as well as many other schools across the country. Harvard Law is intimately involved in maintaining the status quo here and in the world."
In an essay for Blavity, First Year Law Student Michele Hall called the vandalism "a further reminder that white supremacy built this place, is the foundation of this place, and that we never have and still do not belong here."
"Your diploma will not protect you from someone's racism. You are just as vulnerable at everyone else."
Karefa-Johnson believes the actions were in direct retaliation to an educational art exhibit displayed Wednesday night in support of changing the law school crest which is based on the crest of the school's slave-owning founder, Isaac Royall. "These actions are very much connected to wanting to silence black student activists," she said.
The black tape was removed by Thursday afternoon. In its place, students affixed post-it notes around the picture frames — "thank you", "we love our black faculty", and "you are a role model" — in support of the professors.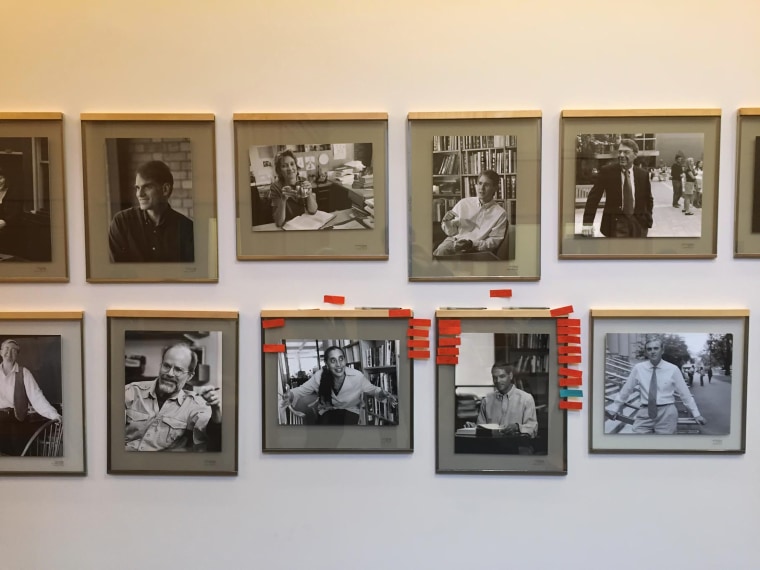 "I, for one, feel privileged to have had the opportunity to think alongside trailblazers like these," Harvard Law Student Rodrigo Seira wrote on Instagram. "HLS should celebrate its black and minority professors everyday, they are the role models our communities desperately need."
Despite these exhibits of positivity, Olivia Castor, a third year student at the College, considers the situation a sobering moment for all students of color at Harvard.
"If the mission of the school is to teach its students to work towards justice, then the institution itself needs to also be committed to doing that work within itself."
"We see these instances happening on other campuses and we think to ourselves, 'This does not impact us here at Harvard'," she said. "But it does. Your diploma will not protect you from someone's racism. You are just as vulnerable as everyone else."
The Harvard Black Law Students Association (HBLSA) agrees. In a statement released to NBCBLK, the group states that Thursday's "act of vandalism, motivated by racial animus, is not an isolated incident at Harvard Law School."
What is even more ironic to Castor is that just this week, President Drew Faust emailed what she considered a "pretty good letter" to the Harvard community in recognition of their efforts of solidarity with students at the University of Missouri and Yale. On Wednesday students at Harvard staged a walkout and later joined with students from Tufts for a demonstration at Porter Square near Cambridge
In the letter Faust stated, "Today, I want to reaffirm what I stated a little more than a year ago: it is well beyond time 'for Harvard to ensure the fundamental justice that guarantees every member of this community an honored seat at the welcome table.' We have much work to do to make certain that Harvard belongs to every one of us that the diversity we strive to achieve also becomes belonging."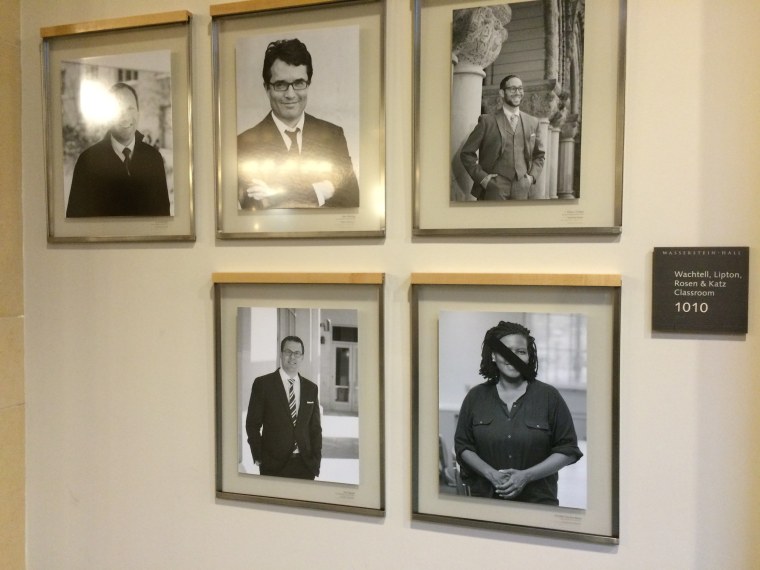 Dean Minow, held an impromptu community discussion with some 300 students, faculty and staff after student leaders interrupted a class she was teaching Thursday afternoon to request some kind of action in response to the defaced portraits.
According to HBLSA, Minow acknowledged the racist culture of Harvard during the meeting. They consider the meeting at least a starting point. Moving forward, Karefa-Johnson says they are continuing their work of education, awareness and demands of action.
"If the mission of the school is to teach its students to work towards justice, then the institution itself needs to also be committed to doing that work within itself," she said. "Why do we need to spend so much of our hours of our week to educate others about racial injustice? It should not be the work of the students but the school's to make this place more inclusive."