A large number of black candidates claimed victory in state and local races across the country Tuesday night — results widely hailed as a reaction to President Donald Trump and Republican policies in general.
And voters of color were buoyed by both the Democratic National Committee and grassroots organizations that poured resources into turning out the party's all-important base.
"Undoubtedly a cornerstone of our party, black voters surged to the polls in a tremendous way, set the tone for future elections, and paved the way for government that truly represents them," said Amanda Brown Lierman, political and organizing director for the DNC, in a statement. "That's exactly why we will continue to engage black communities across the nation and fight to ensure every single eligible voter has the power to exercise their franchise."
One of the most closely watched races in the country was the contentious gubernatorial battle in Virginia, which pitted Democrat Ralph Northam against Trump-endorsed Republican Ed Gillespie in a contest filled with allegations of race-baiting and attack ads. According to NBC News exit polls, 87 percent of African-Americans in Virginia voted for Northam, compared to 88 percent who voted for Hillary Clinton. Ninety-one percent of African-American women also voted for Northam.
Northam emerged the victor and the number two man on his ticket — Justin Fairfax, who is black — is the new lieutenant governor-elect. Fairfax now has the distinction of being just the second African-American elected to statewide office in Virginia, decades after Doug Wilder was elected governor in 1989.
DNC officials said the party invested $1.5 million in Virginia to help secure wins. They also courted African-American voters.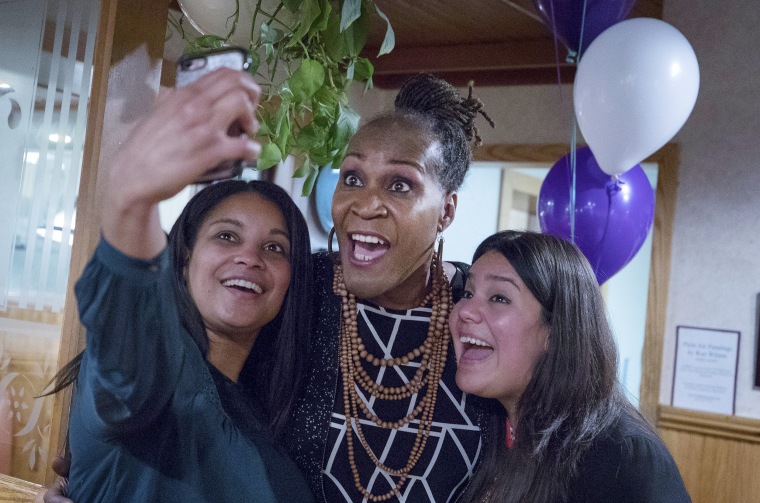 For instance, Brown Lierman said that since last summer, the party has been committed to spending on a mail program that reaches out to black communities.
In Virginia, where African-Americans make up about a fifth of the commonwealth's electorate, the DNC said 100 percent of its investments "went into doubling the number of organizers and putting boots on the ground."
Officials said they also invested in a black women's mobilization program, called InCharge. "Yesterday in Virginia, over 90 percent of black women cast ballots for Governor Ralph Northam," said Brown Lierman.
In another race watched nationally, veteran lawmaker Sheila Oliver, 65, was elected the first African-American lieutenant governor of New Jersey.
In Charlotte, North Carolina, Vi Lyles, 66, became the city's first African-American female mayor. The former assistant city manager garnered some 58 percent of the vote.
Kimberly Peeler-Allen and Glynda Carr are co-founders of Higher Heights for America, an organization that works to elect black women to office. African-American women have historically voted in significant numbers, they noted, and in 2016, their influence helped increase the number of black women in Congress. The numbers rose by three to 21 — that includes Sen. Kamala Harris, only the second black woman elected to the Senate in U.S. history.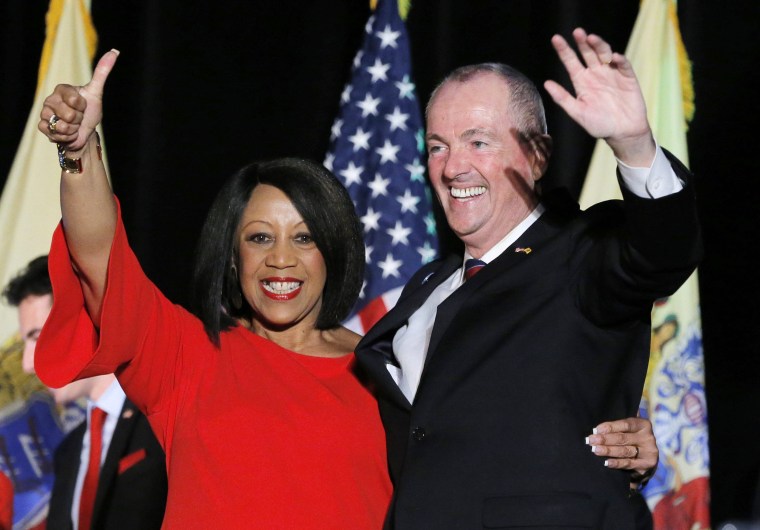 "Black women are running and winning. They seek to change the face of leadership in executive offices and to move this country forward in this political toxic environment," said Peeler-Allen. "Last night, black women across this country continued to demonstrate that they continue to be a solid return on investment at the polls and at the ballot."
Meanwhile, a host of other African-American candidates won local and statewide races in major cities and small towns across the country. Some races were historic.
Andrea Jenkins won a seat on Minneapolis City Council, becoming the first openly transgender African-American woman elected to public office in the U.S.
Another noteworthy win occurred in Montana, where Wilmot Collins, a Liberian-born immigrant, became the first African-American mayor in Helena in modern times; reportedly there was a black mayor in 1874,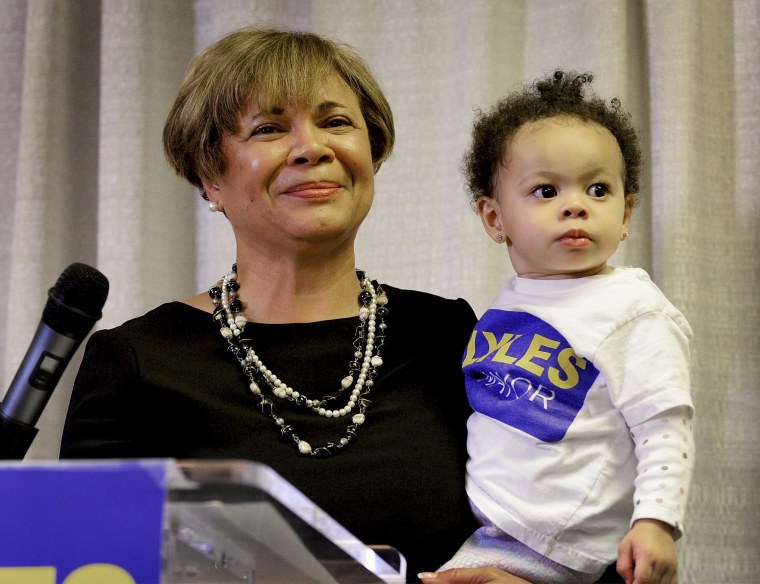 At least seven cities elected African-Americans mayoral posts in Tuesday's election: Yvonne Spicer, first mayor of the newly incorporated city of Framingham, Massachusetts, Melvin Carter, mayor of St. Paul, Minnesota, Mary Parham Copelan, mayor of Milledgeville, Georgia (She beat the incumbent by just six votes), and Booker Gainor, millennial mayor of Cairo, Georgia.
In Atlanta, Keisha Lance Bottoms, an African-American Council member, will face off against Mary Norwood, a white colleague, on Dec. 5 to determine the city's next mayor.
Political strategist Quentin James an NBCBLK28 2017 honoree, is co-founder of The Collective Pac, which funds campaigns of progressive black candidates across the country. The political action committee endorsed both Fairfax and Oliver, along with Marvin Pendarvis, Jennifer Carroll Foy, and other victorious black candidates.
"When we fully fund and support black candidates, we can win ... there is no lack of talent in our community and geography isn't an issue," said James. "We have black candidates who are ready to lead this country."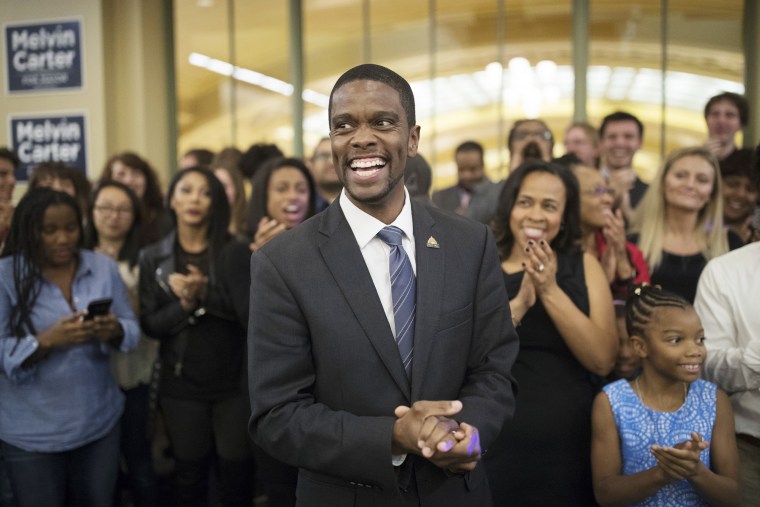 He also said voters of color should be thinking about midterm elections next year.
"When it comes to black voters, we need to recognize that they are angry and tired of the status quo," he said. "We deserve leaders that are going to fight for our issues and last night, black voters supported candidates that they believe will best represent our communities and will stand up for our values."
Brown Lierman of the DNC echoed a similar sentiment.
"With their ballots, the African-American communities across the nation sent a loud, resounding message to Republicans who hold water for Donald Trump and try to use his hateful rhetoric as a vehicle for political success — you do not represent us."