Admirers of fashion designer Beverly Olivacce spent the afternoon at MIST in Harlem for a sneak peak of Olivacce's latest designs over Sunday brunch. The event titled, "A Woman Speaks," included a panel of five women, each forging a niche for themselves in the fields of business, communication and fashion.
Panelists included radio host, Debbie Nigro of "The Debbie Nigro Show," lifestyle fashion consultant, Porsha Sharpe, Sherry Blair, CEO of the Sherry Blair Institute and Princess Jenkins, owner of The Harlem Boutique. Louise Newsome, a director for the National Association of Professional Women, moderated. Olivacce also showcased two separate lines, "B-Olivacce," which is attributed to the everyday working woman, and "Beverly Olivacce," her high-end line filled with elegant evening wear.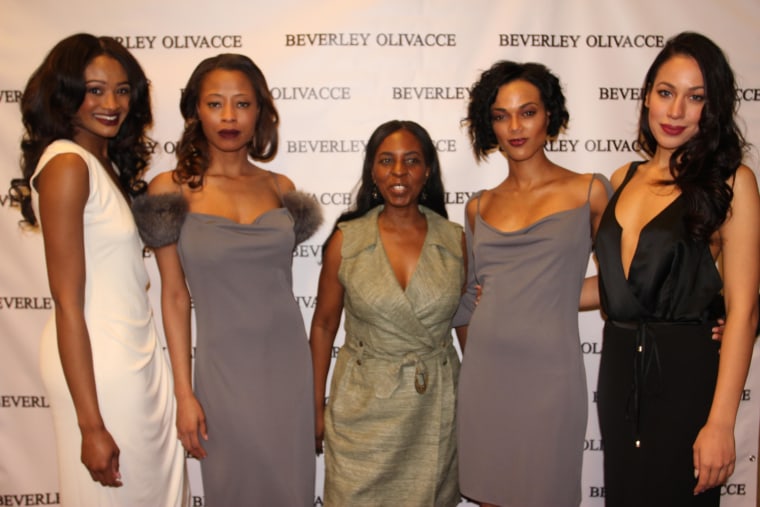 "I wanted to make sure that women were informed by other professional women, what it takes to stay in the game." Olivacce said, explaining the significance of her event.
The designer, who was born and raised in London, England and currently resides in New York, has over 19 years of experience in the field of fashion and apparel design. Olivacce plans to take her concept show on the road, travelling throughout the Northeast. "This is a movement, it gives women the opportunity to come together and see the collection," Olivacce said.
The panelists dived deep into personal stories, attributing their success to overcoming trials and tribulations riddled with poverty, failed relationships and low self-worth. Blair, who spoke first, shared her testimony of surviving on welfare while single-handedly raising a family. She said that her aggressive determination to provide a better life led her to become the CEO of her own company. Sharpe, the youngest member on the panel, said her mother was her only lifeline for support, encouraging her to pursue her dreams in fashion and entertainment.
Others, like Nigro, touched on themes of self-reliance and female empowerment. "We're in a new place for girlfriends helping girlfriends," Nigro said. She spoke of a moment where she relied heavily on a former partner who mismanaged funds leaving her nearly broke until a business associate stepped in with a last minute loan.
Jenkins dissected the effects of gentrification on the business community, explaining that she's seen many of her peers lose their dreams to the rising cost of rent in Harlem. Overall, the women encouraged each other's view points, mostly discussing the importance of self-awareness and perseverance.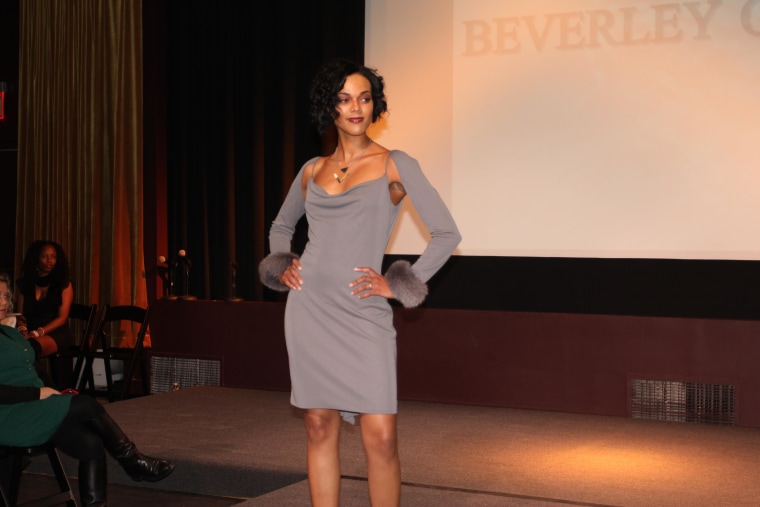 Sunday's event closed with two separate fashion shows, both designed by Olivacce. The first line showcased business wear and the need to dress for any and every occasion. "Women should put their best foot forward every day," Olivacce said.
She further explained the importance of her business line by saying, "casual Friday has kind of destroyed the effort," and stressed the importance of comfort and affordability in her product. She wore one of her own designs to the event, a green wrap dressed with gold buttons and a belted waist, proving that her designs can be transferred from the office to after hour wear.
Olivacce's second line was more formal, showing off sleek dresses, some accentuated with silk, chiffon, glitter and fur. Olivacce offered one thought to keep in mind when putting together an outfit. "What you're wearing speaks before you do," she said.