Keisha Allen recalls the day a student at Hope Academy, a charter school with some 530 students in Detroit, came to school with a knife. Ordinarily, under the school's zero tolerance policy, that would result in a 10-day suspension.
But instead, school officials employed what's called "restorative practice" to address the problem, and so they asked the student why he had brought the knife to school.
"The young man lived in a home with his mother and her boyfriend, who beat them both. That morning the guy threatened to kill him," said Allen, the executive director of Black Family Development Training Institute, which focuses on restorative practices and has a subsidiary that manages Hope Academy.
"He brought the knife because he believed his mother's boyfriend was coming to kill him," she said. "With zero tolerance, we would have sent him right back to the same environment. Restorative practice allows you to uncover what happened before this and what can happen now after this."
Under the zero tolerance policy, Hope Academy suspended 133 students in 2017. The following year, after adopting a new state law, the Detroit charter school with some 530 students suspended just seven pupils.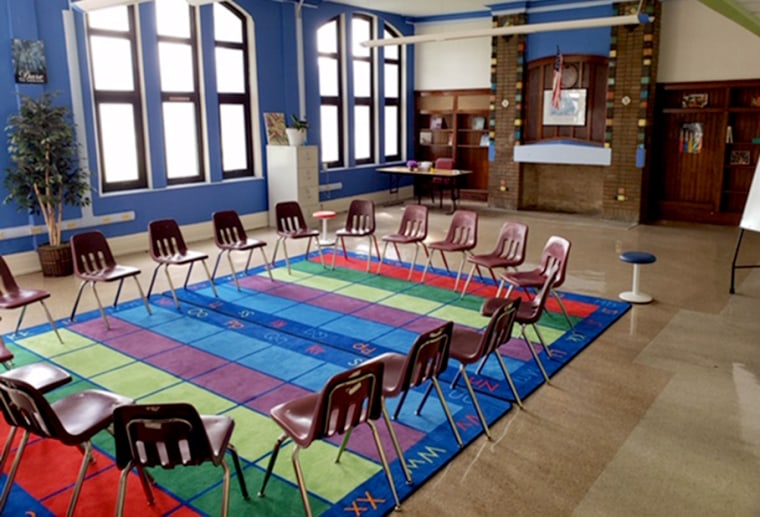 In 1994 federal legislation began requiring states to expel any student who brought a firearm to school or lose federal funding.
"In Detroit, as in other parts of the country, we knew black and brown boys of color were being suspended disproportionately," said Keisha Allen, Executive Director of Black Family Development, Inc. Training Institute, which focuses on restorative practices training and has a subsidiary that manages Hope Academy.
"Restorative practice creates opportunities for paradigm shifts," said Allen.
In 2016 Michigan passed a law stipulating that before a student can be suspended, school administrators must address discipline situations using other strategies besides zero tolerance. The following year, the Detroit Public School System rewrote its Code of Conduct, which according to the school system website now includes the possible use of restorative practices as an alternative "or in addition to suspension or expulsion.
"Restorative practices mean practices that emphasize repairing the harm to the victim and school community," the site says. Instead of focusing on punishment for the offenders, a restorative approach asks: What happened; Who was harmed or affected by the behavior; What needs to be done to make things right; How can people behave differently in the future.
Through restorative school practice students take responsibility for their actions and address the harm they cause to other students. But the students involved also have a say in disciplinary decisions. This means administrators as well as teachers and parents have to view the offenders different than in the past.
Hope Academy has been on the forefront of restorative practices in the city.
"At Hope, the real work was with the staff, who was accustomed to a zero tolerance atmosphere," said Allen.
The Detroit public schools continue to tweak their Code of Conduct and responses to disciplinary situations, said Iranetta Wright, Deputy Superintendent.
"Last year, ...across the board, we saw a decrease of out-of-school suspension," said Wright. "Our goal is to reduce the out-of- school suspensions or use it only for those things that are most egregious offenses, so that the student stays in a learning environment."
Ralph Godbee, chief of police for the Detroit Public Schools Community District, wholeheartedly supports the use of restorative practices. He has even had his officers lead restorative circles, which student offenders attend with the victim to discuss the harm caused and mete out an agreement to address it before the offender can return to class.
"We need to do all we can to keep children in a learning environment. We found out with zero tolerance we were exacerbating things that impacted violence, like having kids hanging out at skipping houses," said Godbee. "We already have conditions such as the disproportionate number of black and brown people stopped by police, the over incarceration in black and brown and poor communities.
"I don't want to see school police exacerbating that issue."
This story appears as part of coverage for "NBC News Learn Presents: Education Now Detroit," a two-hour live community event supported by the Chan Zuckerberg Initiative. For more information, go to nbcnews.com/learndetroit.