Education Secretary Betsy DeVos drew wide-spread criticism after describing historically black colleges and universities (HBCUs) as "pioneers when it comes to school choice" — prompting lawmakers to slam the remark as everything from "tone-deaf, uninformed" to "totally nuts."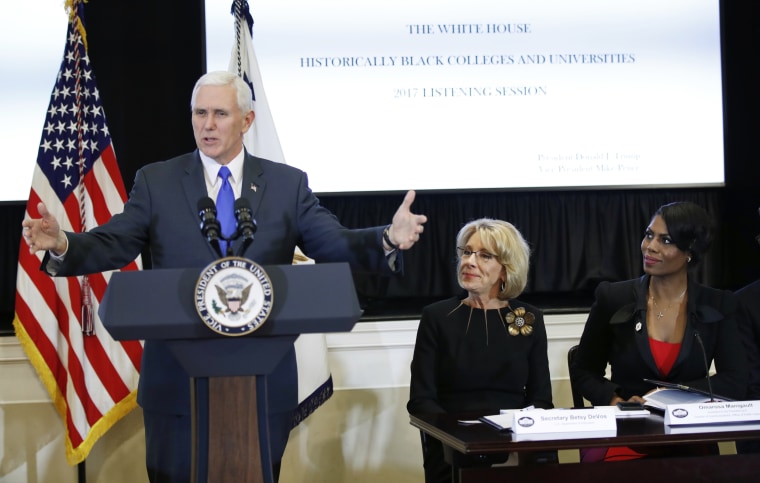 DeVos made the comment in a meeting with dozens of HBCU presidents who had met with President Donald Trump in the Oval Office Monday.
In a statement released after a listening session with the leaders, Devos noted that "HBCUs are real pioneers when it comes to school choice. They are living proof that when more options are provided to students, they are afforded greater access and greater quality. Their success has shown that more options help students flourish."
Many were quick to point out, however, that HBCUs were born out of a lack of options for black Americans following the Civil War — when segregation and Jim Crow laws barred them from attending institutions of higher education.
DeVos appeared to clarify her initial statement on Tuesday during a congressional luncheon with HBCU leaders in Washington, D.C., where she acknowledged that the colleges and universities were born out of racism in the aftermath of the Civil War.
"Providing an alternative option to students denied the right to attend a quality school is the legacy of HBCUs," she said. "HBCUs remain at the forefront of opening doors that had previously been closed to so many. You made higher education accessible to students who otherwise would have been denied the opportunity."
During her remarks, DeVos shared the story of Mary McLeod Bethune, an African-American educator and philanthropist who, in 1904, founded Bethune-Cookman University — an HBCU in Daytona Beach, Florida.
"In 1904, with nothing more than $1.50 in her pocket and a vision and determination in her soul, Mary built a school from scratch to serve African-American children," DeVos said.
California Rep. Barbara Lee denounced DeVos' initial statement in a tweet.
"Tone-deaf, uninformed statement from DeVos. #HBCUs weren't 'more options' for black students – for many years, they were the ONLY option," Lee wrote.
Sen. Claire McCaskill also chimed in on Twitter, caling the statement "totally nuts."
"DeVos pretending that establishment of historically black colleges was about choice not racism," the Missouri congresswoman said on Tuesday.
President of Dillard University Walter Kimbrough told NBC News that DeVos' statement represented a "poor choice of words" and said the new education secretary has a "steep learning curve."
"I believe the Secretary was trying to connect her work with school choice and HBCUs," Kimbrough told NBC News. "It was a poor choice of wording and I think she has a steep learning curve with regard to higher education and HBCUs, but I just saw it as an error in attempting to connect. She spoke again today and modified that idea by saying that our history was born not out of mere choice but necessity."
Wade Henderson, president of the Leadership Conference on Civil and Human Rights, also skewered DeVos, suggesting she "study the history" of HBCUs and "check the facts."
"HBCUs were created in response to a racist system of segregation that saw the education of black people as a threat to white supremacy — a belief central to slavery — and that refused to allow black people to participate in the education system available only to white people," Henderson said in a statement.
This isn't the first time DeVos has come under fire since being nominated by Trump. During her confirmation hearing, Sen. Al Franken asked DeVos questions about the debate between proficiency and growth in public schools, an issue with which she appeared unfamiliar.
"It surprises me that you don't know this issue," Franken said at the Jan. 17 hearing.
Trump signed an executive order Tuesday afternoon moving the White House Initiative on Historically Black Colleges and Universities back under the oversight of the White House rather than the Education Department. Surrounded by HBCU presidents in the Oval Office, Trump said the order will "make HBCUs a priority of this White House."
In 1980, President Jimmy Carter signed an order granting more federal funding and resources to the colleges, which later morphed into the White House Initiative on Historically Black Colleges (WHIHBC) and Universities under President Ronald Reagan. Since then, the initiative has been under the umbrella of the Education Department.