Bethune-Cookman University graduates booed, turned their backs and walked out during Education Secretary Betsy DeVos' 22 minute commencement speech on Wednesday — all in an effort to make it known they didn't want her, as a representative of the Trump administration, to speak on their special day.
One person was physically removed by police from the Daytona Beach, Florida, auditorium.
"If this behavior continues, your degrees will be mailed to you. Choose which way you want to go," the school's president, Edison Jackson, told the graduates.
For a little over a week, students and alumni have protested DeVos' scheduled appearance as commencement speaker. Her remarks in February that historically black colleges and universities "are real pioneers when it comes to school choice" sparked outrage in the black community. The institutions were founded during the segregation-era when minorities weren't allowed to attend the same schools as whites.
She walked back those comments, saying, "Providing an alternative option to students denied the right to attend a quality school is the legacy of HBCUs."
DeVos faced backlash after her appointment of Candice Jackson as deputy assistant secretary in the Office for Civil Rights, someone who once said she was discriminated against for being white. And people expressed anger on social media on Monday after HBCU was spelled "HCBU" in a statement from DeVos on the Education Department's website, an error that has since been corrected.
On Wednesday, DeVos pressed on with her speech, despite the boos.
"I am grateful for the opportunity to speak with you, and particularly with those who have disagreed with the invitation for me to be here," DeVos said. "One of the hallmarks of higher education, and of democracy, is the ability to converse with and learn from those with whom we disagree."
"And while we will undoubtedly disagree at times, I hope we can do so respectfully," she said. "Let's choose to hear each other out."
Faculty stood in solidarity behind DeVos as she spoke, and Jackson stood with arms folded and eyebrows furrowed while audience members booed and graduates stood with their backs turned.
The jeers subsided as she spoke to graduates on the importance of following in the footsteps of founder Mary McLeod Bethune, an educator, civil rights activist, founder of the National Council of Negro Women and an honorary member of Delta Sigma Theta Sorority Inc.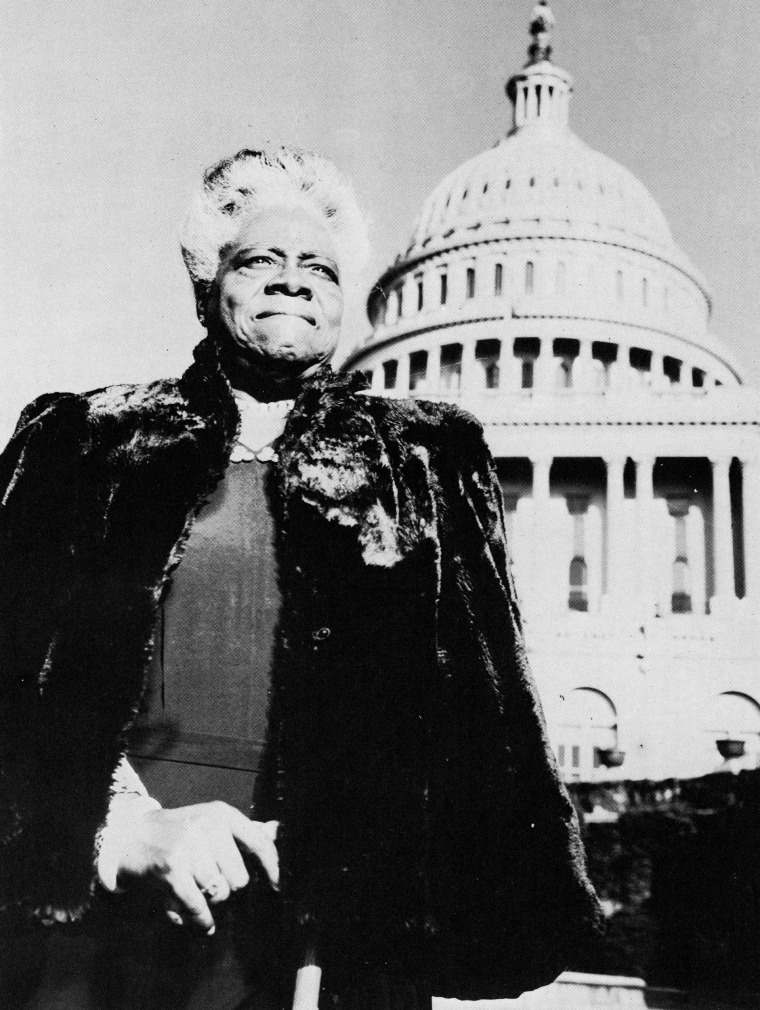 Hadiya Bomani, a graduate and member of Delta Sigma Theta who turned her back to DeVos, said the issue is deeper than the commencement speech.
"It's more so the university that we have an issue with at the fact that they brought her to our celebration," Bomani said. "It wasn't time for them to make a political decision on our behalf, it was a time to celebrate us."
However, the boos started up again when DeVos said she would visit Bethune's grave and "pay her respects."
Bethune is buried on campus. Her home is also located on campus, which has been designated a national landmark.
Related: DeVos Slammed as 'Totally Nuts' for Calling HBCUs 'Pioneers of School Choice'
While school staff read a list of DeVos' accolades and accomplishments during the presentation of an honorary doctorate, she was once again booed, and an audience member shouted, "You're not a Wildcat" — the school's mascot.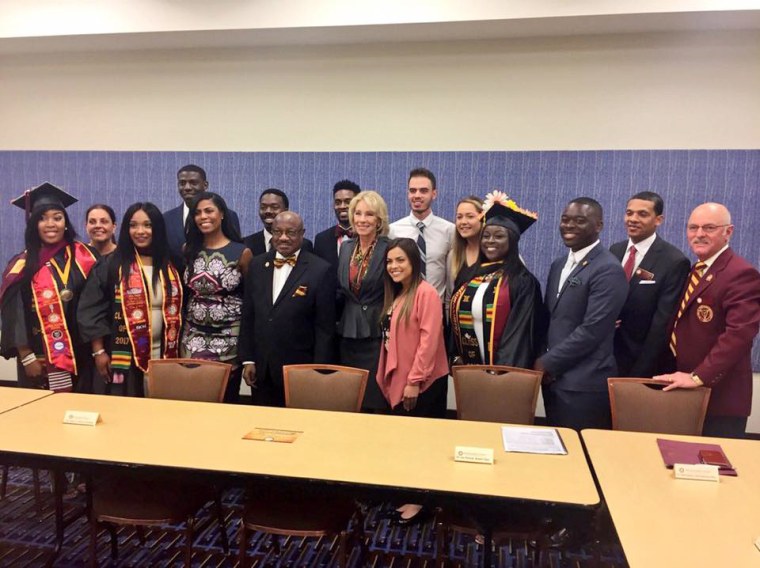 In a statement later, DeVos said: "One of the hallmarks of higher education, and of democracy, is the ability to converse with and learn from those with whom we disagree. I have respect for all those who attended, including those who demonstrated their disagreement with me."
DeVos started the day with students and school officials in a closed roundtable discussion. She was greeted with protests from students and alumni outside the graduation arena.
Scott Johnson held a sign that read "DeVo$ is not a role model."
"This commencement speaker is an insult to this community," he said. "This commencement speaker represents everything that is not Bethune-Cookman and has no place here."
Alumna Cris LaNiese said that DeVos doesn't understand her school's principles and that allowing her to speak at graduation is "a slap in the face."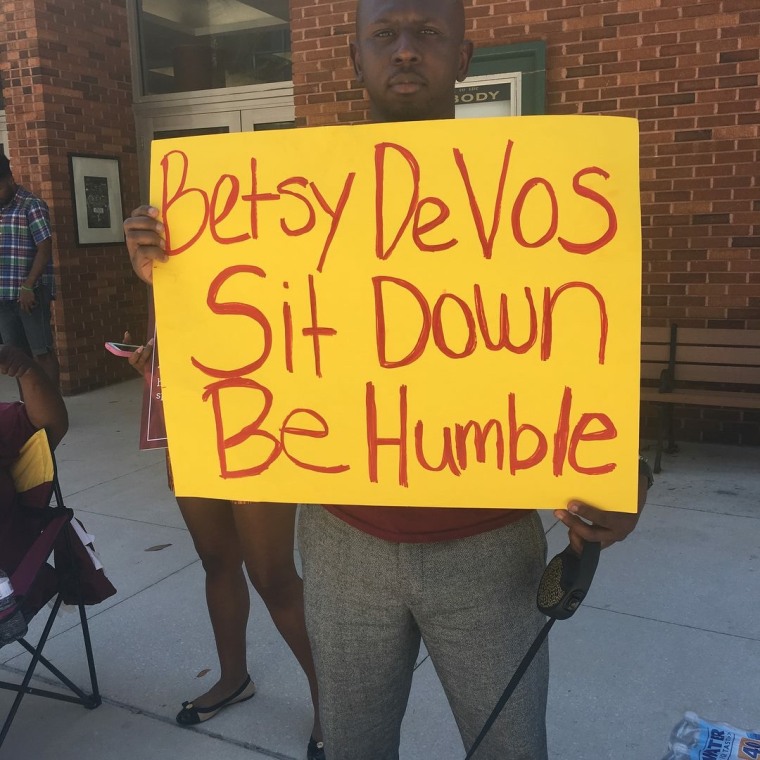 "When we refer to our institution as sacred ground, we really do mean it. Betsy DeVos knows nothing about that," LaNiese said. "If anything, I'd be surprised if she could separate Dr. Bethune and Harriet Tubman in a picture lineup. She's not familiar with us."
On Tuesday, students hand-delivered boxes with more than 60,000 petitions to school administrators demanding that DeVos be removed as commencement speaker. The Florida chapter of the NAACP has called for the resignation of Jackson and university board Chairman Joe Petrock after rumors surfaced that the school would punish students who protested DeVos.
Related: What Is the Future for America's Historically Black Colleges and Universities?
Alumni and former student leaders wrote an open letter to administrators denouncing their decision to invite DeVos.
"If we accept and acquiesce in the face of discrimination, we accept the responsibility ourselves. We should, therefore, protest openly everything ... that smacks of discrimination or slander," alumni said, quoting the school's founder.
"It is disheartening that our alma mater has chosen to invite a speaker who supports policies that serve to harm, not help, Bethune-Cookman University (B-CU)."
Jackson defended Devos and said her visit was a good opportunity for the university.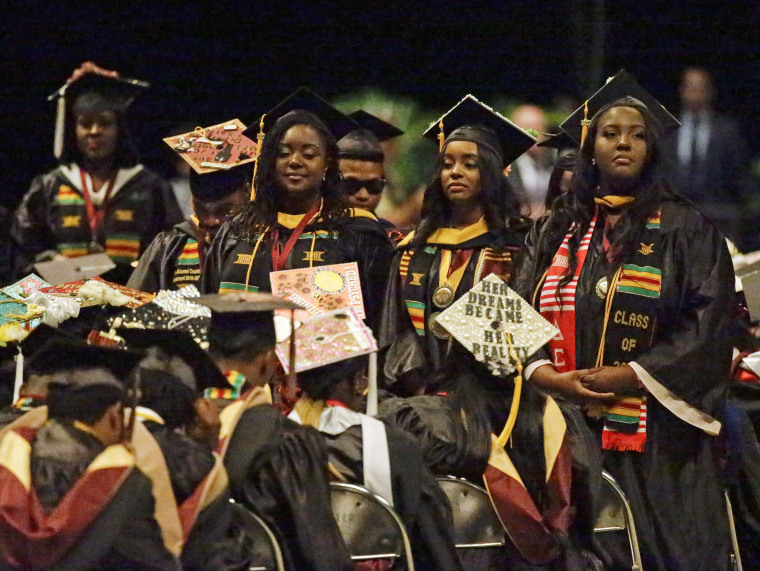 "It's a wonderful experience for our graduates, because how many institutions have a national figure to be their commencement speaker? We're always about the business of making new friends," Jackson told reporters before the speech. "If you don't have friends, it's very difficult to raise money. Her department controls roughly 80 percent of Title IV money and grants, so why wouldn't we want to make friends? Is it illogical to talk about making new friends?"
Students were outraged not only by the presence of DeVos, but also that of Omarosa Manigault, director of communications for the White House office of public liaison. When Jackson acknowledged trustees and guests, asking them to stand, Manigault was met with scant applause from graduates and with boos.
"You don't know her, nor do you know her story," Jackson said.
And then the audience booed him, too.
Related: Exclusive: Omarosa Manigault on Trump's Executive Order on HBCUs
President Donald Trump met with HBCU presidents in February, signing an executive order promising to make HBCUs "a priority" of his administration. In an attempt to fulfill his promise, he is moving HBCUs into the White House and released a statement Sunday saying, "Selecting an Executive Director and Board for my HBCU initiative and continuing this important work with HBCUs throughout the nation."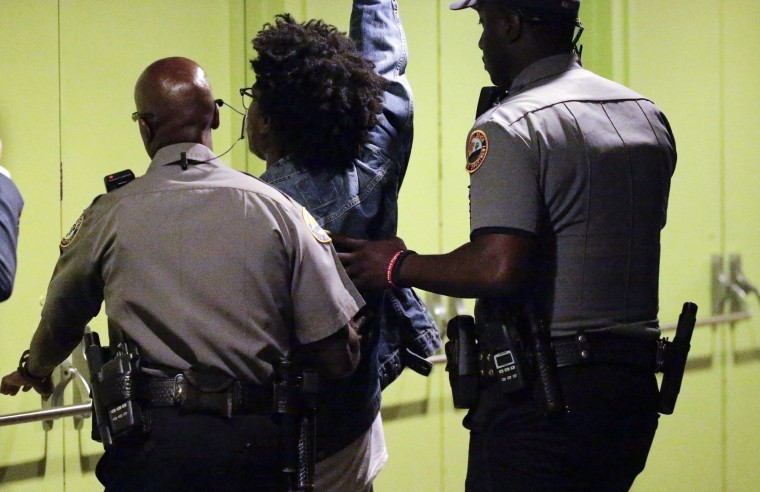 LaNiese sees the administration's HBCU proposals and DeVos as a farce that Bethune-Cookman school officials are playing into.
Related: OpEd: Trump Must Make Good on His Promises to HBCUs
"We're being a go-to and those token blacks for this administration. President Jackson keeps saying, 'This is going to give us a seat at the table.' From my perspective, it looks like they [the administration] are sitting at the table and we're serving at the table," she said.