Artist Natasha Roberts will do whatever it takes to escape poverty, even if it means not marrying the guy she really loves. That her husband happens to be the leader of Haiti, and is offering her a way out – may or may not be enough to ease her refuge.
Roberts is the heroine of "God Loves Haiti" (Harper Collins), Dimitry Elias Léger's debut novel. Published just last week, the book has already garnered praise from such literary heavyweights as Junot Diaz and Edwidge Danticat. Léger, who performed disaster work on behalf of the UN after Haiti's 2010 devastating earthquake, says he was moved to write the book after his experience.
God Loves Haiti follows the very awkward world that often results when love, sex and politics mix. With up-tempo verse that reads like a New world mashup of Europe, Africa and beyond, Haitian born and Brooklyn raised Léger exhibits well why the Caribbean is among the places to look for cutting-edge literature.
Léger recently spoke with NBCBLK about his novel and his native country, which gave us the world's first Black republic.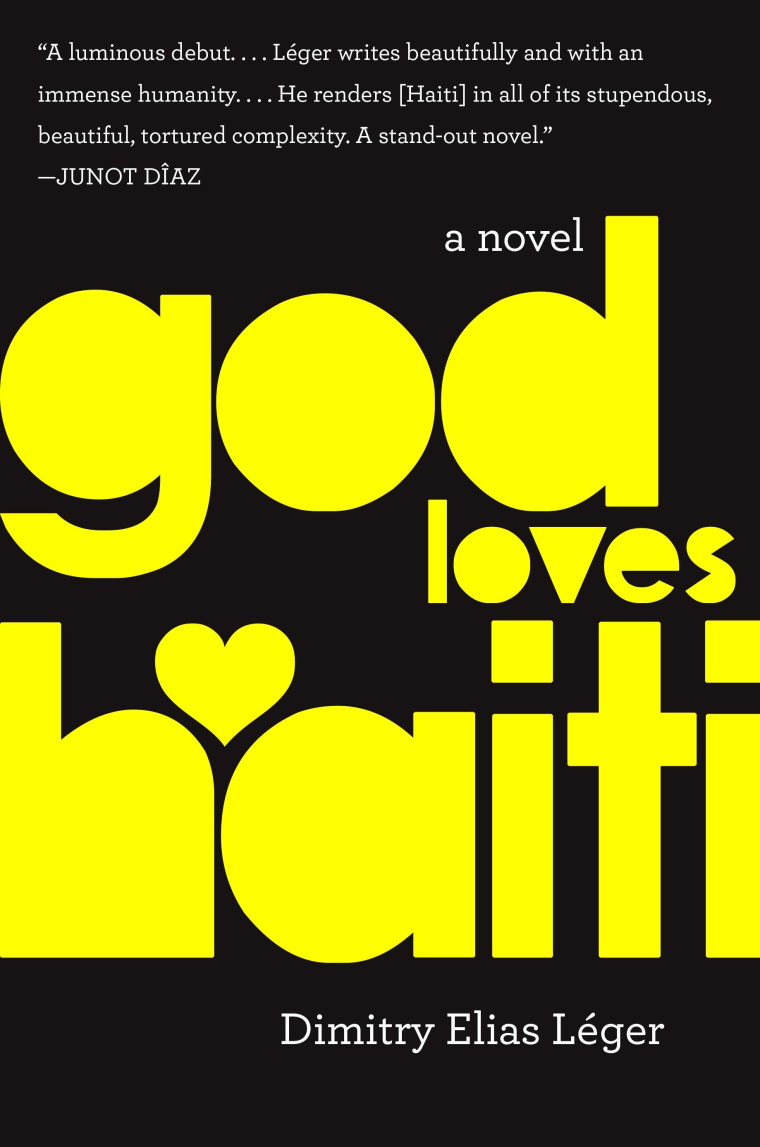 Haiti seems to be, to a large extent, greatly distorted in the media. Why do you think this is so?
I don't find Haiti to be distorted in the media. Would it be nice if other countries' media wrote about Haiti with the affection Haitians and Haiti-lovers have for Haiti? Yes. Some countries have brands that are universally loved, some countries are loved mostly by their own natives. Haiti falls in the latter category. It's an inbred or acquired taste. On the other hand, Brazil, for example, is a bucket list dream.
If there was one thing you wanted the world to know about Haiti, what would that be?
I wanted to know why Haitians with the means to leave Haiti for a wealthier country did so permanently. When I went to work in Haiti to do disaster relief work in 2010, I discovered the answer. My novel is an homage to it.
How do you envision the role of literature and the role of your novel, fitting into a larger discourse?
I hope other readers who like it use it as a touchstone for dealing with their vulnerabilities, heartbreaks, and traumas and those of the people around them. We are all Haitian—i.e. vulnerable to bad luck, natural disasters, and love gone haywire, are we not? For me, those are the novel's larger themes and universal connectors.
Has your Haitian heritage influenced your world view, and if so, how?
My father loved Haiti to death. I loved my father to death. Therefore I loved Haiti, and enjoyed it immensely as a kid and pined for those years the rest of my life as I lived in the U.S. and Europe. As the world is divided into tribes, I like knowing I have my little tribe in the Caribbean. It's nice.
Was there anything you felt awkward writing about? Or did you get that invisible family-member-looking-over-your-shoulder-while-you-write syndrome?
My novel is a collection of awkward, embarrassing, and intimate thoughts and situations. I took relish in writing them to keep the reader on her toes and myself amused. I felt free to do so because the fiction I love to read does the same thing and has done that for ages. If I was going to write fiction after a decade of writing non-fiction, I would have to let my freak flag fly like the novelists I've loved did. Otherwise, I wouldn't have bothered.
Describe that first "aha" moment, when you realized you were on to something that you could not quit.
Once I started writing from the perspective of the character who was the president of Haiti I knew I was in unchartered territory, politically and literarily, so I pressed on with a grin.
Paint me a picture of Haiti's future.
Haiti's future is a lot like yours and mine: In God's hands.
[This interview has been edited and condensed.]