One of the most memorable moments of the 2014 campaign was a meeting between a group of reporters and Alison Lundergan Grimes, the Kentucky Democrat who was running for the U.S. Senate. Grimes, asked if she had voted for President Obama, repeatedly and awkwardly ducked the question. The video of the meeting went viral, embarrassing both the candidate and the broader Democratic Party.
It was the clearest illustration of how Democrats were desperately trying to distance themselves from Obama to woo white swing voters, particularly in the South. It didn't work: Grimes lost badly, like several other Democrats who have tried to run as opponents of the president's agenda.
To Steve Phillips, a California-based Democratic operative, Grimes and others in his party are using an antiquated approach to politics. His new book "Brown is the New White" is a detailed, data-driven illustration of the rapidly-increasing number of racial minorities in America, a bloc he argues is now the dominant force within the Democratic Party. The book is also a jeremiad against Democrats who pursue, often unsuccessfully, the votes of white swing voters and so-called Reagan Democrats, voters whom Phillips believes are largely unnecessary to victories for Democrats in the future.
Phillips, using data from the U.S. Census and exit polls of recent elections, argues the electorate is divided essentially into four blocs: progressive people of color, progressive whites, conservative-leaning whites, and minorities who are not liberals. Progressive people of color (23 percent) along with progressive whites (28 percent), he argues, are 51% of eligible U.S. voters, constituting what he dubs "the New American Majority."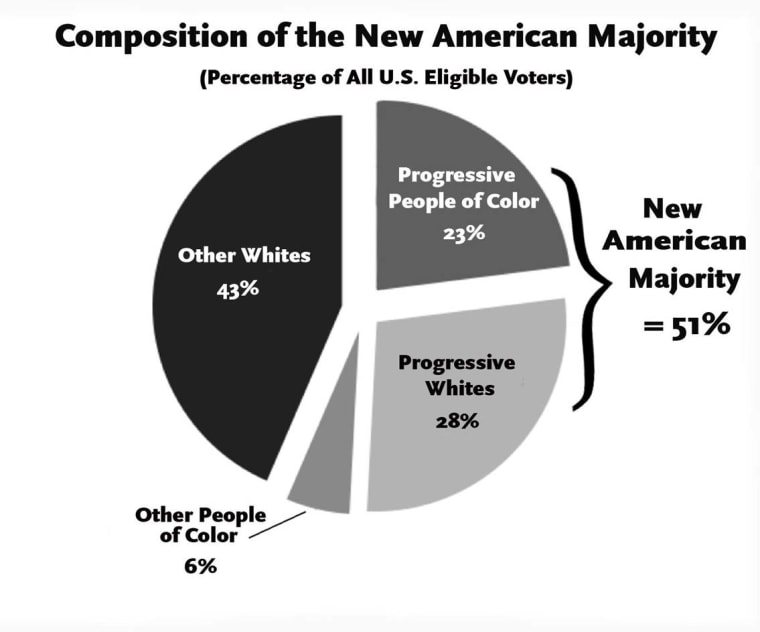 The idea of a growing population of minorities helping Democrats win future elections is not new. Obama went from unknown to future president because of his 2004 speech about unifying Americans of all races, religions and political beliefs. But his 2012 reelection operation was organized around the need for Obama to get a huge turnout among people of color because he had permanently lost some of the whites who backed him in 2008.
Even as others doubted Obama's ability to win reelection because of the high unemployment rate back then, Ron Brownstein, a non-partisan political writer at the D.C.-based magazine National Journal, wrote piece after piece in 2012 predicting Obama would win as long as turnout was strong among what Brownstein dubbed "the coalition of the ascendant," minorities, people under age 35 and college-educated whites.
Brownstein was right. Obama lost white voters by 20 points to Mitt Romney, and easily won reelection anyway. His coalition was 56% whites, 44% people of color, a formula for winning that would have been impossible even two election cycles earlier.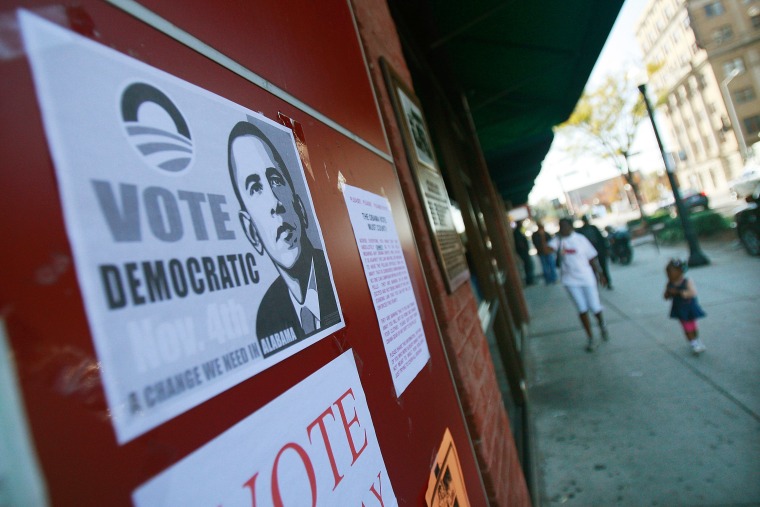 Jim Messina, who ran Obama's 2012 campaign, later told Brownstein, "when you have such a po­lar­ized elect­or­ate, get­ting from 41 to 43 [per­cent among whites] is much harder than figuring out how to put the math to­geth­er in vari­ous co­ali­tions to ex­pand the elect­or­ate."
What Phillips adds to the narrative about the coalition Obama assembled and its potential for Democrats is his focus on progressive whites. He argues, citing exit poll data from 2008 and 2012, that many of these white liberal voters aren't just the fresh-out-of-college crowd that campaigned across the country for Obama in 2008. Nor are they all the so-called limousine liberals who have championed Democrats like Bill Bradley and Howard Dean in the past.
Millions of white liberals are over 45 and live in traditionally-red states like Texas. Exit poll data shows about as many progressive whites identify as "born-again" Christians (19 percent) as having "no religion" (18 percent).
As Phillips repeats throughout the book, since 1972, the Democratic presidential candidate has received on average about 40 percent of the white vote, very close to Obama's 39 percent in 2012. Phillips suggests that 39 percent is a kind of floor for Democrats, a group of white voters who are liberal and will vote for nearly any Democratic presidential candidate who shares their policy positions.
The more provocative section of the book is when Phillips lays out his strategy for the Democratic Party in light of these demographic changes.
The author, who is African-American, argues Democratic political consultants and candidates, along with much of the political press, are disproportionately white and have not caught up to the changing demographics around them. He criticizes Democratic U.S. Senate candidates in 2014 in Georgia and North Carolina for spending millions on television ads aimed at white swing voters, money Phillips suggests would have better spent mobilizing the growing populations of people of color in those states.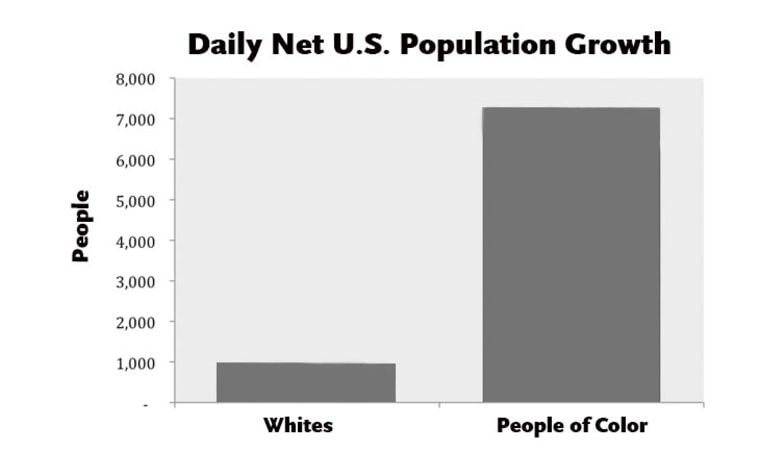 Phillips says this focus on white swing voters is not just from conservative Democrats like Grimes, but Obama's own top aides. He quotes a memo from David Axelrod, who served as a senior adviser at the White House, during the health care debate in 2009.
Axelrod wrote to the president, referring to the health care legislation, "many Americans …suspect that this is about spending and taxing more to care of someone else." (Axelrod published this memo in his 2015 book "Believer: My Forty Years in Politics.")
"What is clear, but not explicit in Axelrod's memo is that the 'Americans' he was talking about were White swing voters, not those Black and Brown folks whose families needed health insurance," Phillips writes. (He capitalizes the terms, black, brown and white throughout the book.)
The author says the Obama administration should have directly marketed the legislation as helping people who couldn't afford health care, a message he argues would have unified and inspired both progressive whites and people of color.
A chapter in the book is titled "Fewer Smart-Ass White Boys." To Phillips, Axelrod and others have been given far too much credit for Obama's victories, in part because of the view that white swing voters are a huge part of American politics.
Phillips takes this critique too far. Axelrod, for example, was a top strategist to two of the most successful black politicians of this era, Obama and ex-Massachusetts Gov. Deval Patrick. A slew of leading white Democrats, most notably the late Ted Kennedy, embraced Obama over Hillary Clinton, a very popular figure in the Democratic Party.
These whites deserve some credit for Obama's wins and their understanding of how race shapes politics.
RELATED: OpEd: What Gets Lost When Obama Emphasizes That We're 'Americans First'
But Phillips argues correctly that black voters were the key to Obama's upset victory in the 2008 primary over Clinton and that the smartest political mind likely was the candidate himself. Phillips likens the president to the television creator Shonda Rhimes, the black woman behind the popular shows "Scandal" and "Grey's Anatomy," in his ability to connect with people of many races. Phillips says that is not surprising, because people of color must master both mainstream, white culture and their own racial group's culture to thrive.
With this view of American politics and culture, Phillips argues progressives should hire diverse staffs to develop policies and campaign strategies that acknowledge how important people of color are to their movement.
That Democrats should focus more of their resources on people of color is hard to dispute. But the "demographics as destiny" view of politics, which looked so prescient after Obama's victory in 2012, is now more contested. In part, some structural factors in American politics limit the ability of progressive whites and people of color to elect their favorites.
Liberals tend to be clustered into major urban areas, and Republicans have at times used their control of statehouses to pack Democratic voters into some districts, leaving others more conservative-leaning.
This was clear on Election Day in 2012. The GOP easily kept control of the U.S. House four years ago, even with the Obama coalition at the polls reelecting the president.
The Senate also disadvantages minorities, since overwhelmingly-white states with tiny populations such as Montana get the same two votes as California and New York.
Phillips downplays these structural factors. He blasts candidates like Grimes for distancing themselves from Obama and argues that resulted in defeats because too many uninspired people of color and progressive whites stayed home.
But in many states in the South and West, there simply aren't enough progressive whites and people of color to win statewide elections, as Phillips' own data suggests. It's likely that if Grimes, the Kentucky Senate candidate, closely linked herself with Obama, she would have inspired pro-Obama liberals but also anti-Obama conservatives, simply creating a higher turnout election that she still would have lost.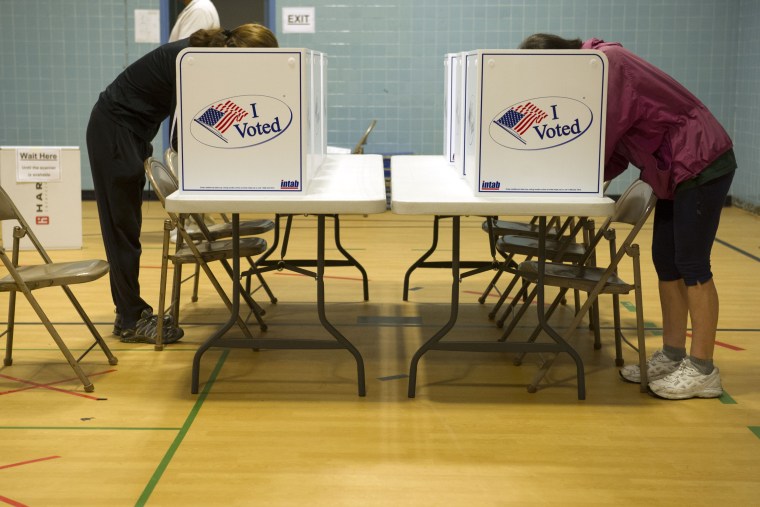 Phillips does not say this, but the logical conclusion of his thesis is that Democrats need to stop trying to win states like Arkansas and Kentucky until the whites there become liberals or the minority populations grow to be much larger in size. That seems an unwise strategy for the party, since Heidi Heitkamp of North Dakota and Joe Manchin of West Virginia won U.S. Senate races in 2012 by running as conservative Democrats who disagreed with Obama.
Democrats need white swing voters to win control of Congress, even if the party can succeed in presidential elections without them.
And recent Republican gains haven't just been in red districts and states. In 2014, Republicans won gubernatorial races in states like Illinois and Maryland, where the Phillips' coalition of minorities and progressive whites is a huge segment of the electorate. The Democratic gubernatorial hopeful who lost in Maryland, Anthony Brown, who is African-American, was a flawed candidate who did little to inspire his party's base.
But another key factor was the campaign of Republican Larry Hogan, who largely avoided issues that would anger and inflame Brown's base. Politics is dynamic, and Republican candidates are aware of these demographic changes and adjusting their political approaches to them.
Brownstein, after watching the GOP's successes in 2014, wrote a piece titled "Demography Is Not Destiny for Democrats."
Another problem on the horizon for Democrats is tension between people of color and progressive whites. Many of the political fights in big liberal cities like Chicago, New York and Washington, D.C. are framed as debates about policy, but the underlying divides are the interests of a growing bloc of upper-income, mainly white residents pitted against those of lower-income people who are often black or Hispanic.
Phillips argues that between 35 and 40 percent of whites are progressives whose core values align with Democrats. A Democratic Party where blacks and Latinos are more powerful will test that proposition.
But even if Phillips is overstating the demographics case, his thesis is extremely clarifying to understanding modern politics, which are increasingly tribal.
Obama, since the Democrats' defeat in the 2014 midterms, has governed unabashedly from the left. And his approval ratings have remained essentially unchanged, suggesting there are few swing voters and a large segment of country consists of progressive whites and people of color who are comfortable with a more liberal approach.
RELATED: Hillary Clinton Targets HBCUs in College Affordability Plan
Hillary Clinton could have opted to campaign for president in the manner of her husband, who looked whenever possible to appeal to white swing voters. Instead, she is running as she if has internalized Phillips' analysis. The magazine Fast Company recently published a piece describing the high number of minorities on Clinton's campaign staff, a story her operatives excitedly participated in. She has taken strongly liberal positions on a number of issues, unabashedly calling for stronger gun control, linking herself to the "Black Lives Matter" movement and calling for citizenship for undocumented immigrants.
One of the most telling moments of Bill Clinton's 1992 campaign was his breaking with Jesse Jackson. In contrast, Hillary Clinton met the civil rights leader on the day she announced her "African-Americans for Hillary" initiative in Atlanta in October.
The Republican presidential candidates are obviously not following Phillips' playbook. The candidate who has been the most focused on the Republicans reaching people of color, ex-Florida Gov. Jeb Bush, spent much of 2015 speaking Spanish in public and emphasizing his bi-cultural family. His poll numbers have been terrible.
But the dominant candidate of the GOP race so far, Donald Trump, seems to understand the ascendance of a different kind of American electorate. He has particularly appealed to a bloc of white, non-college educated voters who are the antithesis of the coalition Phillips describes.