While Simone Biles and the "Final Five" were winning a gold medal for team USA on Tuesday, one of the women who paved the way for their success, three-time Olympian Dominique Dawes, was proudly cheering them on and spreading the message that you can be small, but powerful.
"This is the moment these young girls have dreamed about since they were probably 10 years old," said Dawes of the 2016 USA gymnastics team. "They're going to win a gold medal. They're competing against themselves."
Dawes was right as the team dominated the competition and won the gold that evening, becoming the first to win gold medals two years in a row in the women's gymnastics team final.
Related: Black Olympians to Watch in Rio 2016 Competitions
At Chelsea Piers in New York City, Dawes teamed up with Olympic sponsor Tide PODS to celebrate their athlete Simone Biles, by hosting a private event. Attendees were able to enjoy refreshments and learn a few gymnastics fundamentals from Dawes and other trainers who emphasized the evolution of power and how one can be "small but powerful," like Simone Biles and Tide PODS.
Making history at the 1996 Olympics as the first African-American woman to receive an individual medal in gymnastics, Dawes is impressed with the power and focus of this year's team. She describes Simone Biles as "one of the most dominant gymnasts I've ever seen out there." Dawes said, "I would've never imagined any gymnast--not a male gymnast or female gymnast--but any gymnast doing the spectacular moves that she's doing. The difficulty level is by far the most superior I've seen."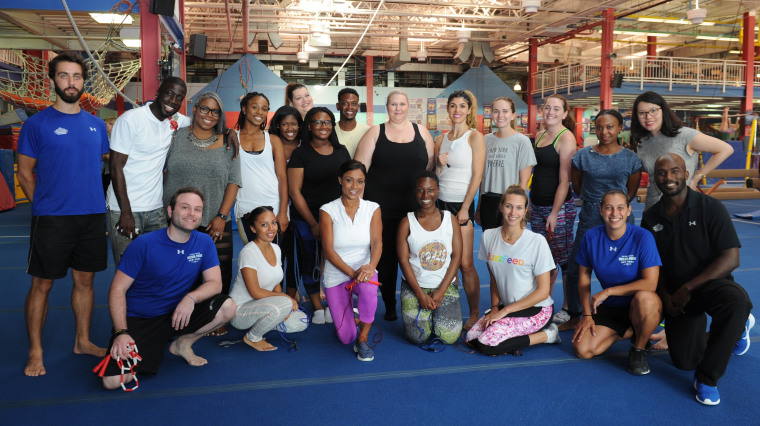 Since retiring, Dawes has worked as a gymnastics coach, motivational speaker, joined the President's Council on Fitness, Sports and Nutrition, and says she will make sure that no matter how old she gets, she always knows how to flip.
One of her proudest achievements is becoming a wife and mother of two, a 2 1/2 year old and 11-month old. Dawes is enjoying the joys and challenges of motherhood that she says is much harder than training for the Olympics.
"They are the greatest gifts that God has ever blessed me with, however I would've never been able to prepare myself for motherhood knowing how tired I am and just what I have to deal with," Dawes shared.
RELATED: 100 Days Out! Olympians Gear Up for the Road to Rio
Both Gabrielle Douglas and Simone Biles and have described Dawes as being one of their inspirations growing up. Dawes is touched by that and said, "I hope they know that they are reaching thousands and even millions of young people that are going to look up to them."