We have just witnessed one of the ugliest, most divisive Presidential campaigns ever.
Despite the fact that Donald Trump has called the black community uneducated, unemployed and believes they are all living in hell — his campaign has found a foothold with some black Americans.
But what makes the black Trump cheerleaders tick?
I talked to several black Trump supporters from across the country before the third debate. I cast a wide net, but it was black men who were willing to talk — though not all of them were willing to go on the record. One 32-year-old man admitted, "I am a Trump supporter but I don't talk about it because I feel like I could lose my job."
The young man who currently works for a "liberal focused non-profit in Washington, DC." He said that he sees more opportunities for young blacks in politics within the Republican party. He sees himself "running for office one day and there is not much room for a moderate black Republican."
RELATED: The Senate's Only Black Republican Talks Racism on Senate Floor
Mike Hill, 58, a lifelong Republican and State Representative from Florida says he concedes that Trump was not his first choice as the Republican nominee, but he is fully behind him now. Hill is typical of many of the black Republicans I spoke to for this story: He is college educated and served in the military. He's been married to the same woman for 34 years and has raised a family. He describes himself as being devoted to his faith and Christian principles. He has campaigned hard for Trump based on his values and even spoke out at campaign rallies.
It's not unusual for black Democrat and Independent voters to look at their republican counterparts with skepticism and dismissal, writing them off as sell-outs or an Uncle Tom. (Rapper Lil Jon, came to Trump's defense saying that the candidate didn't really understand what he was saying when he called the rapper an Uncle Tom during his turn as a contestant on Celebrity Apprentice in 2013.)
While black Republicans seem like magical, mystical unicorns by today's standards, before the 1960s, blacks were drawn to the "Party of Lincoln," after they were given the right to vote. Not only did they vote solidly Republican, but they ran for office and won seats during Reconstruction. Frederick Douglass, Jackie Robinson, Harriet Tubman, George Washington Carver, Sojourner Truth, and Mary McLeod Bethune saw the GOP as a place to be heard and supported at some time. It was long speculated that Dr. Martin Luther King, Jr. was a Republican before the '60s, yet King scholars say that he had no Party affiliation.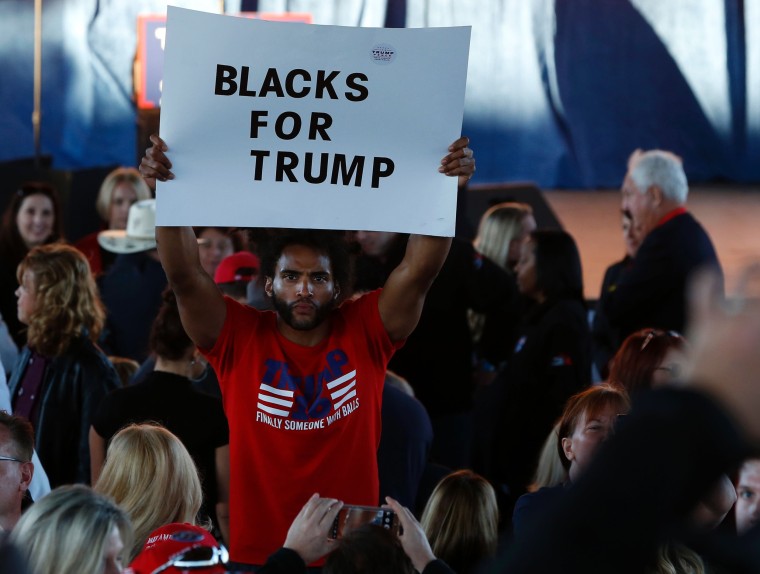 It is the fiscal and social conservative platform that keeps Hill and others close to the Republican Party.
"In a group, when it comes to discussing conservative ideals, they don't want to hear what you have to say," admits Hill, who believes gets better traction on Trump's platform when speaking to individuals one-on-one. "Americans have more in common than they think."
"Most people would prefer the dignity of owning a business or having a job than being on welfare or being unemployed," he says.
Hill believes that the best way of achieving the American dream is through conservative Republican principles. "We know that when children have a firm family structure when they are young, they are more successful when they grow old," Hill says.
He, like former Republican candidate and Trump supporter, Ben Carson ties the demise of black communities to the numbers of families headed by single black mothers. It is often noted that Dr. Carson became very vocal when blaming all the ills of the black community on the number of black female heads of households. Yet he often wrote about the positive impact in his own life of being raised by a single mother.
"You can live without a man in the household because of benefits available through the government," Hill says. "A child can grow up and spend their entire life on public assistance."
Another thing that has attracted some black voters to Trump is his take on education and school choice. This appeals to Hill and several other supporters. "Black students should not be forced to stay in a failing school because of their zip codes," Hill says, and adds, "as soon as you say that, the Black Caucus and the Teacher's Unions will denounce it."
"You can go to a school in a black neighborhood and they don't have a playground or the school supplies they need," Hill says. "They have to have fundraisers for the basics and we know this doesn't exist in white districts."
Trump has pledged to allocate $20 billion in Federal funding to family choice programs, if elected, which could attract more minority voters.
Black Republicans like Hill and other Trump supporters have been able to turn a deaf ear to his most disturbing behavior and comments. When prodded on this, Hill says "there is no way you can defend it," referring to the leaked Access Hollywood hot mic incident. "But out of the same mouth comes an abundance of the heart."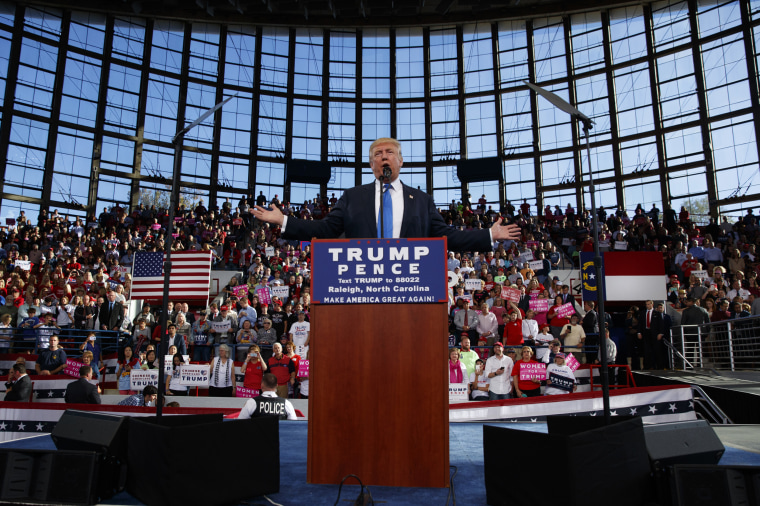 The more traditional members of the Republican Party have moonwalked away from the candidate. Republicans like Condoleezza Rice and Colin Powell have gone on the record saying that Trump is not fit to serve.
James White, 52, a State Representative in Texas says that his District is three-fourths white, with the rest being black and Hispanic. His District includes Jasper, Texas where James Byrd, Jr. was chained to a pickup truck and dragged down a dirt road and died in 1998. White believes that the tide is turning for blacks moving to the Republican Party and specifically toward Trump. Like Hill, White is college educated, served in the military, and holds strict conservative values. Before entering politics, White was an educator.
White, who has been an elected official in the state since 2010 says that people are drawn to Trump's talk about economic prosperity, keeping borders safe and keeping issues focused at the local and state discretion. He feels that in many ways, Trump has broken through.
"Just from an academic standpoint, politics is going through something new."