Is Black Privilege a thing?
Depending on whom you ask, you will get a myriad of responses, yet no real answer.
I, for one, never took a real assessment of the notion of Black privilege, and how in the hierarchy of Black society my education, socio-economic status and networks placed me as an adversary of the very community I dedicate my life to helping.
But just a few weeks ago it all changed, making me question whether I was part of the solution, or creating the problem.
I decided it was time to move from Washington D.C. to New York in effort to pursue my dream career in media and journalism. I engaged in the apartment hunting process, which is where my story of privilege begins.
My friends advised me moving to NYC often requires the help of a Broker to negotiate and handle the process, which in most cases is equal to one month's rent. Sometimes, there is another broker involved meaning you could be out of pocket two brokers fees, one month of security, and first month's rent before you ever get keys in hand. This luxury costing me upwards of $7,000.00, just $113.00 less than the median Black household wealth of $7,113.00 in America.
Fast forward to the first week of July, and it's time for me to go and view 10 apartments located in newly gentrified areas of Brooklyn.
As my broker, a Black woman by the name of Demi, drove through areas of town once considered the most dangerous in the city, the juxtaposition of a white woman walking her Yorkie in yoga pants past the historic Marcy projects foreshadowed what I was about walk into.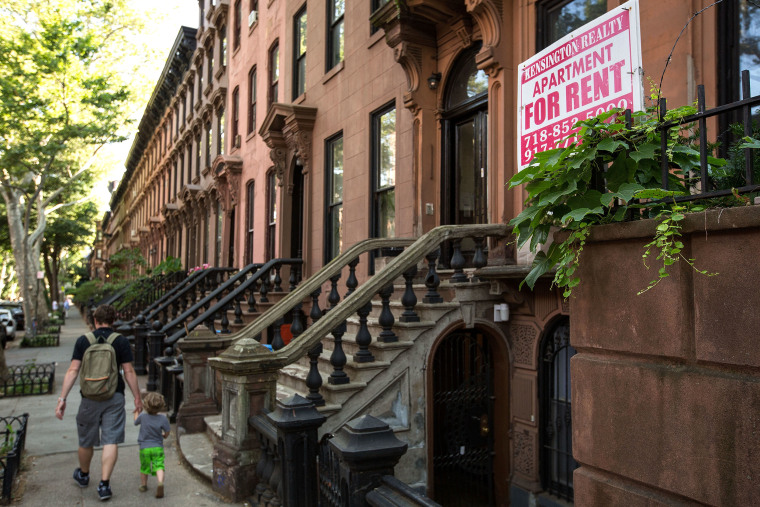 We started with a few places - all fully renovated with standard hardwood floors and granite counters - and then we stumbled upon a diamond in rough located on Troy Ave.
We entered the building to a hallway that was extremely run-down. However, when I reached the top of the steps and opened the door, I entered one of the most beautiful spaces I ever seen. The second-floor apartment had natural sunlight in all rooms, and all new fixtures throughout. This was the place of my dreams.
We were in the hallway discussing details about the apartment when an older Black woman entered the building with a cart full of groceries, fully drenched with sweat, taking a breather.
Lending her a hand, we helped her as she took her goods to the third floor.
When she reached the second floor, she paused. "Young man, if you're planning on moving in here we listen to rap music from 12pm to 10pm every day and on Sundays we do gospel. I have speakers that you can hear from three blocks away so you will need to get used to the noise if we are going to be neighbors."
Related: OpEd: Dear Black Parents, Investing in Swimming Lessons Saves Lives
We all laughed, assuming she was joking. My broker said, "Don't worry we forgive you." To which she responded, "Why, I'm not apologizing? This is my building."
Stunned, I inquired further with amusement. "You really don't blast music all day, knowingly do you?" Quick witted, she responded, "I've been playing my music for years before you, and I'm going to play my music years after you! You young kids move into OUR building and think you can make the rules that we been living in perfectly fine."
The tense moment ended with me and my fake smile, "Well Thank You! I'll be sure to consider all of this before moving in."
In my mind, I knew I was wrong for being so uppity, but I just wanted to go, as I also realized what was happening. The people I'm always vocal about protecting, are the same ones I'm pushing out of community.
Privilege is a hell of a drug, especially when your standard of life forces others from theirs. Oftentimes, we look down on neighborhoods deemed dangerous; making efforts to rejuvenate them which comes at the expense of the original inhabitants. We support the influx of affluent whites and respectable Blacks who want the culture, without the creators of it.
In the article "Gentrification in a Brooklyn neighborhood forces Residents to Move On," it states that "African-Americans and West Indians who have made their homes for generations in this Brooklyn neighborhood are scattering, muscled out by surging rents and, tenant advocates say, landlords who harass tenants, withhold repairs or use evictions to make room for higher-income renters."
We get papers with our names on them from our respective colleges and in turn use those papers as validation our word is law versus those without them. We attempt to change the narrative and lived experience of many in the Black community without ever taking a community assessment to know if these residents actually want the proposed change.
Related: New Documentary, "Whose Streets?" Shows a Different Side of Ferguson
Although I don't believe Blacks can be considered gentrifiers, based on a lack of capital and power, we're inevitably being used by the majority to prove that Blacks can be better off through assimilation into whiteness rather than protecting Blackness - a practice that has never worked for us in America.
While I don't believe there is such thing as Black Privilege, I acknowledge that I am a Black man who in many instances has privileges that others in my community will never achieve.
For that reason, I must understand how my privilege can lead to the destruction of community, if I am unable to check myself as my would-be neighbor did on that day.
Suffice to say, I didn't take that apartment. I found another place more reasonable in another part of Brooklyn, one where I wasn't forcing out residents at the expense of living out my dreams.
George M. Johnson is a Black Queer Journalist and the Managing Editor of BroadwayBlack.com. He writes for EBONY, TheGrio, Teen Vogue, NBC News, Black Youth Project and several other national publications. Follow him on Facebook, Twitter, or Instagram.