March was officially dedicated as National Colon Cancer Awareness Month in February 2000 by President Bill Clinton. Since that time, the month has been recognized as a time to specifically call attention to the need for increased colon cancer awareness, screening and prevention.
Colon and rectal cancer is the 3rd most commonly diagnosed cancer in the United States. It is the second leading cause of cancer death in men and women combined in the United States of America. The American Cancer Society, estimates that this year alone, 136,830 people will be diagnosed with colorectal cancer and of those diagnosed, 50,310 will die from this disease.
Though these numbers may seem high, they are decreasing as the incidence and mortality of colon and rectal cancer is declining - most in part due to the greater awareness of the disease and increased screening.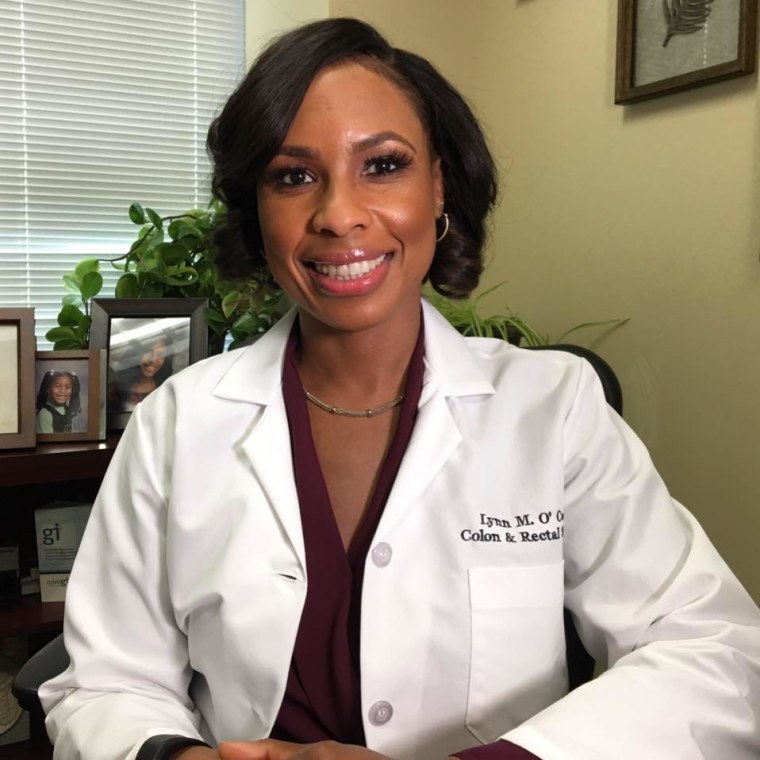 However, the decline in the incidence and death is occurring much slower for the African American population. African Americans tend to have the highest rate of death and the lowest rate of survival when compared with all other racial groups.
Colorectal cancer rates were 25 percent higher and mortality rates were 50 percent higher in African Americans versus Caucasians. African Americans were also more likely to be diagnosed at advanced stages of the disease. This finding has been attributed to lower screening rates in minorities, later stage of disease at presentation and diminished access to healthcare.
The average lifetime risk of developing colon cancer is about one in 20 (5%). The exact cause of colon and rectal cancer is not known but there are several risk factors that have been thought to be associated with its development.
The question often arises as to who should be screened and when?
Genetics, age greater than 50, family history of colon cancer and colon polyps, obesity, sedentary life style and smoking are some of the risk factors identified. Diets high in red meat and fat and low in fiber, calcium and folate have also been thought to be linked to the development of colon cancer.
Colonoscopy is the most widely used tool to screen for colon cancer. It is the only modality to date that can both screen and treat patients with identification and subsequent removal of colon and rectal polyps. Polyps can be hyperplastic (benign) or adenomatous (pre-cancerous). These are fleshy growths on the inside lining of the colon that can become cancerous. Cancer starts when cells in the body begin to grow out of control. The goal of screening colonoscopy is to detect and remove these polyps before they become cancerous.
The question often arises as to who should be screened and when? Current guidelines from several medical societies recommend screening the average risk person without symptoms at age 50.
In 2005, The American College of Gastroenterology published new guidelines for the screening of African Americans for colorectal cancer to begin at age 45 due to the disparities in incidence and survival.
Related: Christen Johnson is Pushing For Diversity In Medicine
Some of the reasons for the health disparities may be attributed to the public's lack of knowledge regarding the benefits of screening, limited access to health care and insurance as well as fear, distrust and anxiety regarding the test and the healthcare system. Physicians may be unaware of the adjusted guidelines and may have discordant recommendations for screening.
With proper screening and lifestyle adjustments, the incidence of colon cancer can be decreased significantly. The American Institute for Cancer Research recommends at least 30 minutes a day of moderate activity for cancer prevention. Diets high in fiber, fruit and vegetables have been thought to have a protective effect. Combating obesity and a sedentary lifestyle are also ways to help in the fight against cancer.
Talking to family and friends about their risk and the need for screening as well as community outreach and education programs, along with regular scheduled physician checkups and colon cancer screening can go a long way in preventing colon cancer. If found early enough, colon cancer can be treated effectively and cured.
---
Dr. Lynn M. O'Connor is not only a surgeon, but she is the Director of the Women's Colorectal Care Program in New York City. Dr. O'Connor speaks at schools, universities and women's organizations about empowerment. She loves promoting Math and Science to young Black girls in hopes of them considering pursuing careers in S.T.E.M.. She is proud member of Alpha Kappa Alpha Sorority, Inc. and a devoted mother of a teenage daughter.