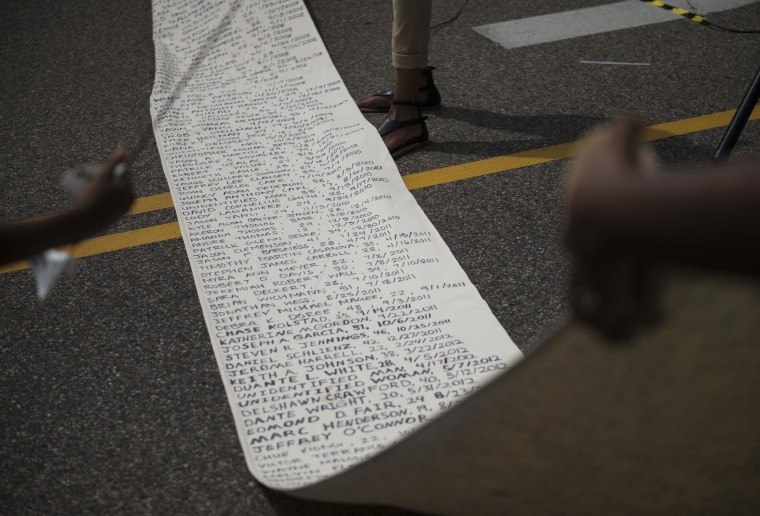 Scrolling through Instagram early Thursday morning after seeing a stream of photos of babies and beach scenes I stumbled on a short video clip of a wounded black man, Philando Castile, lying in the passenger seat of a car wearing a blood-soaked white T-shirt as an officer's gun pointed at him and his girlfriend Diamond Reynolds' camera phone rolled.
Moments after Castile was shot by a police officer in Falcon Heights, Minnesota Reynolds streamed the events live on Facebook. So far 5.6 million people viewed the video of Castile leaning over moaning before he died, the officer yelling and Reynolds giving a step-by-step commentary as her young daughter sat in the backseat. The video was shared more than 317,000 times.
By using social media to record the actions immediately after the shooting Reynolds took the public to the scene quicker than any news crew could. The public didn't have to wait for an official state release of dash cam footage. They saw the raw, unedited video immediately from the scene. Reynolds' social media broadcast revealed and recorded the last moments of Castile's life and the aftermath of the officer's actions in a way we wouldn't ordinarily get to see without social media.
The day before Castile's shooting cellphone video captured a white Baton Rouge, Louisiana police officer pump multiple bullets into Alton Sterling's body at close range as he was pinned to the ground with two officers on top of him. The video of the fatal shooting of the black man's fatal shooting was immediately and widely shared on social media and sparked outrage, protests and renewed calls to end police brutality.
As a trained journalist and media scholar I believe it is important for these incidents of state violence to be documented and seen by the public. This brutality should not be hidden particularly in a nation with a history of anti-black state violence. Social media and mobile technology put power in the people's hands to reveal it.
In a media landscape that already circulates countless portrayals that devalue black existence, what kind of impact do these images of brutality have on black people?
The clip I saw on Instagram of Castile was gruesome, shocking and traumatic. The video I saw on social media of Sterling's shooting was horrifying. Mobile devices and digital media and have proven to be important tools in documenting and combating police brutality. The images captured move people to the streets to seek justice and protest and they sometimes move lawmakers to change policy to prevent police brutality.
But I wonder what this video footage of assassinations of everyday black citizens does to us as a people. How does the steady stream of death that flows into our social media feeds, our minds and our souls affect us? While the scenarios are different the videos of police brutality become too familiar like episodes in a television show. What does it do to black people to constantly watch these videos that are like installments in a horrible series with the recurring themes of black death, white supremacy and injustice?
In a media landscape that already circulates countless portrayals that devalue black existence, what kind of impact do these images of brutality have on black people?
RELATED: Amber Riley: This Is No Time to Be Politically Correct or Polite
Black people experience a litany of race-related indignities on a regular basis from mircoaggressions and interpersonal acts of bigotry to institutional racism and deadly discrimination. The loss and trauma that black families experience, as a result of deadly force is real and long lasting. But what does the proliferation of police brutality videos and photos do to the rest of us?
On social media there are no trigger warnings. There aren't always messages to caution black viewers of the ruthless, vicious inhumane acts of violence they're about to see committed against people who look just like their cousins, aunts, daddies – people who look just like them. There is no alert of how those images will affect viewers immediately or long term.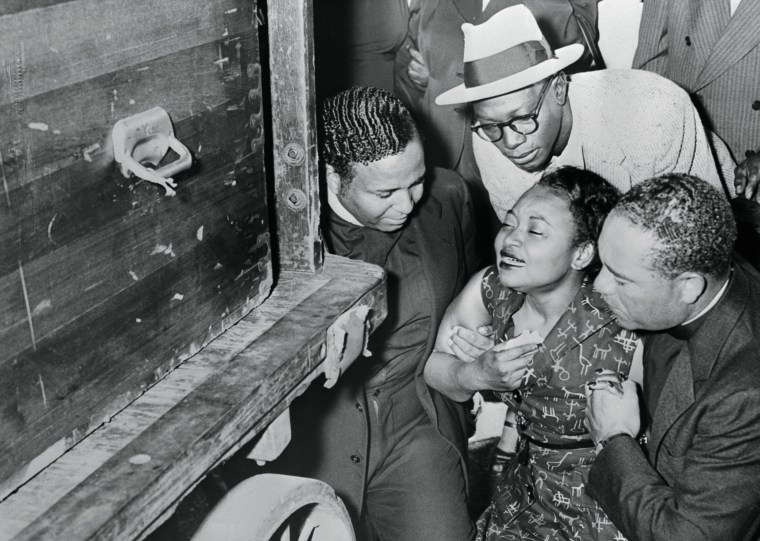 These images also flood mainstream media. In the 24-hour news cycle videos of black death play every hour throughout the hour. National newspapers showcase photos of dead black bodies on front pages. Covering this violence is important and it's necessary.
Mamie Till Mobley wanted the nation to see the photo of her son Emmett's bloated and beaten body after his 1955 lynching in Money, Mississippi. That singular image documented the terrorism that black people experienced daily. It caused a profound shift. But what is the impact when the images and the videos become so numerous that we can barely match the victims with the incident of violence?
RELATED: A Search For Opportunities to Unite After 'Gut Wrenching' Week
As a black scholar I want the injustices against black people to be recorded and shared in the interest of justice and history. But as a black woman I'm also worried about the mental and emotional health of my people as we continue to consume these videos. I'm equally concerned about the system that creates the violence that leads to these images.