In his 2006 book, 40 Million Dollar Slaves, sports columnist William Rhoden presents the idea black sporting life reflects the main currents of black life in America. Ten years later, as we mark the end of the first black President's tenure as our nation's leader, I contend sporting life and culture reflect the main currents of all life in America.
Twenty-eight years ago, Doug Williams, who entered that NFL season as a backup quarterback, became the first black starting quarterback to marshal his team to a Super Bowl win. In a league characterized, at the time, by its seeming aversion towards black quarterbacks and leadership, this victory was historic. After trailing 10–0 at the end of the first quarter of Super Bowl XXII, the Washington Redskins scored 42 unanswered points against the Denver Broncos. The 10-point deficit faced by Washington remains the largest deficit overcome by a Super Bowl winner.
RELATED: Black Quarterbacks That Made The Super Bowl
For those casual fans of the game, the quarterback is a team's leader, and Doug Williams was one of a handful of black quarterbacks who peeled back a layer of institutionalized racism existent in the NFL that opened the door for generations of non-white quarterbacks to follow.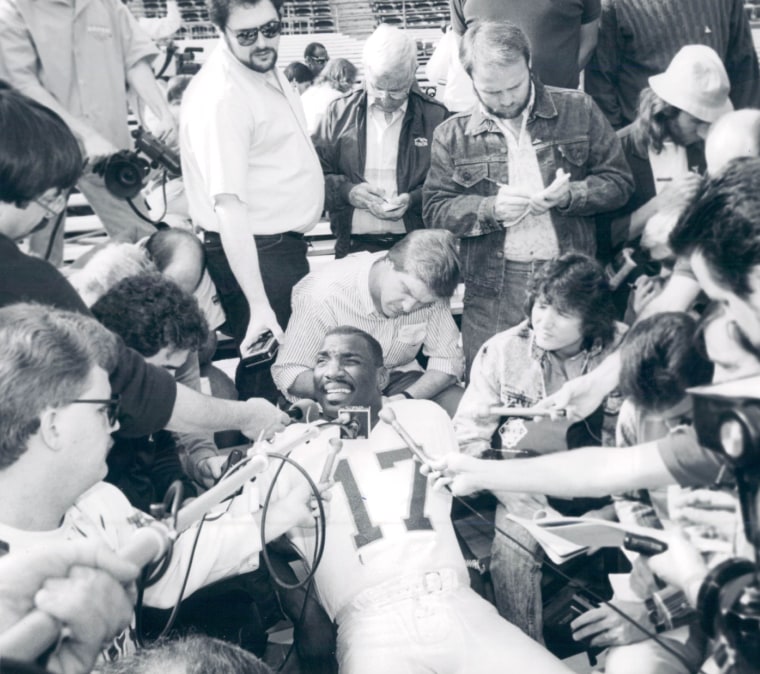 This condition best describes the world into which Cam Newton was born a year later. Newton, who is black, is the starting quarterback for the Carolina Panthers, who will face the Denver Broncos in Super Bowl 50.
In the framework of American leadership, Cam Newton can be likened to the commander in chief of the Carolina Panthers offense. 35 touchdowns passes, 3,837 yards passing, and 636 yards rushing, and a whole lot of hate, are the statistics and conditions that currently define his 2015 season.
RELATED: NBCBLK28: Cam Newton: The Confident Quarterback
This year, like many years before, there is an identity deficit, exclusively owned by a growing confederacy of naysayers who take issue with the way Cam Newton plays, and how he celebrates after scoring touchdowns.
Quarterbacks run the gamut, from quiet and introverted to flashy and bombastic. When they wear fur coats and take on a moniker like "Broadway" Joe Namath they are acceptable; but when they are articulate and drop their head while raising an arm to dab (a Hip Hop dance) after scoring a touchdown, while being black? In that case, there are attempts to paint them as persona non grata.
This ignorance is not of Newton's making, but its systemic nature has created an identity deficit that prevents those impacted from seeing him as their equal.
The complaints about Cam Newton's performance and celebration reveal the extent to which those complaining can't let go of their conditioning, fear and hatred of people who are unlike them and threaten the status quo and accepted norm; no matter how racist and unacceptable those ideologies may be.
These sentiments are also echoed in America's current political landscape, as a confederacy of people who consider themselves a silent majority admonish the need to "take our country back" as part of making America great again.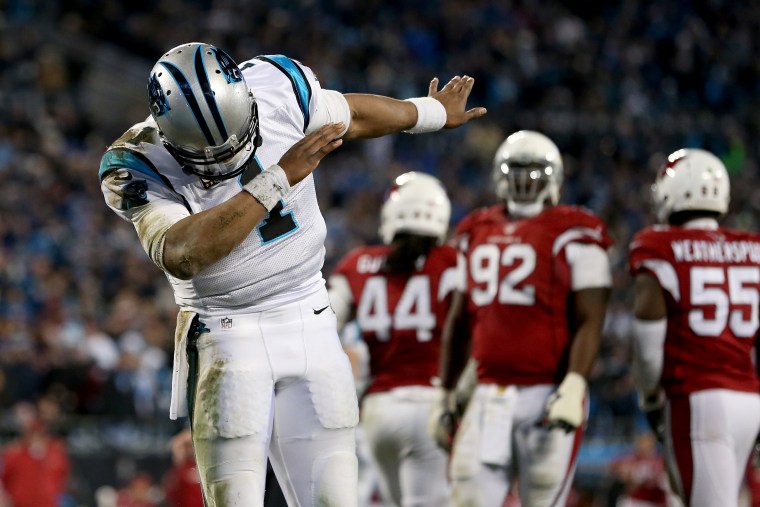 On the field, Newton's presence and celebration represent a degree of freedom that some feel threatens to flow across all players, particularly black quarterbacks, like water. The animosity that surrounds Cam Newton, whether overt or subtle, is not exclusive to sports writers or the mother from Nashville, who was so disturbed by Newton's athletic prowess and end zone celebration after the Panthers trounced her hometown team that she attempted to chastise him in an Op-Ed article.
Those suffering from this identity deficit have even received the support of obsequiously apologetic men like Dexter Manley. Manley is a retired black football player turned commentator who, alluding to Newton, made it a point this season to explain the mobility of black quarterbacks on-air by stating, "Most of the black quarterbacks, they like running because they're probably used to running from the law."
A former Washington Redskin, Manley won one of his two Super Bowl rings during the team's historic victory during Super Bowl XXII, thanks in large part to the steely resolve and acumen of quarterback Doug Williams. His sentiments, along with the others', reveal a legacy of learned ignorance that transcends race, gender, and time. This ignorance is not of Newton's making, but its systemic nature has created an identity deficit that prevents those impacted from seeing him as their equal. It has even prevented people like Dexter Manley from respecting football history, his former team, and the teammates that made him a relevant sports figure, likely in an attempt to be accepted.
Win or lose, Cam Newton's presence and performance as commander in chief of the Carolina Panthers offense will inspire and entertain generations of spectators and fans.
The coin toss has been a part of professional football since its start in 1892. When it occurs today for Super Bowl 50, Cam Newton — like Doug Williams, Steve McNair, Donovan McNabb, Colin Kaepernick and Russell Wilson before him — will represent the continuation of a new paradigm. His predecessors, with names like George Taliaferro, Marlin Briscoe, James Harris and Joe Gilliam, were hardworking and gifted, yet systematically denied the latitude to lead based on systematic and socially driven racial animosities towards them.
Newton, however, will have the continued opportunity to remain a skilled and dedicated leader, even if his ability to unapologetically be himself after scoring touchdowns flies afield of what those who are suffering identity deficits feel is appropriate behavior for a black leader.
An estimated 100 Million television viewers will tune in to watch this year's Super Bowl. Win or lose, Cam Newton's presence and performance as commander in chief of the Carolina Panthers offense will inspire and entertain generations of spectators and fans.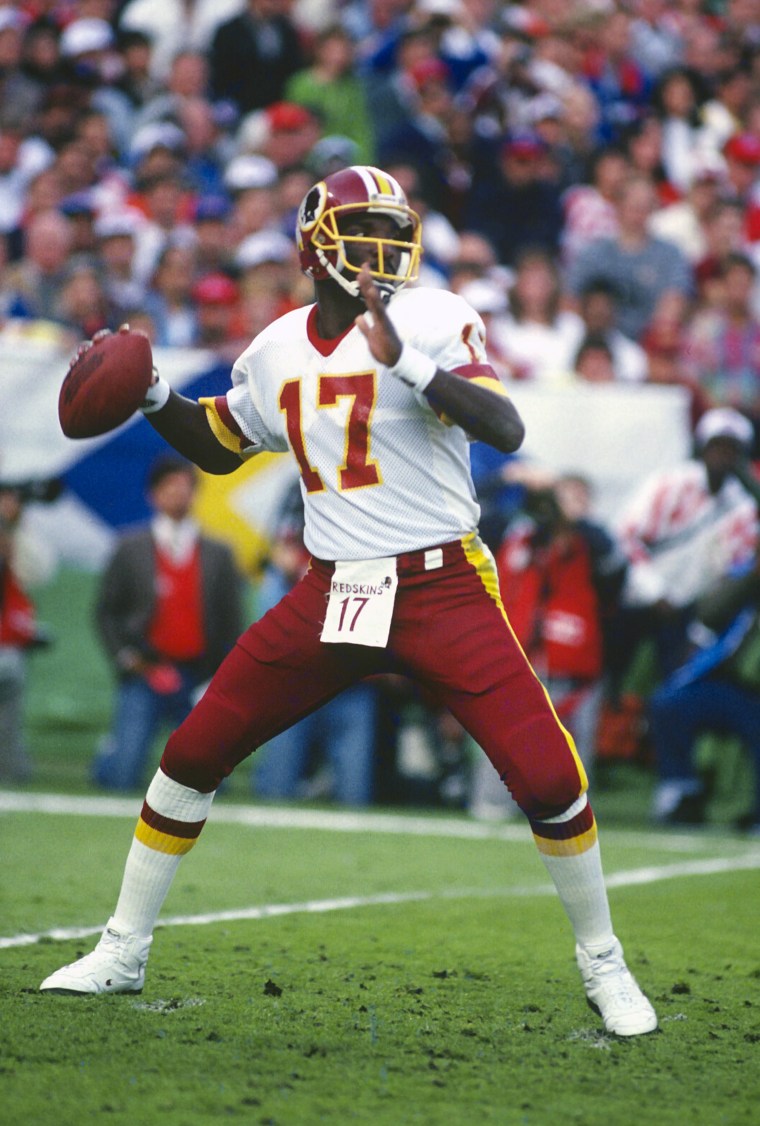 The most inspired of these spectators will likely be his predecessors, men who received everything from inadequate compensation to death threats for daring to be black while playing quarterback. These men nobly endured the unendurable to pave the way for a new legion of leaders who continue to reveal to those of all races, social classification, and creed that hard work, talent and success are to be rewarded and joyously celebrated.
Whether the animus surrounding Cam Newton is racially or culturally charged, a few things remain clear. It appears Cam Newton is doing just fine and elated every time he and his team come together to do what he loves. Conversely, those suffering from identity deficits embody the hate a modicum of equality in sports has produced, but it is our capacity towards hard work, talent and success, not ignorance and fear, that defines a winner.
Hopefully, the celebration of winners will inspire those in deficit and doubt to work even harder at improving their views and practices as they relate to other people's race and culture. Because respecting and accepting the value and talent of yourself and others is the first step in being free.