Following the tragic deaths of Philando Castile in suburban St. Paul, Minnesota and Alton Sterling in Baton Rouge, Louisiana, Mark Hughes decided to attend the Black Lives Matter protest against police violence in Dallas.
He dressed in camouflage and strapped on his AR-15 semiautomatic rifle. However, when a sniper opened fire and ultimately killed five police officers, police labeled Hughes a suspect and plastered his picture online—which quickly went viral.
Texas recently adopted some of the most liberal gun laws in the country, including permitting gun owners to open carry on college campuses. Yet, Hughes was identified as a suspect simply because he carried a gun.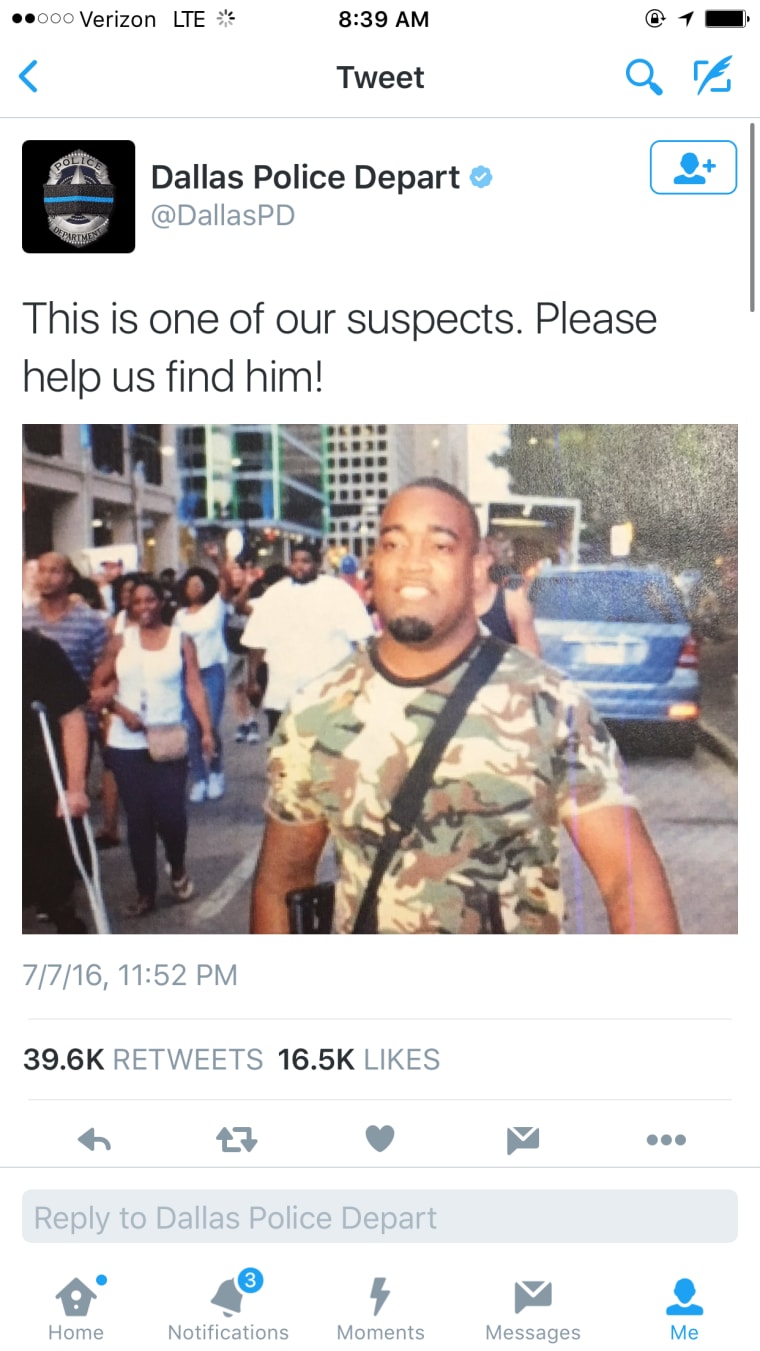 During an interview with the Hughes and his older brother Cory, MSNBC's Craig Melvin asked, "Did Big Brother Cory think perhaps you should have told him not to show up with an AR-15 strapped to his chest in the first place?" "Absolutely not," he responded. "Why does the constitution work for them and not for us? Why not allow him to exercise his constitutional right?"
RELATED: Black Caucus Demands a Vote on Guns, Warns of 'Long Hot Summer' If Action Not Taken
That is a reasonable question but, as Hughes' experience indicates, even in states with few gun restrictions, black and white men with guns are perceived and treated quite differently.
On Sunday, July 17, Gavin Long killed three Baton Rouge police officers who responded to reports of a black man openly carrying an assault rifle, both of which are legal in Louisiana. Police are believed to have acted more aggressively with Castile and Sterling because their guns were viewed as threats, not part of their constitutional rights.
The same can be said for 12-year-old Tamir Rice who, despite living in the open carry state of Ohio, was shot on sight for having what turned out to be a toy gun.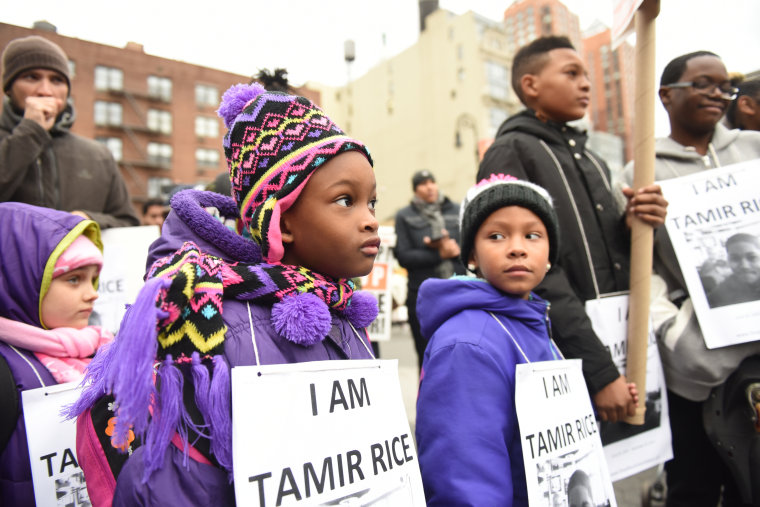 Historically, the Second Amendment has not always been applied equally to all races. In fact, gun control laws were often used to prevent blacks from arming themselves against whites.
In Gunfight: The Battle Over the Right to Bear Arms in America, UCLA law professor Adam Winkler, said Alabama authorities denied Martin Luther King Jr.'s request for a conceal carry permit even after his house was firebombed. Nonetheless, during the Jim Crow era, blacks viewed local law enforcement and the Klan as one in the same and took up arms for self-protection.
Since the Pew Research Center began tracking attitudes about guns in the early 1990s, public opinion has become increasingly divided along racial lines. A 2014 Pew study found that about 41 percent of white households own guns, compared to just 19 percent of black households.
RELATED: My White Husband Loves Guns, Our Black Son Does Not
A 2015 Pew study found that 57 percent of Whites say it is more import to protect gun rights compared to just 40 percent of blacks who feel that way; 72 percent of blacks say it is more important to control gun ownership. Sixty percent of whites say gun ownership does more to protect people from crime compared to just 37 percent of blacks.
The overwhelming majority of black political leaders are among the strongest gun control advocates. This is, in large measure, because African-Americans suffer from gun violence like no other race in America and are victimized by gun violence on an almost daily basis. According to a study from the Brookings Institution, 82 percent of all black gun deaths are homicides.
Following his meeting with the families of victims of the Orlando nightclub shooting, President Obama ripped into gun control opponents. "Those who defend the easy accessibility of assault weapons should meet these families and explain why that makes sense."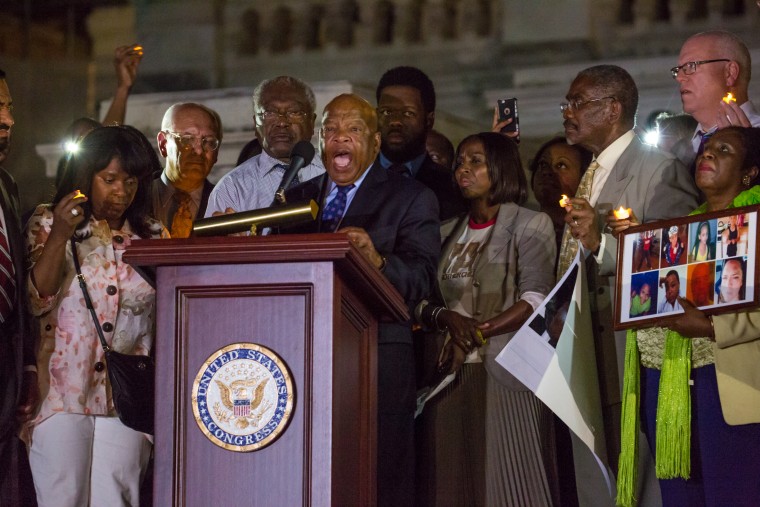 There are some in the black community who view the Second Amendment as sacrosanct and oppose any and all efforts to restrict access to guns, however. Philip Smith founded the National African American Gun Association, the black version of the NRA, in 2015 to expose, educate and motivate African Americans to purchase a firearm for self-defense.
RELATED: OpEd: Trump Speech Failed to Sell 'Law and Order' to Blacks
Gun rights advocate Maj Toure founded Black Guns Matter to advocate for responsible gun ownership and to push back against the notion that a black man with a gun is either a cop or a criminal. He believes that civilians, law enforcement and the military should all have access to the same weapons.
"I'm not in favor of any type of gun control measures because they tend to be very encroaching," says Toure. "You should be allowed to have any firearm that you are trained in and responsible with."
The Philadelphia rapper and activist chose to label his group Black Guns Matter because of its similarity and connection to the Black Lives Matter movement and because his favorite gun is a black Glock 22.
"Black Guns Matter came about because of the amount of murders of African American people, especially by corrupt police officers," says Toure. "I don't have to convince anyone that my life matters but I'm going to have the tools to defend my life because it matters to me."
RELATED: Blacks in Blue: African-American Cops React to Violence Towards and From Police
In 2015, the president of the Georgia chapter of the Southern Christian Leadership Conference (SCLC) said the recent police shootings should prompt the organization to reconsider its founding creed. "You know, the SCLC stands for nonviolence, but nonviolence hasn't worked in this instance," said Rev. Samuel Mosteller. "I am going to have to advocate, at this point, that all African-Americans advocate their 2nd Amendment rights."
Those comments earned Mosteller an indefinite suspension from the SCLC but other prominent blacks have adopted similar positions. Detroit Police Chief James Craig made news when he said more Detroiters with guns would decrease the likelihood of terrorism in the Motor City.
In an interview with NPR, Craig explained his rationale for encouraging more gun ownership. "It was a well-known fact here in Detroit, people didn't have a lot of confidence that when they dialed 911 the police were going to show up."
Before arming themselves, African-Americans would do well to remember that a black man with a gun is not likely to receive the same benefit of the doubt as his white counterpart.