In May, when the House Oversight Committee, led by Elijah Cummings of Maryland, scheduled a series of hearings on facial recognition software, Cedric Alexander was one of the few witnesses urging its use.
Alexander, a black law enforcement officer with 40 years experience and a doctorate in clinical psychology, spoke about the software's importance, while also warning about its potential for racial bias. When the hearing was over, he got into such a warm conversation with Cummings that Alexander asked him to write a foreword for his book, "In Defense of Public Service." Cummings, by then a 12-term congressman, delivered something eloquent and urgent.
"I am among those who have not lost confidence in our ability to 'right the ship' of American democratic life," Cummings wrote in the book, which will be published in February. "But I also realize that we are in a fight — a fight for the soul of our democracy."
Cummings died on Thursday at age 68. In many ways, his willingness to write the foreword of a virtual stranger's book about public service was emblematic, several people who knew him said Thursday.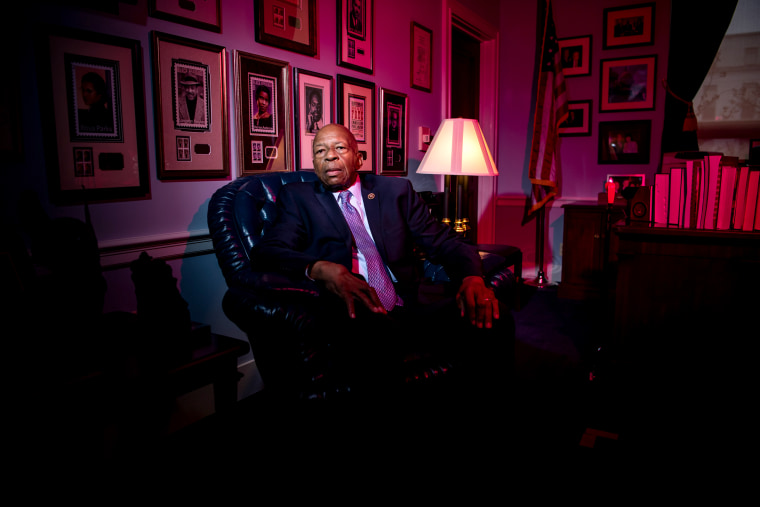 Cummings, who believed in creating and expanding opportunities for others, was as passionate about the fine detail of government as he was the health of our democratic republic and the availability of federal resources to aid Baltimore. He was as known for professionalism and decorum as he was for voice-raised soliloquies about the urgency and abnormality of the current moment.
"I always thought that was his particular skill," said Robert C. Smith, an emeritus professor of political science at San Francisco State University who remembers meeting Cummings in the 1990s. "He approached his work with a kind of joyousness. He was able to express his militant commitment to liberal progressive causes, but he always did it in a moderate way. The language he used was not militant but the thoughts behind it were."
Cummings, the son of South Carolina sharecroppers and the descendant of slaves, came to Congress after decades as a trial lawyer and then a Maryland state lawmaker. In Congress, Cummings prioritized the kinds of government spending that bolstered his district, bringing federal transit, early education and other dollars to a majority-black community living with the effects of decades of public and private divestment, job losses, the drug war and aggressive policing that delivered more fear than safety.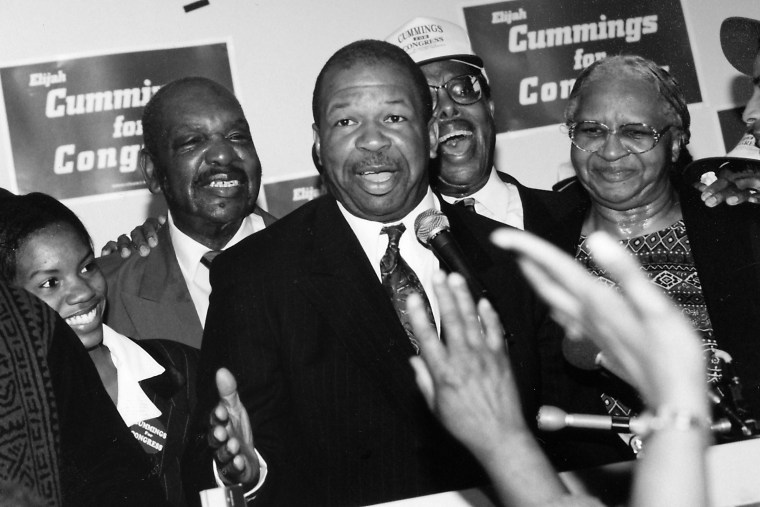 Cummings described his 2010 vote for the Affordable Care Act as the most important he ever cast because it enshrined the right to accessible health insurance, according to his staff. He held 22 annual How to Pay for College workshops in his district and helped thousands of underwater and distressed homeowners connect with options for relief on their loans during and after the Great Recession. Cummings was deeply involved in adult and juvenile criminal justice reform, and in February, he reintroduced a bill to place Harriet Tubman on American currency.
Cummings was strongly interested in reducing the cost of prescription drugs, holding a number of hearings, including one in which he asked a smirking, seemingly uninterested Martin Shkreli: "Are you listening?"
Cummings also encouraged black members of Congress to make room for interns and fellows in their offices and took time to wish young black reporters he spotted in the halls of Congress both good luck and deep courage. His message to both: Do the work that justice demands, even if it's not always welcomed.
"He valued the role that he played as a mentor," said Elsie Scott, director of the Ronald W. Walters Leadership and Public Policy Center at Howard University and a former president of the Congressional Black Caucus Foundation. The foundation is a nonprofit that conducts research and raises funds to underwrite scholarships, internships and fellowships that aim to diversify the ranks working in politics.
"He was very concerned about the next generation," Scott said.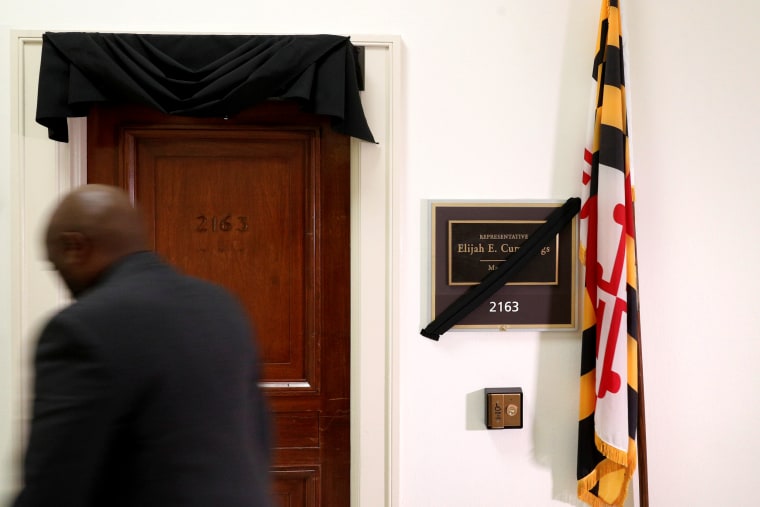 Years later, when Scott moved to Howard University, Cummings' alma mater, Cummings came to campus frequently to talk with students about politics and policy and brought other members of Congress with him, Republicans and Democrats.
In 2008, Cummings was one of a few members of the Congressional Black Caucus over the age of 50 willing to endorse Barack Obama early in his drive for the Democratic presidential nomination. Cummings explained his choice to NPR in February 2008.
"I think Hillary Clinton is a great candidate," he said. "I had done a lot for her husband when he was president. As a matter of fact, I defended him to the hilt. ... But there came a time when I felt that this young man, who I could really relate to, who I felt a lot of people looked over, saw as invisible, but had the audacity to run for the presidency of the United States. ... Ms. Clinton and the president, they've had their chance, and now I want to see him have his."
A few years later, Cummings' willingness to take on a fight when needed helped catapult him ahead of a more senior member of the House Oversight Committee to become the ranking member. Cummings became the committee's chair when Democrats took back the House in the 2018 midterm elections.
That job, as Cummings saw it, entailed advocating for Congress as a co-equal branch of government capable of checking and balancing others. That's the role the Constitution spelled out and Cummings, a lawyer, could and often did speak vociferously and eloquently about that, Scott said.
In February, Cummings held a hearing during which President Donald Trump's onetime personal lawyer, Michael Cohen, testified. Cummings issued a warning to others about their role in politics and public life.
"When we're dancing with the angels, the question will be asked," he said. "In 2019, what did we do to help make sure we kept our democracy intact? Did we stand on the sidelines and say nothing?"
As chairman of a committee with broad investigative authority, Cummings found himself the subject of the president's ire this summer. One exchange in July made Cummings a household name beyond his Baltimore-area district.
Angry that the committee had begun to investigate members of the first family, Trump described Cummings as a "racist" and a "bully." He falsely claimed that Cummings and others had misappropriated federal funds meant for Baltimore. He said that Cummings had ceased to care about his "rodent-infested mess" of a district where "no human being would want to live." It was a personal insult wrapped in politics and seasoned with stereotypes and racist innuendo.
In response, Cummings called on officials to stop making "hateful, incendiary comments" that distract the nation from its real problems, including mass shootings and white supremacy. "Those in the highest levels of the government must stop invoking fear, using racist language and encouraging reprehensible behavior," Cummings said.
Then, he invited Trump to town.
It was pure Cummings: a clear-eyed, searing assessment followed by courtesy, said Smith.
"That was him, that twinkle with the unflinching insight," Smith said. "It was always there."
It was an invitation the president never accepted. After a summer of insults, Trump tweeted his condolences Thursday on news of Cummings' death, describing his work as "very hard to replace."
The reversal wasn't missed or believed by some who have long respected Cummings.
"Many people see the current president and how he responds to anybody who questions his authority," said Derrick Johnson, president of the NAACP. "Trump doesn't handle that well most days, but you overlay that criticism with a meaningful and substantive critique out of the mouth of a person of color and I think we've all come to recognize that there is a different level of anger, a response, a reaction that should not exist in this democracy or any civil society.
"Representative Cummings, more than once, was on the receiving end of that," Johnson continued. "So, you'll pardon if I have to question the sincerity of those sentiments expressed for a great American today."