When an elite New York City private school made the unusual move of separating seventh- and eighth-grade students by race during their homeroom periods, the motive had a meaning: encourage self-affirmation and exploration of self-identity among the roughly 80 children.
Some parents, however, were unhappy with the Little Red School House's policy, according to a report last week in the New York Post. One parent said it felt "almost like segregation" and that there was "buzz and outrage and yelling" during meetings with the school.
A plan to continue race-based class placement, which was introduced last school year, has since been shelved for the fall. The school's director said in a follow-up letter to parents that "our groupings were not created to take away rights or opportunities from anyone, but rather to create the most supportive environment possible for all students, which is the very heart of our mission."
But as well-intentioned as that may seem, separating students by race can have the unintended effect of reinforcing divisions, and there are better alternatives that educators can seek out, experts say.
"By separating kids you start down a slippery slope," said Roslyn Mickelson, a sociology professor at the University of North Carolina, Charlotte, and a longtime advocate for desegregating schools. "You might then find reasons to separate students in other settings, not just homeroom."
Little Red School House, which consists of pre-K through grade 12, is about 65 percent to 70 percent white, the school's director, Phil Kassen, said in a 2016 interview on WNYC's "The Brian Lehrer Show." He did not immediately return a request for comment Tuesday.
During the 2017-18 school year, all of the students of color in the two middle school grades were placed in the same homeroom. The students were in these groups for about 30 percent of their school day, Kassen said in his letter to parents.
It's not unheard of for a school to create groups based on race and other factors, such as gender or learning ability.
In 2011, a public high school in Lancaster, Pennsylvania, gained national attention for a mentoring program that had its junior class divide itself for several minutes each day along racial, gender or language lines. Educators cited data in a 2009 report from UCLA that found that girls in sex-segregated schools have better academic engagement and SAT scores than their co-ed counterparts.
The Lancaster high school's program was not mandatory — unlike what the Little Red School House had tried.
Mickelson said there are other ways schools can choose to address race. Those include making sure students know the entire school is a safe space and allowing students of color to host clubs and activities where they can discuss racial issues, including with white "allies."
"Simply addressing that there's white privilege doesn't change the classroom dynamics," Mickelson said, adding that schools can make a greater effort to increase diversity enrollment as well.
Little Red School House bills itself as "progressive," and aside from sports and other common extracurricular activities, also hosts "social justice teach-ins" and allows students to take up causes such as the Black Lives Matter movement.
With an annual tuition of more than $45,400 a year, the school has attracted the children of celebrities and offers scholarships to students from lower-income families.
The low number of racial diversity in private schools in general remains glaring as many institutions face a decline in overall enrollment and are targeting underrepresented communities to boost ranks.
Students of color in 2017-18 made up nearly 30 percent of all independent school students in the U.S., according to the National Association of Independent Schools, which has more than 1,700 member schools, including the Little Red School House. The figure is up slightly from nearly 27 percent in 2011-12.
Students of color also made up 31.5 percent of need-based scholarships last school year, according to the association.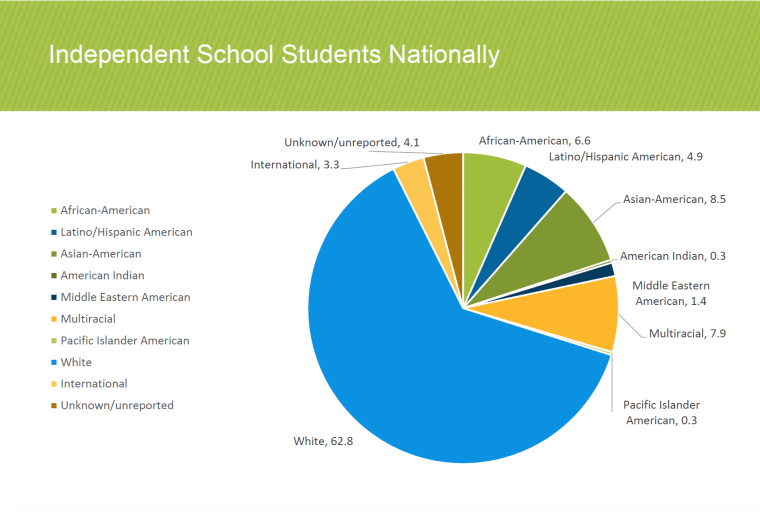 While the association doesn't directly oversee its members' curriculum or what they teach, the group does urge schools to incorporate diversity and inclusion discussions among faculty, trustees and students, said Caroline Blackwell, its vice president of equity and justice.
"For students to do well in school they've got to feel included and feel known in the environment," she said, "and they have to have a sense of belonging."
Nichole Thompson-Adams, who is black, was able to secure a scholarship for her two children to attend the Little Red School House and graduate from the high school in recent years. She lauded the school for taking an extra step of putting students of color together in homeroom and for nurturing a greater understanding of racial inequities around them.
When Thompson-Adams was a parent at the Little Red School House, she recalls attending diversity sensitivity training for all parents and how teachers encouraged her daughter to engage locally in Black Lives Matter.
In an Instagram post, Thompson-Adams' daughter, Sage, gave an impassioned defense of putting children of color in classes together as opposed to "'sprinkling' them around white classrooms." "It can be a very isolating and strange thing when you feel like you're holding the weight of your entire race on your shoulders," Sage Adams, 21, told NBC News. "There were times at Little Red I needed someone who looked like me to just be in the room."
Thompson-Adams said that even if the previous race-based homeroom policy ends, she doesn't want the school to stop discussing diversity — it's what made it stand out in the first place.
"That's why I picked that school. It wasn't color blind," she said.