Twitter may be celebrating but not everyone is excited about Jeffrey Siminoff, the social media giant's new hire as Vice President of Diversity and Inclusion.
On Monday, Twitter announced Siminoff, a former Apple executive and a gay, white male, via the social media platform. Some see the hire as inconsistent with Twitter's messaging on improving diversity.
When Mark Luckie, Twitter's former manager of journalism and news, heard the news he said he was initially befuddled.
"Like others in the news and tech industries, I wondered why Twitter would hire a white male in a very public diversity position," told NBCBLK via email. "Jeffrey Siminoff has an impressive resume but for a company who is lacking in racial and gender diversity, it sends the wrong message to the public."
Much has been written about the social network's lack of racial and ethnic equity throughout the company, especially in its leadership ranks. Luckie, one of the many who have been highly critical of Twitter's diversity struggles, said this hire only proves further that Twitter has a problem with diversity.
"From my view, Twitter, like many other companies that have had similar public calls to action, is placating the crowd," he said. "Most of Twitter executives are white men and if the plan truly is to have a diverse workforce that didn't play out with the hire of Jeffrey Siminoff."
Twitter declined to offer interviews regarding the hire of Siminoff. However, they did refer NBCBLK to a blog written by Janet Van Huysse, former Vice President of Diversity and Inclusion at Twitter in August of this year. In the post, Huysee announced Twitter's commitment to diversity and inclusion declaring, "We want the makeup of our company to reflect the vast range of people who use Twitter. Doing so will help us build a product to better serve people around the world."
The post pointed out their company-wide diversity goals moving forward, including:
Increase women overall to 35%
Increase women in tech roles to 16%
Increase women in leadership roles to 25%
Increase underrepresented minorities overall to 11%
Increase underrepresented minorities in tech roles to 9%
Increase underrepresented minorities in leadership roles to 6%
The last three goals referred exclusively to the United States.
The plan would actively recruit at historically black colleges and universities (HBCUs) and Hispanic-serving Institutions (HSIs), attract more diverse candidates by refining their recruiting and hiring practices, and further their commitment and support of women in technology.
According to their own 2014 Equal Employment Opportunity report, African Americans made up roughly 2% of Twitter's overall workforce, with the majority in non-tech positions and none in their leadership ranks. About 1% of African Americans made up their tech population.
RELATED: Report: 50 Best Workplaces For Diversity in the U.S
Hispanics made up 4% overall with that same number making up most of their non-tech positions and 3 % within their tech ranks. There are no Hispanics in leadership positions.
The largest group of persons of color within the ranks of Twitter, according to the report, was Asians (31% overall, 37% tech, 24% non-tech, 28% leadership).
Nancy DiTomaso, Rutgers Business School distinguished professor of Management and Global Business, thinks the hiring of Siminoff could be a plus for Twitter.
"If Twitter wanted to give more attention to diversity and inclusion issues, it makes sense to hire someone with a background in dealing with these issues," said DiTomaso. "He is also someone with large firm experience, which should be a plus for a company that is just trying to get up to speed on diversity issues. He might be the right fit for tech companies that have global users of their products."
DiTomaso has researched issues of diversity since the early 1980s. Her 2013 book, The American Non-Dilemma: Racial Inequality Without Racism, highlighted the very issue Twitter and other companies face today -- the phenomena of white males being hired for the majority of available jobs.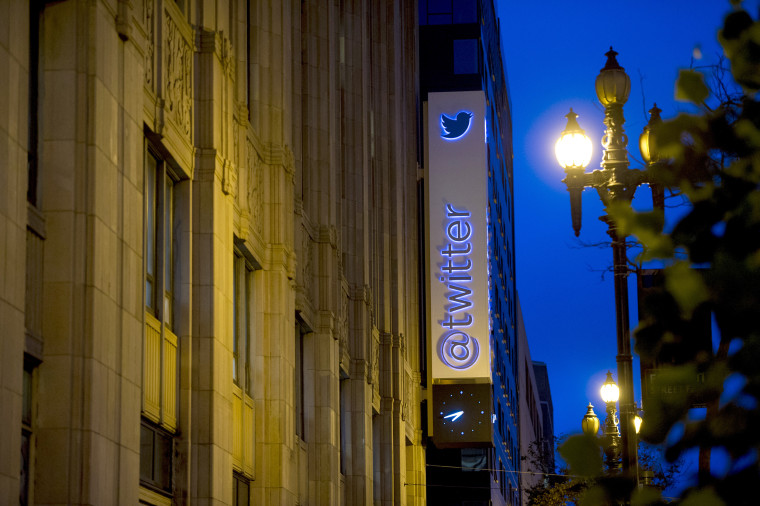 "These are issues that need to be addressed so that they can rethink their approaches to diversity and can become more accountable about how decisions are made about who gets hired, promoted, offered good assignments, rewarded, etc.," she told NBCBLK via email. "Having someone designated to address issues of diversity, to pay attention to the outcomes of decisions with regard to hiring, promotions, raises, and so on should make a difference, because it introduces more accountability into such decisions. But it is not enough if it is only a symbolic gesture with no links to making structural changes and policy changes."
Yet while this all could be a good thing, Twitter has missed an opportunity, said Leslie Miley, former Twitter engineering manager leading the Product Safety and Security Teams.
"It's a missed opportunity to lead by example. Having a person of color in that role would have been powerful," Miley said. "From Ferguson to Tamir Rice, #blacktwitter drives Twitter. To find a person of color to lead diversity and inclusion would have signaled a massive change in exec hiring."
RELATED: Can Diversity Impact Your Bottom Line? This Top Recruiter Says Yes
Miley says that if Twitter had hired someone like Maxine Williams, Facebook's Global Head of Diversity and a Trinidadian, the message would have been exceedingly clear. While he is not surprised, he is perplexed as to why Twitter execs are seemingly oblivious to their diversity issues and the potentially obvious solutions.
"As a person of color in tech, I am not surprised," said Miley. "Just disappointed. Again."
Luckie, who left the company earlier this year to complete his second book, Do U, and also develop Today in #BlackTwitter, a daily digest of the latest #BlackTwitter discussions, calls the hire a setback.
"This may not have a direct affect on Twitter's active users but it is dissolving the relationship with the platform's biggest proponents," Luckie said. "Announcing but not necessarily acting on diversity numbers, not meeting with influencers who come from diverse backgrounds, hiring a white guy for a diversity role – it's making the company look bad in general."