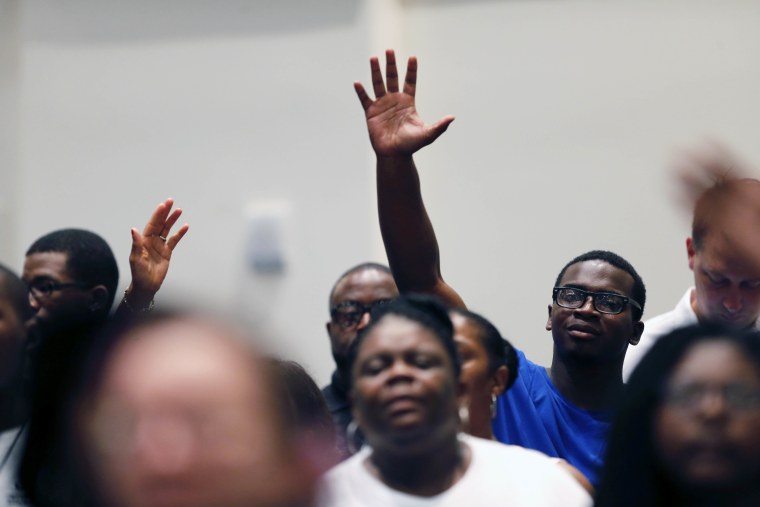 Having power and being powerless.
That's what I think of today, as America is once again confronted by the fact that though we've been screaming #BlackLivesMatter from the mountaintops to our smartphones, we still don't have the power to save ourselves from those who murder us without repercussions.
We are powerless in the face of death, when our power is ceded to murders.
RELATED: Op-Ed: Radical Black Christians in the New Civil Rights Movement
They say history always repeats itself. I know that Dr. Martin Luther King, Jr.'s life was taken from us because he had a dream that America would see and treat all people equally. Malcolm X clearly let us know that we were at war with the powers that be, and apparently we still are.
I recall a story that my father shared with me, of himself at the age of eight, when he saw Dr. Martin Luther King, Jr. in person, in Los Angeles after one of his speaking engagements. My father was so moved and inspired, that after Dr. King departed in a bus, my father ran as fast as he could to follow the bus. He literally wanted to chase Dr. King for as long as he could and attempted to do so with all his might.
I do believe Dr. King when he said, "Our lives begin to end the day we become silent about things that matter." We've got that part down, we are not silent, we are loudly using whatever platforms we have at our disposal to say enough is enough, but faith without works is dead.
Words alone are not enough to enact change. We need a plan, and just like those who looked to Dr. King and Malcolm X for a plan, I'm shifting my focus to the leaders of today like activist, humanitarian, and Grey's Anatomy actor Jesse Williams, to say, we are here and we will follow.
A great example of pursuing leadership is found in the talented media trailblazer Issa Rae who helped raise more than over $600,000 for a scholarship fund for Alton Sterling's family. She saw a need, provided a platform for assistance and we followed her lead.
"A system built to divide and impoverish and destroy us cannot stand if we do."
Recently, the Black community and allies rejoiced after Jesse Williams, accepted his 2016 BET Humanitarian Award and recited, "A system built to divide and impoverish and destroy us cannot stand if we do." Yearning for a modern day Dr. King, and realizing he indeed had a great team behind him, I am looking for direction that will justly make an impact on the senseless killings of Blacks in America.
Social media provides an invaluable voice and a vehicle to produce and share evidence, but I truly believe that now, more than ever, we need a leader who is true in purpose, vision and strategy for today's Black community. I am willing to use all of my power and work endlessly to save Black lives. I have faith in a better America, but I am also here to do the work to make that happen.