Today would have been Prince's 58th birthday, instead of celebrating I find myself, like millions of others of his faithful fans, still in mourning over his untimely and possibly avoidable death. The loss of another living legend isn't helping.
Much like it did about six weeks ago with Prince, my Facebook timeline exploded with comments Friday night as news spread of iconic boxer Muhammad Ali's death, my wall packed with insightful and heartfelt reflections from family, friends and colleagues.
"Perhaps he will soon be heading over to the easy place. You know Prince will be among the delegation that will be receiving Ali's spirit… a fitting tribute to their souls," one friend posted about the three-time World Heavyweight Champion boxer.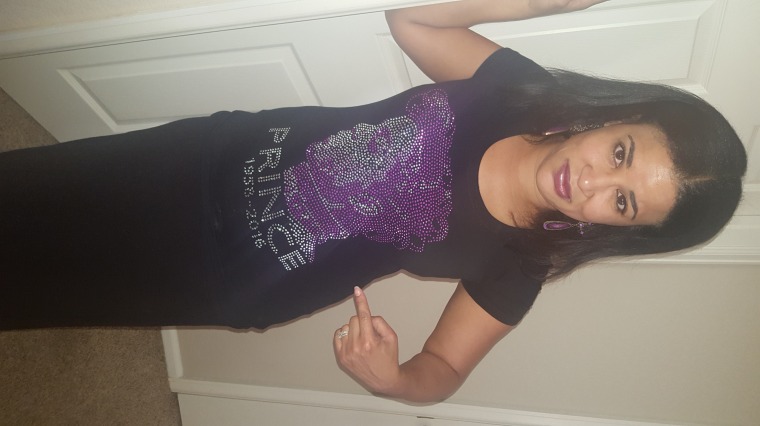 "Maurice White. Phife, 'the Funky Five-Footer.' Prince. And now [the death of], The G.O.A.T, Ali? (tosses evil squinty eye at 2016)," pondered a prolific writer friend.
They're both right. Hands down 2016 will go down as a year of some of 'The Greatest' losses, both literally and figuratively, many of the "greatest," most talented and beloved of our national treasures snatched away abruptly and unexpectedly. I agree with another colleague who quipped that it's, "time to roll Aretha [Franklin] and Stevie [Wonder] in some bubble wrap! Has anyone seen Sade lately?"
RELATED: How Prince Redefined Masculinity Through His Music, Onstage
But seriously, losing the musical genius and iconic entertainer Prince (my personal musical idol) and arguably the world's greatest and most colorful boxer of all time a mere six weeks apart, has sparked my reflections on the awe-inspiring legacy left by these men – two beautiful, brilliant and bold black brothers – who reigned at the top of their respective fields with unbridled confidence, undeniable talent, unyielding conviction and unlimited pride.
Interestingly, it was the month of June in 1997 when Ali and Prince (who at the time was mostly referred to as The Artist Formerly Known As Prince) reportedly met in person for the first time. The story goes that The Artist dropped everything with only 48 hours notice to fly to Washington D.C to meet the man he considered a beloved hero. The two are said to have formed an unbreakable bond during the promotion for Ali's World Healing Project, one that lasted until their last days respectively. "We've lost a true original," Ali just tweeted on April 22, the day after Prince's death.
Oh, what so many of us would have done to witness that monumental meeting of two masters.
Here are merely a few of some of the many commonalities shared by these two larger-than-life figures – both men of great talent, faith and vision – who changed the world and served as innovators in their respective crafts, inspiring millions across the globe.
YOUNG, GIFTED AND BLACK
Both Prince and Ali were prodigies who got busy perfecting their God-given gifts early and often. Ali, born Cassius Clay, first stepped in the ring at age 12 in his hometown of Louisville, Ky. He eventually won 100 of 108 amateur fights and snagged an Olympic gold medal at the 1960 Summer Olympics. By theage of 22, he won the world heavyweight championship, beating Sonny Liston in a legendary upset. The self-described "bad man" would go on to become a three-time World Heavyweight Champion boxer and one of the most successful and celebrated public figures in history.
RELATED: Appreciation: Why Muhammad Ali Was the Greatest
Similarly Prince Rogers Nelson (yes, Prince was his real name), demonstrated extraordinary musical talent as early as grade school. In fact, the Minneapolis native is said to have (at the urging of his musician father) written his first song, "Funk Machine," at the age of 7. He was still a teenager when he landed a groundbreaking record deal that included creative control. And he played all 27 instruments on his 1978 debut studio album For You and also "produced, arranged, composed and performed" all of the tracks. Like Ali, Prince would go on to earn some of the highest musical honors, including seven Grammy Awards, a Golden Globe and an Academy Award for the Purple Rain soundtrack. These men didn't let youth keep them from cultivating their raw talent.
MEN OF CONVICTION, MEN OF FAITH
Prince and Ali publicly celebrated their religious faith (Prince was a devout Jehovah's Witness) and both were willing to take a stand for what they believed in, regardless of the personal or professional cost. For example, in 1967, Ali famously made headlines for refusing the U.S. Army draft, based on his non-violent Muslim faith and membership in the Nation of Islam. His outspoken stance against fighting in Vietnam set off a chain of life events, including facing a five-year prison sentence and a $10,000 fine, being stripped of his world heavyweight title and getting banned from boxing in the States for three years. The Supreme Court reversed his conviction in 1971, but the damage to his image that took years to dismantle had already been done.
RELATED: Prince Fought Big Labels For Ownership, Artistic Control
Similarly in 1993, Prince launched a seven-year "David vs. Goliath" style fight against Warner Bros., protesting his lack of ownership and control of his music by scribbling "slave" on his face and changing his name to an unpronounceable symbol. Like Ali, Prince never faltered and he ultimately prevailed. In 2014, he signed a new contract with the label that included a special 30th anniversary release of his classic Purple Rain album and he regained ownership of his masters. Perhaps Ali summed up both he and Prince's lasting impact best when he once said, "I know the truth and I don't have to be what you want me to be. I'm free to be what I want."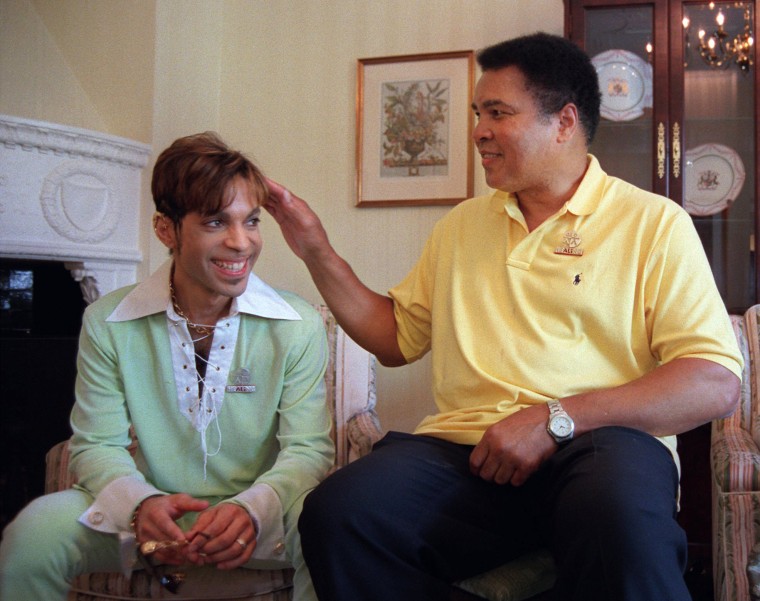 WOUNDED WARRIORS
In the world of sports, the most admired athletes are said to "leave it all on the field." Ali and Prince did that and more for their fans every time – and they had the life-altering battle wounds to prove it. Being the best came with a high price. Remember that bittersweet image of a frail, but determined, Ali trembling violently as he lit the Olympic torch at the 1996 Games in Atlanta? It was a sobering reminder of what would become his three-decades-long battle with Parkinson's disease – a condition that ultimately robbed him of the athletic prowess and flamboyant oratorical skills that made him famous. Doctors believe it was brought on by the thousands of punches Ali took during his boxing career. He gave his all for his art and so did Prince.
RELATED: Prince Died of Accidental Overdose of Painkiller Fentanyl
His recently leaked autopsy report concluded that he died from a self-administered overdose of the powerful opioid Fentanyl. Friends and protégés like Sheila E. have defended The Purple One, emphasizing that his suspected painkiller addiction was likely linked to the unbearable pain he'd endured for years as a result of the elaborate and athletic stage performances (which often included dramatic splits and jumping off speaker risers in high heels). There is speculation that his rumored addiction issues began with a hip replacement surgery in 2010. Ali and Prince are like millions of other gifted and dedicated performers who sacrifice life and limb to deliver for their fans.
ENDLESS SWAGGER
Both Ali and Prince's pictures should be posted next to the Urban Dictionary's definition of swagger, which is "to move with confidence, sophistication and to be cool" and to "conduct yourself in a way that would automatically earn respect." To borrow from Prince's "Adore," swagger is "too weak to define" the regal confidence these men projected at all times. Known for his quick, dancing style as a fighter, Ali managed to navigate a unique mix of political activism and personal conviction that won him international recognition beyond the ring. Prince was the only guy who could don lace, high heels, makeup and a curly do and still snag the finest of all women.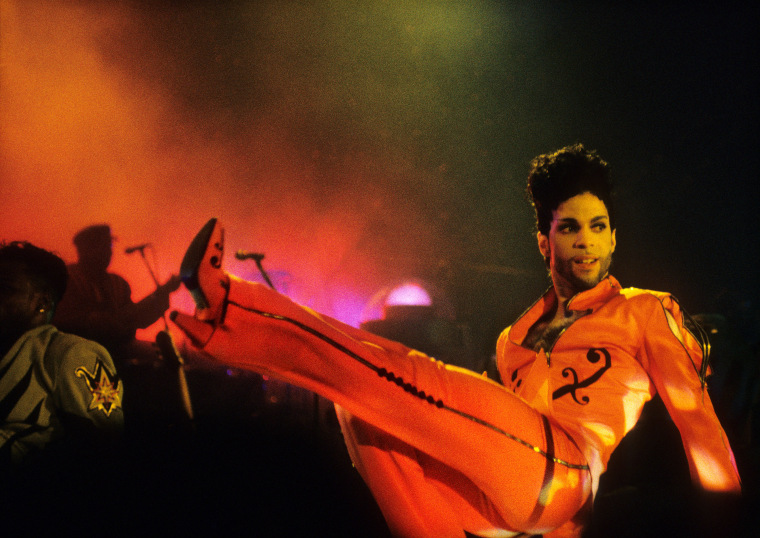 UNAPOLOGETICALLY BLACK (& PROUD)
There was no question that these were two incredibly proud and powerful African American men. "Why should they ask me to put on a uniform and go 10,000 miles from home and drop bombs and bullets on brown people in Vietnam while so-called Negro people in Louisville are treated like dogs and denied simple human rights?" Ali famously said during his battle to thwart the Army draft. In 1975, he reportedly told Playboy magazine "I know I got it made while the masses of black people are catchin' hell, but as long as they ain't free, I ain't free." Ali had a sense of obligation to the black community and other embattled groups that inspired him to be a voice for the voiceless.
RELATED: OpEd: Does the Revolution Begin with a Free Black Child?
From his playful Ebonics references to the "wrecka stow" in the film "Under The Cherry Moon" (as in, "if you wanted to buy a Sam Cooke album, where would you go?") to the meticulous Afro that he donned until his last day, Prince too conveyed pride in the African blood that pulsed through his veins. "Style is when all black men are free," he boldy stated on one track, fittingly featured on his Emancipation album. Whether it was penning the poignant "Baltimore" song in homage to the Black Lives Matter movement or making generous, anonymous financial contributions to former Obama advisor Van Jones' inner-city computer coding program, Prince like Ali, remained loyal and committed to the black community. They both subscribed to the "say it loud, I'm black and I'm proud" mantra made famous by another gifted black man, entertainer James Brown.
Both Prince and Ali were lovers of women, entrepreneurs, philanthropists and humanitarians; the list of their similarities seems endless. In short, they were kindred spirits whose lives, talent and life missions intertwined in beautiful, complex, but clear-cut ways. One can only imagine the smooth moves and powerful prose those two are collaborating on now as yet they meet again in the month of June.