Walking into Elmina Castle I felt a sense of aggression.
I visited the castle as a tourist looking for other Black Americans to interview about their experience.
Being a first-generation Ghanaian living in America, I've been a part of numerous conversations pertaining to a perceived disconnect between Black Americans and Africans. Amidst heated discourse with Black Americans, I've been told my direct ancestors were not a part of the Trans-Atlantic Slave trade because they 'sold' their fellow Africans to Europeans.
Visiting Elmina Castle was the perfect opportunity to seek clarification on Africans' role in slavery. Elmina tour guide George Mensah explained, "Africans didn't know about slavery. Africans were not selling each other until the Europeans came. They were tricked. It wasn't their fault. A weak person can't sell a stronger person. They came to spread Christianity but Christianity and slavery don't connect."
Mensah was right, although it doesn't excuse the practice of involuntary migration. Built in 1482, biblical passages created by slave capturers are still hanging throughout the Elmina Castle.
As a woman I cannot be numb to such an inhumane aspect of history. The smell won't let me.
This was my second visit to a slave castle in Africa-the first was Cape Coast Castle- also in Ghana. I lived and worked in Ghana for most of 2011. Covering Cape Coast Castle was such a moving experience that I entered Elmina a bit numb. I knew what to expect-dark dungeons amid a vast ocean. However, on first sight of the sign 'Female Slave Dungeon' my numbness quickly waned. Walking toward the scantily lit room, the smell of menstruation and human defecation grew paramount.
For 400 years both Dutch and Portuguese slave capturers captured up to 150 African women at a time, chained them together and packed them into the dungeon. Some wore cloth which covered their genitalia-others were naked. They were trapped in the dungeon for up to three months at a time before boarding a ship headed for Europe, the Americas and the West Indies. As a woman I cannot be numb to such an inhumane aspect of history. The smell won't let me.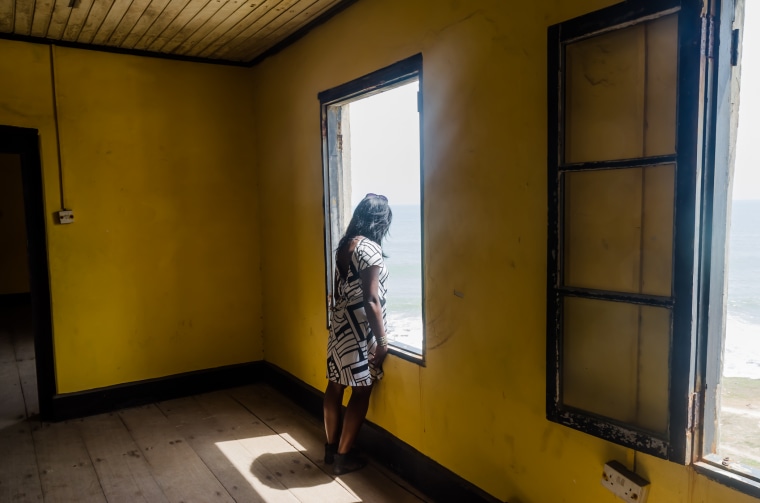 My tour guide George explained that the 3ft high stains on the walls were remnant stains of feces from women who essentially had relieve themselves on themselves. They were chained to a canon ball in the center of the chamber for resisting rape.
33-year-old Jennifer Boateng of New Hampshire cried upon hearing this. "As a woman, the fact that I can still smell menstruation inside the female slave dungeon is terrible. No words, honestly no words. You picture it. You can't describe it but you picture and yet I can smell it."
Boateng visited the castle with Nathaniel Andrews. He's a Black American also from New Hampshire. "Being here is a staunch reminder of the realness of the Trans-Atlantic Slave Trade. Hundreds of Africans packed inside these tiny rooms with little ventilation. Terrible. Horrible. Inhumane. "
Boateng said she couldn't judge the slave captures. "It's a moral issue. Yes it was inhumane but we are still doing inhumane things to each other today. This is all a very humbling experience."
In my two visits to two separate castles the irony of beautiful coastline line views juxtaposed with what occurred inside the castle will always be disturbing memory.
Touring Elmina Castle I learned that one - no one, be they African or European wants to be on the wrong side of slavery; and two - being a first generation Ghanaian doesn't make me disconnected from slavery or above it. The history of Elmina Castle is uncomfortable for everyone. There are no winners.