Four years ago today, World Autism Awareness Day, my five year old and I fended off illness, traffic, and Manhattan parking woes to attend a press event sponsored by Autism Speaks at the Intrepid Museum. I was exhausted, but still excited to expose my son to the Intrepid, as neither of us had ever explored the historic ship. Plus, we were invited along with other families with children with autism to the event.
It was a relief to attend something sponsored by an organization that understood and celebrated kids like my son. They'd be sensitive to his quirks — like his propensity to dart off at times, or sing when no one else is. Our names were checked off at the main entrance and we headed upstairs to catch the tail end of the private event. Xavier was pulling my arm towards a table with rows of orange juice.
"Is this still available?" I asked. The servers had started to clean up, and as a former waitress, I wanted to be polite.
A white woman, pacing nearby with the intensity of someone in public relations, gave me a once over while talking on her cell phone. "It's open to the people who attend the event."
A cool whisper of air ran over the back of my neck. It wasn't an outright rejection, but her delivery was terse and it was clear that she averted her eyes from mine as an act of dismissal. It was not lost on me that she felt the need to interrupt her call to respond, even though she was behind me and I wasn't talking to her.
If I were white, would my presence even be noticed, let alone questioned? Did I need a blue pin to compensate for my black face?
I let it go and grabbed an orange juice for Xavier.
Moments later, a white man with dark hair bounded over. "This area is for people only at the private event," he said to me, not the blonde woman who had just taken a bagel.
"My son has autism," I said, clasping Xavier's hand tightly. "We were invited here. What made you think we weren't?"
The question lingered over the long table of food like a cloud at a picnic. We were the only African-Americans not clad in uniforms or holding a clipboard. No one answered me. They all simply backed away.
A black catering worker, looking to bridge the chasm between the people who hired her and someone who looked like her, offered quietly, "Well, you're not wearing a pin," referring to the blue puzzle pieces that were given out at the main entrance. "I'm sure that's why he didn't know."
"My son is wearing a pin," I pointed out to her and the small group within earshot. But neither the man, nor the publicist, looked to see it clipped to my son's coat. Nor did they notice the blue turtleneck I was wearing or my son's blue jeans and sky blue jacket he wore over the blue shirt my husband had chosen for this very occasion. What they both noticed was that we were black.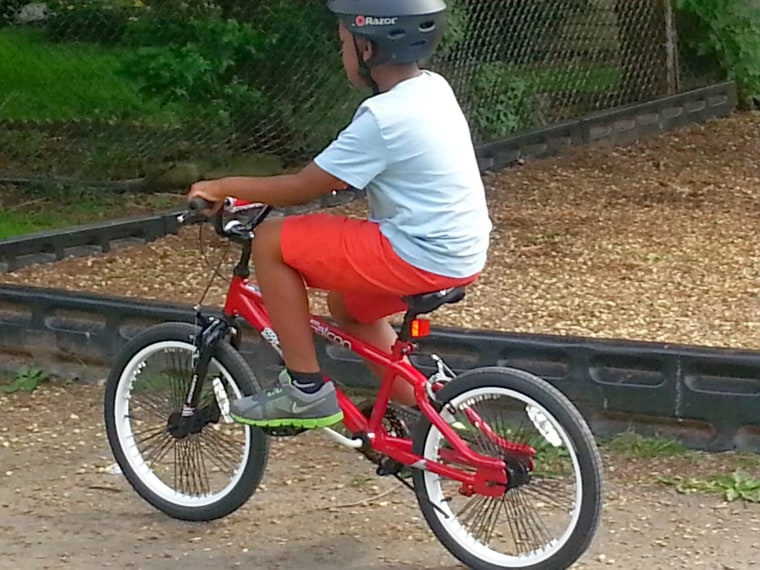 At this high profile event, led by the former head of a Fortune 500 company, attended by major media outlets and presumably wealthy donors, must I tag myself with a pin to show that I am "allowed"? There were no name badges or special wristbands that I lacked. I hadn't breached security protocol. I was allowed in because I had RSVP'd in advance from an invitation sent to me.
If I were white, would my presence even be noticed, let alone questioned? With my naturally twisted hair and skin the color of raw almonds, did I need a special ID to announce that I was "approved"? Did I have to show my papers in order to go to visit the Big House on another plantation? Did I need a blue pin to compensate for my black face?
But my son had a pin. And that wasn't good enough.
It's very possible that the people who questioned my presence didn't work directly for the organization. However, for a group that works so hard to promote understanding and awareness for folks with autism, I would hope they train their representatives to be sensitive and inclusive of all people.
My child needed all of me. I didn't have the space or time for anger. I expected this community to embrace my family, not push us away.
I was angry. Anger, and being subject to any type of bias, is depleting, and I couldn't afford to run on empty. I needed energy to talk to my child throughout the day, remark on the darkness of the tunnels, color of the trees and songs on the radio as I drove him to various therapies, hoping one day he'll talk back. I needed to be at full strength when he'd wake for two hours in the middle of the night, and I'd have to walk back and forth between my room and his, trying to get him back to sleep. I needed to smile when I greeted his gorgeous face in the morning, gently force him to make eye contact with me every time, never accepting anything less.
My child needed all of me. I didn't have the space or time for anger. I expected this community to embrace my family, not push us away.
Autism Speaks has done a great job raising awareness of the disorder, and its policy work for insurance coverage is critical. It's wonderful that African-American celebrities such as Toni Braxton and Holly Robinson Peete have been involved. But my experience on that particular World Autism Awareness Day made me wonder how in touch the leaders of this well-funded organization are with communities that aren't white.
In order to promote awareness in others, we have to first be self-aware. I hope supporters of individuals with autism can help all those in need, not only those with the right color.