When I was younger, many people told me I was blessed because I shared my name with the man people dubbed "The Greatest." But the irony of sharing my name with the world's greatest boxer was that he taught me to fight with my words instead of with my hands.
A few days after 9/11, Muhammad Ali visited Ground Zero and stood in solidarity with service members and civilians searching for people through the debris. He bravely made the following remarks, "Islam is not a killer religion. Islam means peace. I couldn't just sit home and watch people label Muslims as the reason for the problem."
I remembered how proud my father was as he recalled the moment to me.
After 9/11, like many Muslims, I have been subjected to bigotry and Islamophobia on a daily basis. Two years ago, on a returning flight to the United States, I was detained by the TSA although I am a United States Citizen. The TSA agent told me that I should think about changing my first name in order to avoid this situation in the future. I was angry but it was in that moment I remembered Muhammad Ali's visit to Ground Zero.
In that moment, I politely told the TSA agent that I shared the name with a man who once knocked out Sonny Liston when the odds were stacked against him.
I realized that I was angry for the wrong reasons and that like Ali I needed to accept that this incident wasn't just about me. In that moment, I politely told the TSA agent that I shared the name with a man who once knocked out Sonny Liston when the odds were stacked against him. That same man bravely spoke out for his beliefs even when he was viciously oppressed. If I don't say something to you sir, then you'll just keep abusing people like me. Ali showed me I wasn't just defending myself; I was defending the people who shared my faith.
We look up to individuals that represent the moral values that we envision for our world. We call those individuals heroes. During World War II, when America's values were being attacked, American comic book artists created Captain America to give Americans the motivation they needed to continue the fight against foreign oppressors. For Americans, Captain America was their hero. For Muslims, Muhammad Ali was ours.
Ali wasn't just a Muslim, he was the first American face of the nation of Islam. During the '60s, Ali bridged a divide by embodying the humanity of this "exotic" faith that Americans had believed to invade their community.
Ali wasn't just a Muslim, he was the first American face of the nation of Islam.
Ali united people of all faiths and backgrounds at a time when cohesiveness was inconceivable. Years later, I realized how fitting his comic book debut alongside Superman was because it depicted him as the hero many Muslims like myself saw him to be. (In the comic he's declared Earth's boxing champion after he beats Superman.)
Muhammad Ali wasn't just "The Greatest", he was also the realist. At a time when racism was rampant even amongst the media, Ali schooled reporters with poise and etiquette that only furthered people's love for him. In 1966 when pressed about his refusal to be drafted into the Vietnam War, Muhammad Ali preached a bold truth.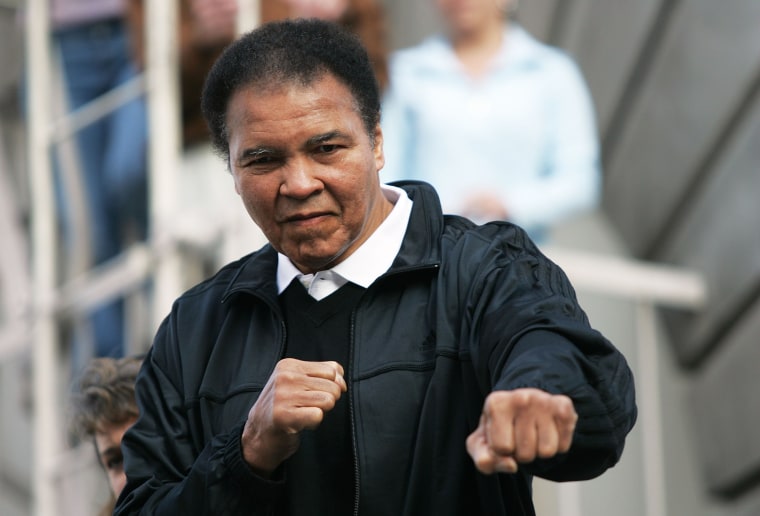 "No, I am not going ten thousand miles from home to help murder and burn another poor nation simply to continue the domination of white slave masters of the darker people the world over. This is the day when such evils must come to an end," Ali said.
After his conversion to Islam, Ali continuously defended his faith in public and addressed us all as if we were all his brothers and sisters when he did so. Although many remember the braggadocio nature of Ali, I remember his altruism, which was often reflected in both his actions and his words. He advocated for peace through words because he fought enough fights to know damn well that violence wasn't the answer. Peace, respect, and appreciation for the humanity that unites us are.
After a brutal year of terrorist attacks and remarks from Republican presidential nominee Donald Trump about a plan to ban Muslims from entering the United States, Ali stood up once again to defend his faith.
In a public statement titled, "Presidential Candidates Proposing to Ban Muslim Immigration to the United States," Ali wrote:
"Speaking as someone who has never been accused of political correctness, I believe that our political leaders should use their position to bring understanding about the religion of Islam and clarify that these misguided murderers have perverted people's views on what Islam really is."
If Ali has taught us anything, it's that we're never just fighting for ourselves; we're fighting for our people.