Opening statements could begin Monday in the murder trial of the Chicago police officer who fatally shot a black teenager in 2014 — bringing a renewed focus on the strained relations between African-Americans and the city's law enforcement officers.
Nearly four years after Laquan McDonald's death, which was caught on dashcam video and ignited waves of protests, some residents remain wary of the criminal justice system and mistrustful of police and city officials after an alleged cover-up in the case.
Activists and faith leaders are preparing for what could happen if defendant Jason Van Dyke, who is white, walks free. Van Dyke's defense team said Friday that it wants a jury trial instead of allowing a judge to decide the case.
Since jury selection began this month, protesters have gathered outside of the courthouse, and leaders have been adamant about avoiding the kind of chaos and violence that have marked other race-related cases, from Los Angeles after the Rodney King beating in 1992 to Baltimore after Freddie Gray's death in 2015.
"This trial will be a powder keg," said activist Eric Russell, who is black. "There are people who are extremists — they believe in an eye for an eye, the 'Chicago way.' But that's something that we certainly don't want, no matter what happens."
The activist response
William Calloway, 29, held a community meeting this summer at a church on Chicago's South Side for residents to talk strategies.
In the face of an acquittal, some suggested boycotting downtown businesses to flex their economic power, as well as shutting down major streets.
They've done that before, like in November 2015, when demonstrators blocked traffic in the South Loop in the hours after the grainy dashcam video of the McDonald shooting was finally made public.
On the night he was killed, Oct. 20, 2014, police were responding to reports that McDonald, 17, was carrying a knife and breaking into cars. He had slashed the tires on a police cruiser and refused to follow commands to drop the weapon, police said. Video shows Van Dyke moving closer to McDonald, while the teen walked away in the middle of the street.
Van Dyke fired his weapon, and McDonald fell to the ground. The officer shot him 16 times over about 15 seconds, prosecutors said. McDonald was lying on the ground for 13 of those seconds; the knife he was carrying was found closed.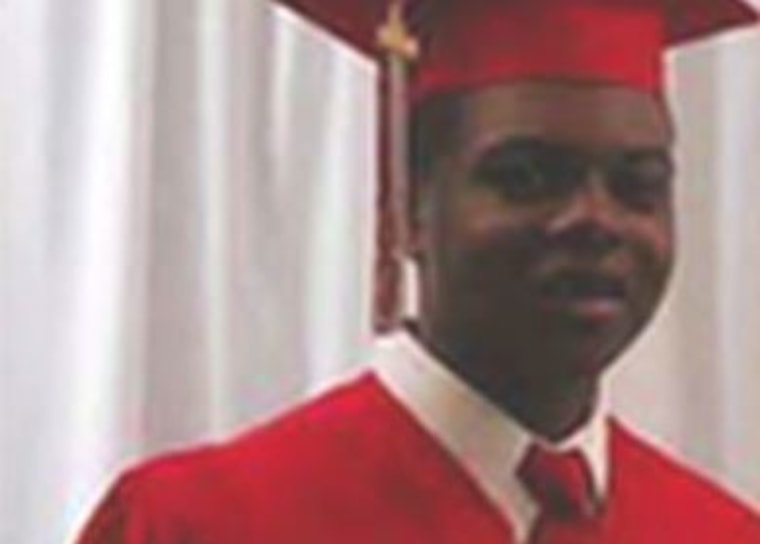 Before the video's release, the police union claimed that McDonald had lunged at the officers and posed "a very serious threat." But the footage showed the opposite, that he was veering away from them.
More than a year after the killing, the state charged Van Dyke, 40, with first-degree murder.
The public protests became cathartic for many people, said Calloway, who was instrumental in pushing for the video's release. Van Dyke's trial, which began Sept. 5 with jury selection, is expected to stir up long-simmering tensions. In the meantime, Van Dyke remains suspended from the department without pay.
"Of course, I'm extremely nervous," Van Dyke told the Chicago Tribune last month in his first interview since the shooting. "I might be looking at the possibility of spending the rest of my life in prison for doing my job as I was trained as a Chicago police officer."
Calloway noted, "This is the first time a Chicago police officer in my generation has been charged with first-degree murder." (The last time was in 1980.)
"Chicago is a special place, and for us to get a not guilty in a case like this, it's going to have an unprecedented outcome," he added. "That's why I'm trying to prepare my city now."
The Rev. Greg Livingston, of New Hope Baptist Church, has spearheaded past protests — part of a larger grievance against Mayor Rahm Emanuel's administration. Emanuel, mayor since 2011, made a surprise announcement the day before the Van Dyke trial began by saying he was abandoning his 2019 re-election bid, but didn't explain his decision.
Livingston and other activists have been at odds with the mayor and want to bring attention not only to police-involved shootings, but the everyday gun violence that plagues the city and a proposed court-ordered consent decree that would bring more accountability to the police department.
Calloway said he's "cautiously optimistic" about the agreement, which ranges from how the department should recruit and train officers to its use of force and handling of misconduct investigations. The proposal followed the death of McDonald and came out of the state attorney general's lawsuit accusing the department of a long-standing pattern of bias and excessive force.
Activists have also called for police shooting videos to be released faster, to create more transparency.
In August, a few hundred demonstrators, including Livingston, shut down a major street near Wrigley Field where the Cubs play as they called for Emanuel's resignation. While Emanuel dropped out of the mayoral race, nearly a dozen people have declared their candidacies and are making the police department and the consent decree central issues.
A spokesman for City Hall did not respond to requests for comment, but previously told the Chicago Tribune that "the city is creating jobs for people living on the South and West sides."
Police officials have also said the community needs to do more to help solve crimes linked to gun violence.
But Russell believes the shootings have continued unchecked because people are equally leery of law enforcement and don't count on being protected.
"We know that we can be killed by police," said Russell, the activist from the Tree of Life Justice League of Illinois, which advocates for police accountability. "We would love to be able to have a public safety conversation with them, but there is no trust."
Trial and politics intertwined
A Cook County judge made several rulings before the trial began: Prosecutors can't refer to McDonald as a victim (at least not until the closing arguments); the dashcam video is admissible in court; and both the prosecution and defense must file memos in regard to whether they believe McDonald committed a "forcibly felony" on the night of the shooting.
Still unclear is whether the trial's venue would move out of Cook County, where Chicago is located.
Among the witnesses the defense team could call on to testify is McDonald's mother, Tina Hunter.
She appeared in court on a subpoena this month, and was reportedly asked about her son's history and "propensity for violence" — which could be used to build a case of self-defense for Van Dyke.
Hunter was pregnant with McDonald at 14 and he was raised primarily by a great-grandmother in a rough West Side neighborhood. He became entangled in drugs and the juvenile detention system, but still held a close relationship with his large, extended family, according to reports.
Hunter was quietly awarded a $5 million settlement with the city just days before a 2015 mayoral runoff that resulted in Emanuel's re-election — a move that some criticized as a "hush payment" to try to stave off the release of the dashcam video.
Hunter has not spoken publicly about the incident, and efforts to reach family members for comment have been unsuccessful.
An attorney for Van Dyke said he had feared for his life during the encounter with McDonald.
A spokeswoman for Van Dyke's defense team did not return a request for comment. In recent weeks, his attorneys have unsuccessfully asked for a new judge to hear their request to have the trial moved out of the county, arguing the current judge is prejudiced against their motion.
"Any further proceedings would be nothing more than a show, much like a professional wrestling match wherein the outcome has been pre-determined," attorney Daniel Herbert wrote in his request.
The candidates running for mayor are carefully watching the trial — and some of them even had a role in the events leading up to it: Former Police Superintendent Garry McCarthy was ousted in the fallout of the McDonald shooting; Lori Lightfoot is a former president of the Chicago Police Board; and activist Ja'Mal Green helped to organize demonstrations following the shooting.
The consent decree is supported by Emanuel, but some of his opponents say it doesn't go far enough or that it shows his administration's failure to oversee the nation's second-largest police department. The mayor said in July that he's confident the decree "will stand the test of time" if it is officially approved by a federal judge.
Chicago Police Superintendent Eddie Johnson said in July that much of what's in the agreement are changes that have already been adopted or started, including the launch of a so-called Force Review Unit and a concentrated focus on community engagement.
A spokesman for Chicago's police union, the Fraternal Order of Police Lodge 7, declined to comment about the changes or the upcoming trial against Van Dyke.
Dick Simpson, a former Chicago alderman and professor of political science at the University of Illinois at Chicago, said the swirling events in the city — from the trial to the consent decree to the mayor's race — have the potential to become a flashpoint for residents who are crying out for meaningful change.
"The mayor's handling of it," he added, "will be a watershed moment."