It's 3AM and Doreen Oliver wakes from her slumber to her 5-year-old son wailing. After getting him back to sleep, she returns to her room and documents this interaction.
Thirty minutes later, Doreen once again finds herself waking to sounds coming from her son's room, but this time, he is giggling. Again, she gets him to sleep and records this interaction.
This cycle happens repeatedly into the morning.
In her one-woman show, "Everything is Fine Until It's Not," Doreen Oliver takes us through a beautifully put together play as she expressively navigates the journey of having a child with autism. This is an all too familiar scenario to any parents rasing children on the autism spectrum.
RELATED: New Play Explores Life, Legacy of Slain Teen Trayvon Martin
I had the opportunity to watch this piece and left the packed St. Mark's theatre in awe. Her performance was like watching a friend tell a story about her life in the most descriptive way you can imagine. Her performance completely draws you in. Oliver takes the audience through a myriad of emotions and at times you completely forget that there is only one woman on that stage. Over the course of an hour we laughed, we cried, and we were angry all at the same time with her.
There was such a variety of people in the audience, but everyone was able to relate in some way to the play. The director, Janeece Freeman Clark, co-founding artistic director of the Vanguard Theatre Company, said that this was the very thing that attracted her to this piece. "This is a universal story. There are so many stories that I can relate to [in the play] like sleeping through the night, every mother has experienced it. Every mother has at moments felt like the worst mother on the face of this planet."
RELATED: Essay: We Wear Blue For Autism, But is the Color Really White
At the end of the play, along with Oliver, the audience walks away with a feeling of peace and resolution. "I can't wait for everything to be ok and I can't hold my breath for all the horrible things to happen. I just have to live between those moments," says the lone woman on stage, in her closing monologue.
I had the pleasure of speaking with Doreen Oliver after the production. When asked what the driver behind this play was and why now, Oliver explained that she had been working on a memoir for a long time, when she realized that the medium of a performance would bring more life to the project.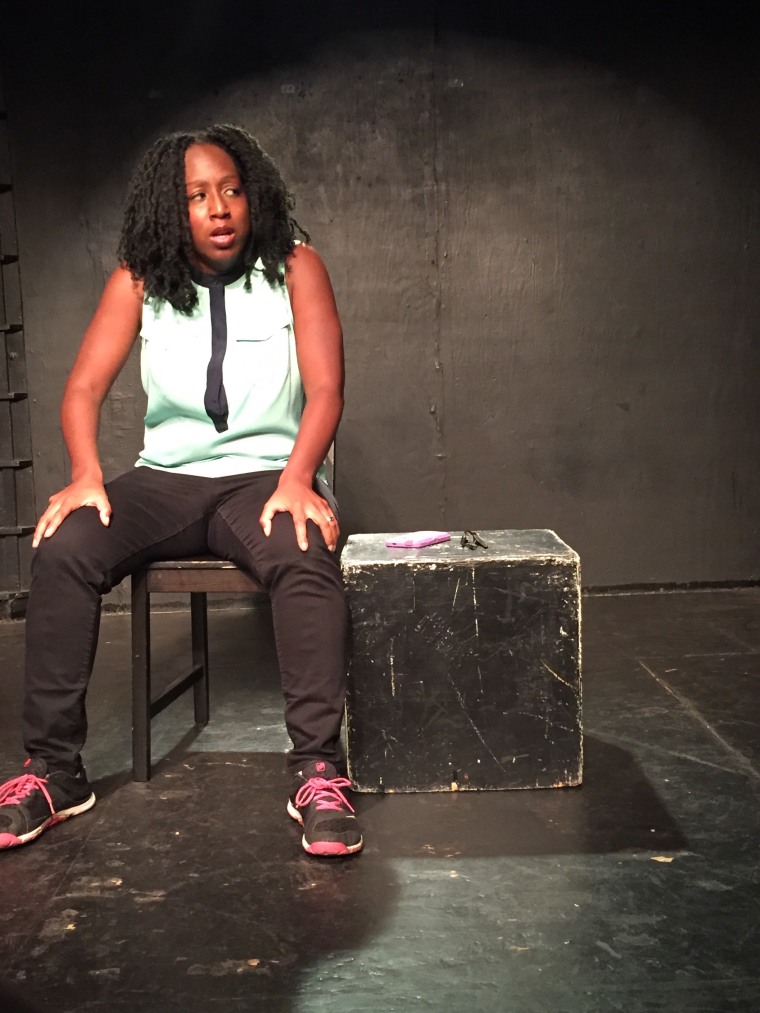 "In January of this year I felt dead inside, I was at a very low point in my life… What God put me on this earth to do, which is create, I hadn't been doing it at all," said Oliver. "And I had forgotten about not only my goals in life but having goals. I had forgotten about my desire and the things that I always dreamed of doing. It's like I had forgotten how to want anything anymore."
Doreen seemed fearless on stage as she performed solo for an hour. However, she described this very thing as one of her biggest obstacles. "I have been a film producer, I worked in corporate America, and I've written but [not] performing," Oliver said of her hesitation to bare her soul before an audience. "Doing that again on the stage was frightening to me because I loved it so much and I want it to be good and I wasn't sure if I could be good."
Well, Doreen Oliver blew us away with this performance and that fear can be laid to rest.
You can follow Doreen Oliver on twitter @doreenoliver or www.doreenoliver.com