The family of Stanley Wilson Jr. said that, before his death on Feb. 1, the 40-year-old ex-NFL player was beaten by Los Angeles County law enforcement officers. The family made the claim in a lawsuit for damages filed Tuesday to the county's Board of Supervisors.
Wilson was arrested for trespassing in November 2022 and detained at L.A.'s Twin Towers Correctional Facility. The former cornerback was held there because he was deemed too incompetent to stand trial, John C. Carpenter, the family's attorney, told NBC News. Wilson, who Carpenter said had a history of mental illness, had no known medical issues that would cause sudden death as of Jan. 31, Carpenter said, "yet, 9:30 in the morning the next day, he was dead." 
Wilson's family was told different accounts of the circumstances surrounding their son's death by the county's coroner investigator, Carpenter said. The first was that he collapsed and died in his cell at Twin Towers, he said. Later, Carpenter said a second report stated that he died in the ambulance on the way to Metropolitan State Hospital, a psychiatric facility. Then the family was told that "he fell out of his chair," and died as medical providers asked him intake questions, Carpenter said. 
"We don't know who was with him at the time when he died," Carpenter said, "and we don't know what attempts were made to save his life. But a healthy 40-year-old man should not have passed like that." 
The family said they have not been told what caused his death or why he had several bruises and bumps on his body. They are also unsure of whether he was in the custody of the sheriff's department or correctional officers at the time of his death. 
"We don't know which one is the truth and that's why we filed the claim," Carpenter said, "so we can get to the bottom and find out the truth of the matter of what happened to Stanley Wilson Jr."
In an emailed statement, the LA County Medical Examiner's Office told NBC News that it offers "sincere condolences to the family and loved ones of Stanley Wilson Jr.," and that the investigation into his death is ongoing. The office also said Wilson's death was first reported on Feb. 1 at 11:10 a.m. at Metro State Hospital, and that the department "maintained communication with the family in the days that followed to provide updates and answer any questions they had," the statement said.
The statement added that the office is currently waiting for the results of the toxicology report, which they said typically takes between four to six months. It is also looking "into all factors" that may have contributed to Wilson's death and will share the final cause of death once the final autopsy report is complete.
Carpenter said that when Wilson's parents requested their son's medical records from Metropolitan State Hospital, administrators there told them he was never admitted. Wilson's parents said they have not yet received the autopsy report from neither the county coroner nor from a private investigator they hired.
The law firm and Wilson's family took photos of him after viewing his body. The bruises on Wilson's heads and hands, in photos viewed by NBC News, prompted the family to file the claims for damages with the county. Carpenter said the ligature marks on Wilson's wrists indicate that he was restrained at the time of his death. This contradicts what the county told Wilson's family — that there were no markings on his body, he said.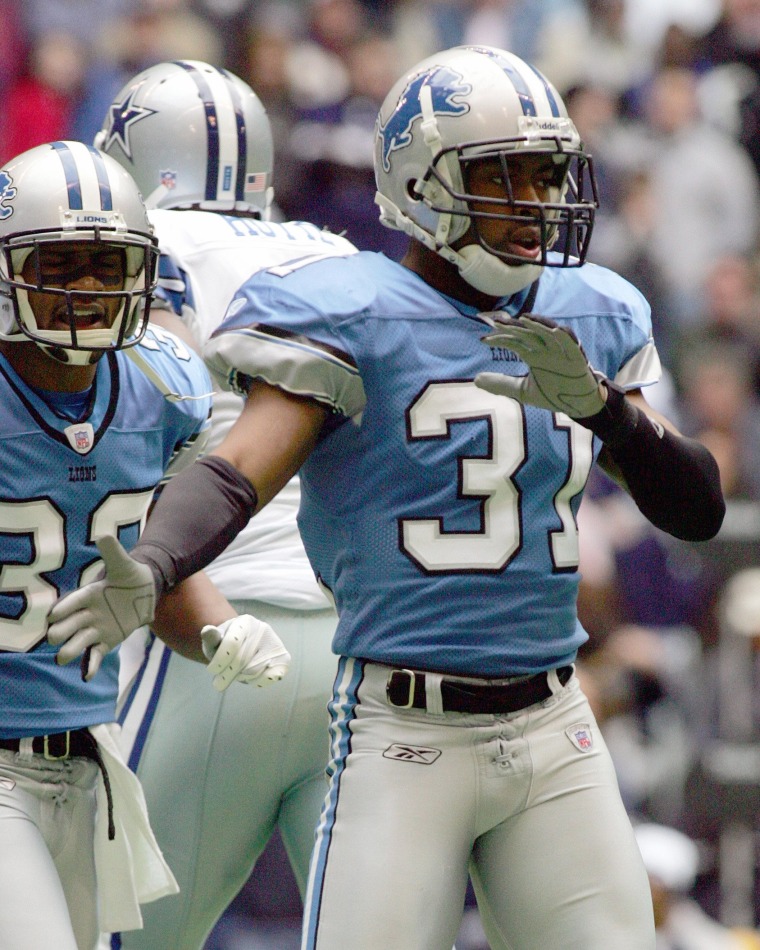 Three separate claims for damages were filed to the L.A. County Board of Supervisors on Wilson's behalf, including one from his father and former NFL running back Stanley Wilson Sr., and his mother, D. Pulane Lucas, an educator and business owner. Wilson's estate filed the third claim. L.A. County has 45 days to review the claim. 
A spokesperson from L.A. County told NBC News that it offers "its sincere condolences to Mr. Wilson's family," but that they cannot comment on the pending litigation. The spokesperson also said their office hasn't yet received the claims and, from their understanding, Wilson "died following his transfer to Metro State Hospital."
After playing for Stanford University, Wilson was drafted in the third round of the 2005 NFL draft by the Detroit Lions. He played cornerback for three seasons and had 86 tackles during his NFL career before experiencing a knee injury in 2007 and an Achilles injury during the 2008 preseason.
Wilson was arrested multiple times, including in June 2017 for attempting to break into a stranger's home. 
A ceremony celebrating Wilson's life took place at the Crenshaw Christian Center in Los Angeles on Saturday. 
While Wilson's family seeks $45 million in damages, what the family really wants is the truth, Carpenter said. People with mental illnesses, like Wilson Jr., are treated as "marginal," he said, adding that LA County was responsible for him.
"Everything that was admitted to his body was controlled by the county," Carpenter said. "Every piece of food, every piece of medicine, everything that is bought — everything. They were in complete total control. And the very least the county can do is tell the grieving parents what happened to their son — the truth."