PHOENIX — Davette BakerMounce is the kind of person the Arena has been looking for.
A former patient advocate and social worker who lives in Madison, Wisconsin, BakerMouncehas been knocking on voter doors and recruiting political volunteers for years now. So she feels like she understands people, particularly those often discounted.
"Really, I am just this black girl from Milwaukee," BakerMounce, 41, said, standing just outside Room 156, the space for people like her interested in taking on campaign communications work.
"I'm the one who got into politics late," she added, "because I got tired of seeing black men murdered, black men who could be my son, killed by police and watching people being given crap by Medicaid."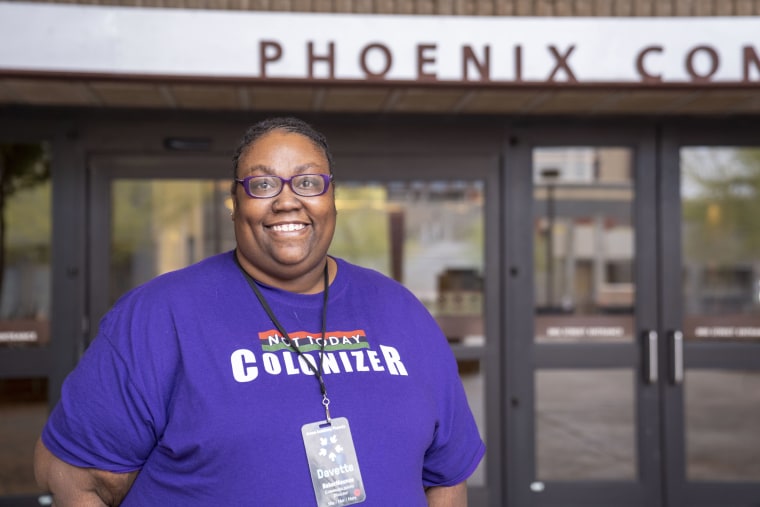 Arena, an organization founded by Obama campaign veterans, works to train progressive candidates and those who work on their campaigns. In 2020, black voters are expected to make up about a quarter of the Democratic Party's electorate. Latinos will represent 13 percent of the party's eligible voters, while women of color will make up 1 in 4 voters in swing states. And a majority of white voters have not backed a Democrat for president in more than 50 years.
So, in Arizona where about 225 campaign staffers and hopefuls gathered for what was Arena's fifth such training of 2019, this much was clear: The work ahead for those engaged in progressive politics is in trying to win elections, valuing the nonwhite voters Democrats have at least as much as the ones they also want. It's also how to live, speak and make real the left's progressive goals. Arena tries not just to bring a diverse group of people into politics, to give them a seat at the table, but equip them with the skills to sit at the head.
Since November, six women of color working on the Nevada arm of Massachusetts Sen. Elizabeth Warren's Democratic presidential campaign resigned, citing concerns that they were expected to function as little more than tokens, rather than people whose ideas were heard and incorporated into the campaign. Similar concerns emerged when staff working on the presidential campaign of former South Bend, Indiana, Mayor Peter Buitgieig gathered in December, The New York Times reported last month.
Kate Catherall, a co-founder and senior partner of Arena, said she knows what it's like to work on a high-pressure campaign. "It's a really hard job and a super important job so, there's also this reticence to take on this other really complicated but really central thing: diversity and lining progressive campaigns up with progressive values, lining them up with actual progressive voters."
Catherall, a former kindergarten teacher, started her political career with the Obama 2008 campaign. A key to her career transition was that her father had an extra car she could borrow, so she could drive across the country and work.
For decades most entry-level campaign jobs were unpaid or didn't pay a living wage, demanded self-financed moves to distant parts of the country and personal resources like a car, a computer and ample time and energy to work what are often long days on a varied schedule (read that as side hustles not feasible). Add to that a nebulous career path. For a long time, many campaign jobs weren't even widely advertised.
Today, there's evidence of some equalizing forces, said Lara Brown, director of the Graduate School of Political Management at George Washington University.
Political parties, some of the congressional caucuses and organizations now operate job and resume banks. The pool of those with some experience in politics has expanded and the people in political management classes and other programs like Brown's have, too, Brown said. More campaigns are paying people in what used to be full-time volunteer roles. Some are offering living wages and health insurance and are even thinking about other ways applicant pools get artificially narrowed.
"But the reality remains that inside politics is still really white, really male and really unusually affluent," Brown said. "Even if you aren't a person who finds that objectionable, it doesn't take much to imagine how that might shape our politics."
Arena isn't the only entity offering intensive political training. But while some pay young organizers, more programs charge them. A week of intensive, in-person training can cost at least $5,000, Catherall said. Arena's program costs $300 for five days, and it offered scholarships to 49 percent of its more than 800 trainees in 2019, 70 percent of whom were people of color.
Just inside Room 155, Christopher Heyward, 24, was taking a turn on the receiving end of a practice fundraising phone call. He was one of four black people in the room, along with several Latinos, still one of the entire training camp's smaller groups.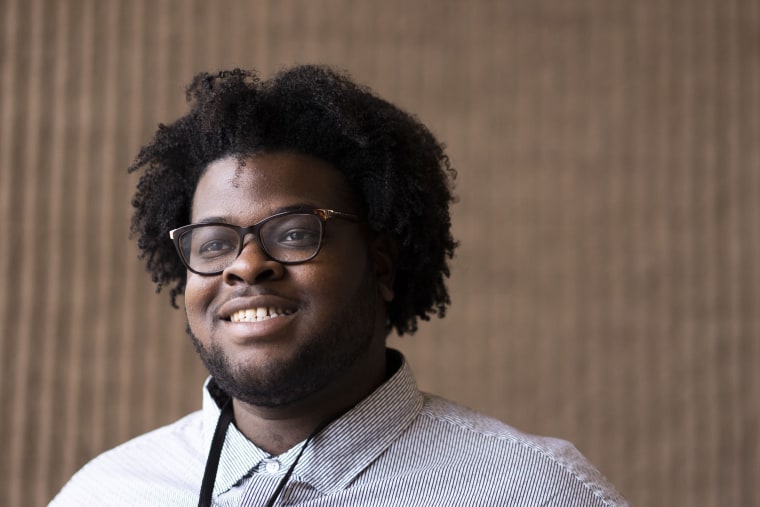 "Yes," Heyward said to a fellow participant who was calling from her cellphone in the hall. He was pretending to be a voter who has made political contributions in the past. "I'm somewhat familiar with the race."
For two years after Heyward graduated from the University of South Carolina, he cobbled together a living working in a Columbia bar and eatery; doing volunteer and fellowship work with organizations like the NAACP and the Obama Foundation; taking an unpaid then a paid position with the South Carolina Democratic Party, and a DuBois Fellowship in the Columbia mayor's office. He volunteered consistently with the South Carolina arm of Sen. Cory Booker's presidential campaign. Then, he became a paid staffer on the organizing team until the New Jersey senator's campaign folded last month.
As a black and gay man, Heyward thinks there are some donors who will recoil. But, fundraising is about hard numbers, what is and is not on the balance sheet.
"I see that clarity as a plus," he said. "I already know I am going to have to do what we have always done as a people. Work that much harder, be that much better and show them my work in every regard outweighs the possible negative ideas about me. I'm going to have to be very thoughtful, very helpful, and just have to prove my mettle."
A few weeks after training in Phoenix, Heyward had been in touch with trainers and others he met through Arena and had initial conversations about campaign finance work.
Over in Room 151, between all the churning laptops, two overhead projectors and massive projection screens as well as sheer stress. The other rooms felt like meat lockers. This room was actually warm.
There, Catherine Tarsney, analytics director at the Democratic National Committee,led participants into the land of SQL (pronounced sequel), a coding language used to probe massive data sets. In politics there is public and private data (available for legal purchase) that includes details about America's voters, campaigns, candidates, donors and those who sit on the sidelines.
Tarsney, matter of factly, says things like, "Google spreadsheets can only manage 2 million rows" -- meaning information about 2 million people.
Place a comma or a semicolon one slot too far left or too far right and queries written in SQL can produce a long list of errors. But, used correctly, SQL can help campaigns answer multilayered questions. It helps campaigns target the right people.
"It is no joke," said Imani Washington, 39, who has been working with large data sets in the nonprofit public health and education sectors for almost two decades. She's preparing to head to law school.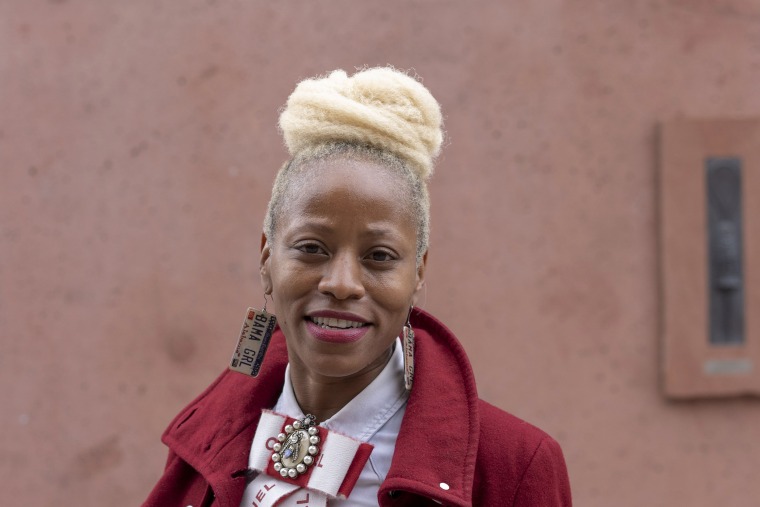 In Room 159, Godfre Bayalama, 27, is the only black person in the room.
He's training to become a campaign manager, but right now, Bayalama's day job is handling constituent services for a Democratic state senator from Brooklyn. He spends a lot of time researching and talking -- on the phone and in person -- with constituents about things they want and need. Bayalama can be found most nights at community meetings in Brooklyn describing his boss's policy priorities, making announcements about services and programs.
Bayalama's parents are from Africa and he spent much of his childhood in Italy, Canada and Congo. In Congo, incumbents win, or the candidate with the closest ties. In the United States, Bayalama sometimes still finds himself surprised that it's the candidate and what voters make of their ideas that determine who wins.
"I'll be honest," Bayalama said. "There is so much a campaign manager has to do, to consider, that at points the training was almost overwhelming. But this work is exciting. It matters and I think that at some point, in the not-too-distant future, I'm going to be ready to run a campaign."
To BakerMounce, the experienced organizer ready to make a climb into campaign communications who spent most of her time in Room 156, how she sees herself is only part of the battle. As a black woman who has worked in several industries, she's always aware of the challenges that exist in almost every workplace. There's how others see or hear her as an individual; and then there's how others see, hear and respond to her ideas because she is a black woman and whether, in that moment, she's willing to contend with all of the above.
She brings that experience with her into almost every workplace conversation. Campaign work is no different, she said.
"Sometimes, it's cost me things," BakerMounce said. "But I've come to terms with sometimes being seen as the loud black girl, being the thorn, if that is what's necessary, to do important work that I see as critical."