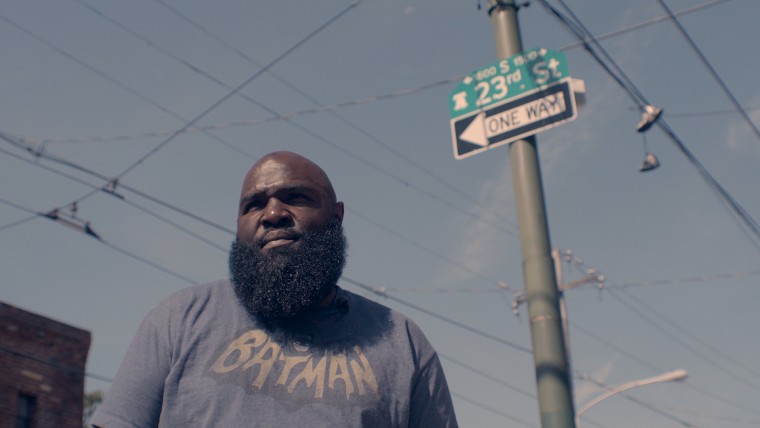 PHILADELPHIA -- At Faheem's Hand of Precision barbershop in South Philadelphia, the usual squad of patrons gathered for their weekly shape-up to talk sports, culture and this week—a little politics.
The barbershop is owned by Faheem Alexander, a Philly native who has cut the heads of anyone and everyone from celebrities like Ice-T and The Roots' band, to middle class working Philadelphians for the past 16 years.
Alexander is an entrepreneur who knows that his shop is one of the classic staples in every Black community in America that is just as essential as the church: the barbershop.
Hand of Precision is a working class barbershop with middle class clientele. This is the refuge of the 99 percent. The Americans who work two jobs. The folks who are trying to make ends meet in an economy that gives tax code deference to big business.
And a few miles away from the hustle and chaos of the Democratic National Convention, the businessman and a patron talked politics with NBCBLK, more specifically, they talked about the woman who was formally nominated by the Democratic Party this week: Hillary Rodham Clinton.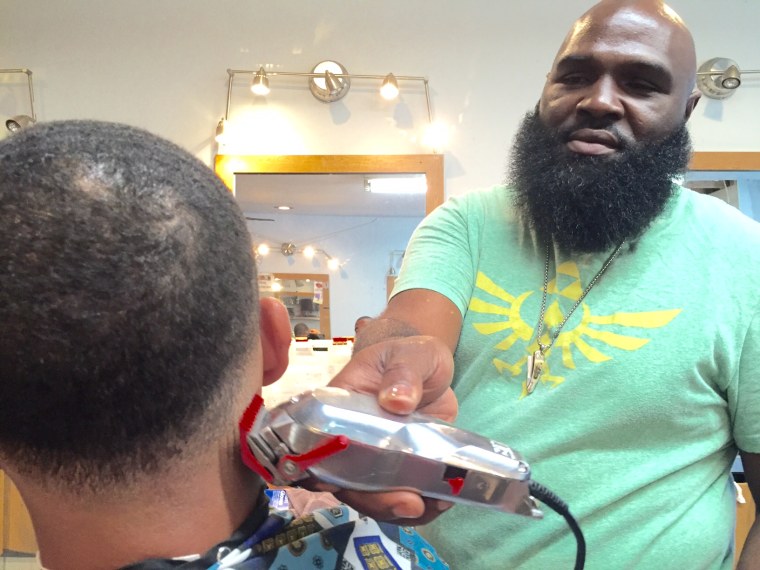 While Black women are a critical voting bloc, known to move their families and communities to the polls, the patrons of Faheem's made it known that as Black men, they would make sure to make their vote count this November.
With key black male surrogates — the most ultimate being President Obama — the Clinton campaign is sure to target and mobilize the the black male vote.
"If she can provide jobs for individuals, if she can do that, then perfect," said Alexander as he wielded a large electric clipper in hand.
Hillary gets a bad rap because of the e-mail thing. I don't even care about that.
When asked asked whether he was concerned about the much discussed Clinton e-mail saga that has dominated the news and featured a congressional investigation for months, he answered quickly. "No I don't. As long as she's running the country properly I could care less who she e-mails," Alexander said.
Other patrons in his shop echoed his views.
"She's qualified to do the job. Period. No Trump. He's a racist. He's stirring the pot. We don't need that. We need to come together as one. At this moment I wish Bernie was the one but he isn't," said Ali Coles as he waited his turn for a trim.
Coles was impressed with Bernie Sanders' civil rights record and the fact that he'd marched with Dr. King and was "there when the struggle was going on."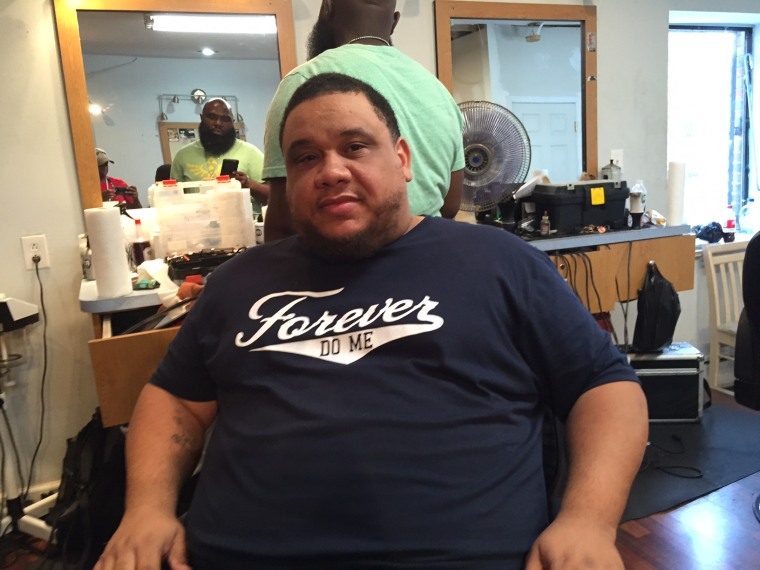 "He was trying to take it to the next level. He was for the people. It wasn't about race it, was about 'as one.' He was my guy," Coles added before acknowledging he was ready to support Hillary. "I have to go with her."
For Coles, Mrs. Clinton is the obvious alternative to the Republican nominee. "Hillary gets a bad rap because of the e-mail thing. I don't even care about that. She's the one I'd rather be with than Trump hands down. I'll go her way 100 percent."
RELATED: How is Tim Kaine on African American Issues
In a speech on the last night of the convention hours before Clinton addressed delegates, Rev. William Barber II, the President of the North Carolina NAACP, affirmed his support for Clinton with words that had delegates shaking the walls with applause.
"The watchword of this Democracy and the watchword of faith is "we," said Dr. Rev. William Barber, who is also the President of the North Carolina NAACP.
"In times like these we have to make some decisions, and I might not normally be here, I hear Hillary's voice and I know we should embrace her," Barber said. The Reverend, whose primary focus is voting rights, is an African American male supporter of Clinton's in an influential place in civil rights leadership.
Many Black men we spoke to this week -- from politicos to members of the "gig economy" -- said that their support for the former Secretary of State centers around jobs and common bread-and-butter issues. There is no talk of e-mails, Benghazi or any of the other topics that have dominated the news throughout the 2016 campaign for the White House.
On the contrary, there is focus on the day-to-day grind and issues connected to the struggle of making ends meet. And many were moved by the historic aspect of a major party nominating the first woman for President.
"I just want a woman to get a try at it," said a young part-time Uber driver named Mohamed, who immigrated to the U.S. from Liberia three years ago. "Hillary is a woman that has a view of what is needed, I think she will work hard for the middle class," he said driving down Walnut Street towards the center of town in heavy traffic.