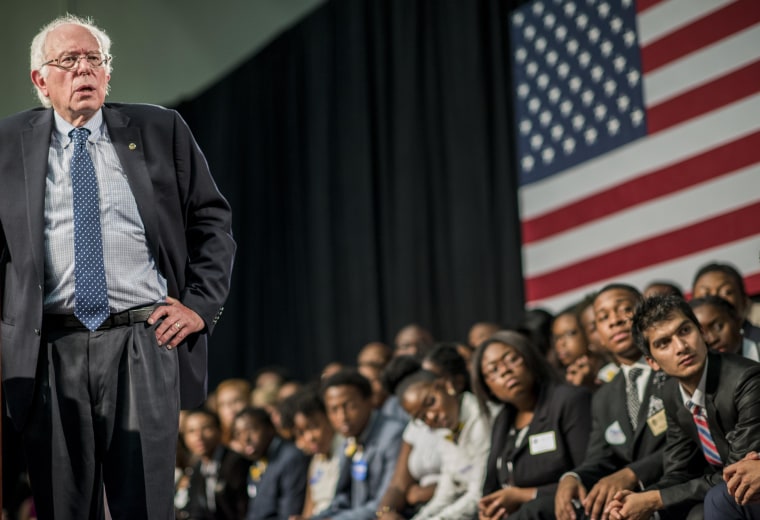 CHARLESTON, South Carolina -- Sen. Bernie Sanders is taking his message of income inequality and criminal justice reform directly to a critical voting bloc he hopes will embrace his presidential candidacy: Black college students.
To win the South Carolina primary on Feb. 27 and win over black voters in upcoming presidential contests, Sanders, the self-described socialist candidate, is forging ahead with a brand new strategy: touring Historically Black Colleges and Universities (HBCUs) and talking face-to-face with black college students.
The HBCU tour kicked off at South Carolina State University Thursday night, just days before Sunday night's presidential debate in Charleston and six weeks before South Carolina's crucial Democratic primary in February--and the year's first contest in the South.
In South Carolina, African-Americans make up more than half of all Democratic voters in the state, and according to polling experts, black voters could help shape the outcome of the South Carolina primary. A recent Monmouth University poll showed Hillary Clinton's lead at 69 to 21 percent over Sanders and other major polls show Clinton with a sizable lead over the Vermont senator.
RELATED: A Tale of Two Cities in Charleston, Backdrop for Dem Debate
Last week, Clinton received an important endorsement from former U.S. Attorney General Eric Holder, who is reportedly scheduled to appear with Clinton during Rep. James Clyburn's (D-SC) annual Democratic fish fry event on Saturday night.
Meanwhile, Sanders, a progressive contender, is touring as many historically black colleges as he can squeeze into his schedule.
During the college tour, dubbed "Feel the Bern," Sanders plans to visit HBCUs that include Benedict College in Columbia, S.C.; Howard University in Washington, D.C.; Florida A&M University in Tallahassee; the Atlanta University Center; Virginia State University in Petersburg; Alabama State University in Montgomery; Tennessee State University in Nashville and Jackson State University.
"There is clearly an anti-establishment movement in America and Bernie is on the Democrats' progressive side," Jaime Harrison, the first African American chair of the South Carolina Democratic Party, told NBCBLK. "He has lots of energy among some Democrats. It will be interesting."