Christian Gooden has experienced a lot in his nearly 20 years as a photojournalist, but nothing prepared him for the unrest that unfolded near his hometown of St. Louis one year ago this week.
It was just after nightfall on November 24, 2014. A St. Louis County grand jury announced that white police officer Darren Wilson would not be indicted in the shooting death of Michael Brown, an unarmed black man, and the suburban city of Ferguson erupted.
A diverse mix of disgruntled demonstrators, emotional residents and, he adds, combative ne'er do wells interested mostly in picking fights with cops, spilled onto the streets near Ferguson Police Headquarters. Gooden and a reporter joined the ever-expanding throng as the similarities to a warzone intensified.
"There were all these [St. Louis County] Police Officers dressed in combat gear with helmets with shields over their faces; they were no joke," remembers Gooden, 45. "Behind them there were the guys with guns and tear gas and behind them were the armored vehicles. It was just a crazy scene to see, especially in America."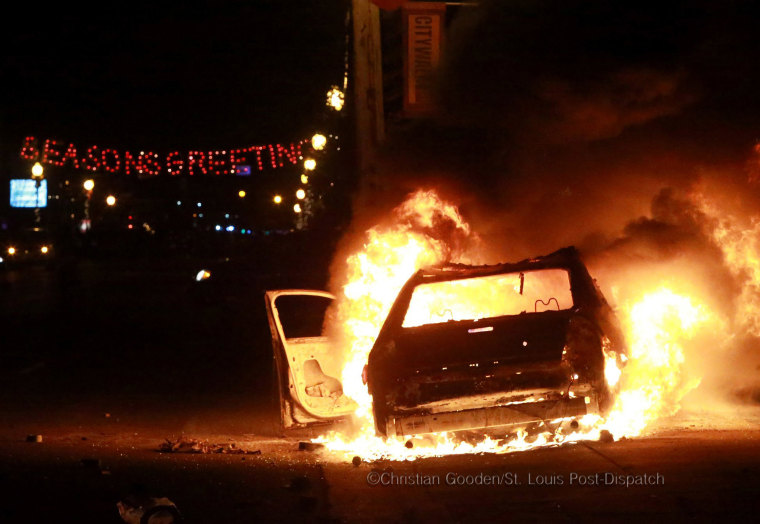 The cops and demonstrators met face-to-face, police fired tear gas and mayhem ensued. Gooden, now separated from the reporter, was swept into the melee. The married father of two young children says at one point two residents threatened his life in five minutes.
"I had run behind this commercial building trying to get away from the tear gas fumes, but I got pushed back into the private backyards of some nearby homes," he recalls. "Two [homeowners] pulled pistols on me [and told me to get out of their yards]. … After a while I managed to get to another area and call my editor. I told him, 'if I go one way, I get gassed, if I go the other way I get shot. I'll call you back when I'm mobile again.'"
I told him, 'if I go one way, I get gassed, if I go the other way I get shot.'
Gooden made it out okay and captured some stunning photos in the process, but much of what he experienced that night seems reminiscent of the grainy footage seen splayed across television screens of faraway places like Beirut, Lebanon or Vietnam.
"When I looked to my left and to my right buildings were on fire – dozens of vehicles at a car dealership, a beauty supply place and a cell phone accessory store all were burning," he recalls. "I didn't see any firefighters around. I've never seen anything like it."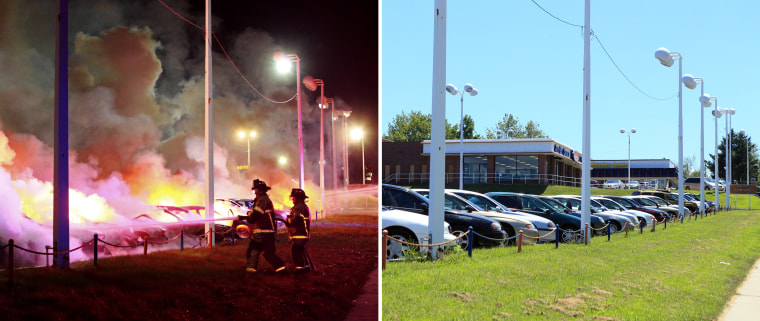 That was just one of the many violent and emotional clashes between protestors, looters and law enforcement that Gooden captured through the lens of his Canon camera over the course of months -- a string of incidents collectively referred to by many simply as "Ferguson."
Prior to the unrest, a gas mask (he'd naively left it in his car the night of the non indictment announcement), "Bump Cap" (a hard plastic hat used for head protection) and a bulletproof vest was far from his typical work attire, but while working on the frontlines of one of the most contentious and polarizing news events in recent years all became a necessity for safety.
It was in those streets of Ferguson, Gooden insists, that the Black Lives Matter movement was officially born.
I even found myself angry at my own newsroom at times – about how we were covering it and how some people were reacting to what was happening.
"The Trayvon Martin case sparked a lot of outrage, but that wasn't about the police," insists Gooden. "Ferguson is what started this movement, this push toward criminal justice system reform. It was the catalyst to look deeper into what's going on between black citizens and taxpayer paid cops. The phrase 'Black Lives Matter' didn't come about until Michael Brown's case."
Gooden and his fellow St. Louis Post-Dispatch newspaper photo department colleagues won a 2015 Pulitzer Prize for Breaking News Photography for their efforts sharing the story of Ferguson with the nation and the world through pictures.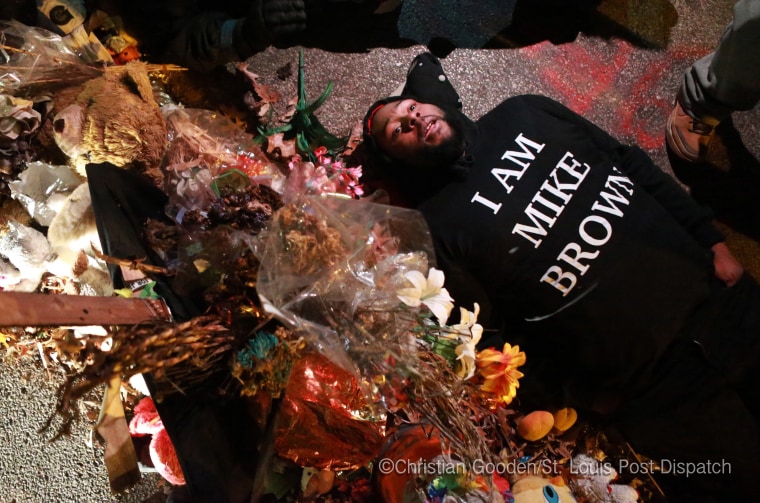 Gooden was the only African American photographer whose work was included in the winning submission. The bulk of the photos featured evocative images of buildings burning to the ground, looters sprinting through streets with their hauls in hand and law enforcement officers decked out in full combat gear, firing tear gas into dense crowds.
Post-Dispatch photo department head Lynden Steele says Gooden's photo captured a different, but equally important side of Ferguson.
"You see two black guys – a man and his young brother – kneeling down to light a candle at this memorial at the site where Michael Brown died," says Steele of the image Gooden filed for an assignment to capture images of "calm" after several nights of back-to-back protests. "You see red roses stretched down the street for 60 yards or so, holy cow. It's such a tender small moment, but that's what makes it so powerful. Christian's photo showed what Michael Brown's death meant to the community."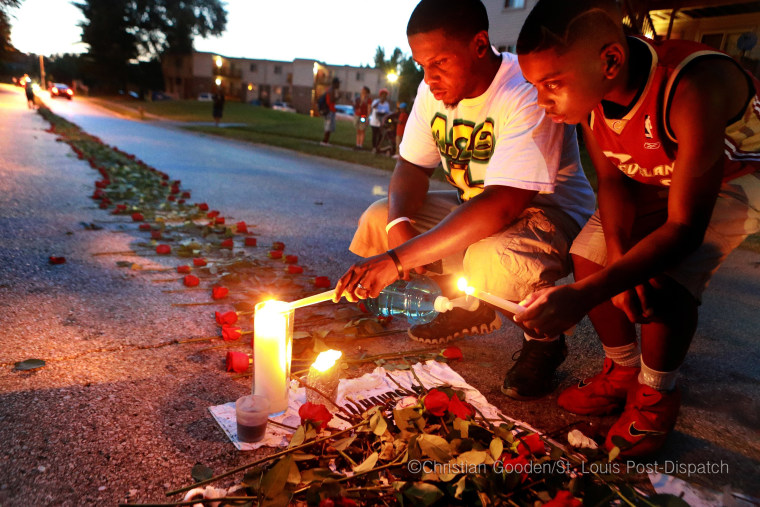 Winning a Pulitzer – arguably the highest distinction one can receive in newspaper journalism – is a major milestone for the 1996 Morehouse College alum who graduated from the now-defunct program that previously allowed Morehouse students to study mass communications at Clark Atlanta University.
After a stint as a copy clerk and photo lab technician at The Atlanta Journal Constitution newspaper, Gooden spent two years as a cub photographer at The Union-Recorder, a small daily in Milledgeville, Ga. He joined the Post-Dispatch in 1999.
Though humbled and honored to have won such a prestigious award, Gooden admits covering Ferguson for months – often walking for miles and working at night into the early morning hours – took its toll.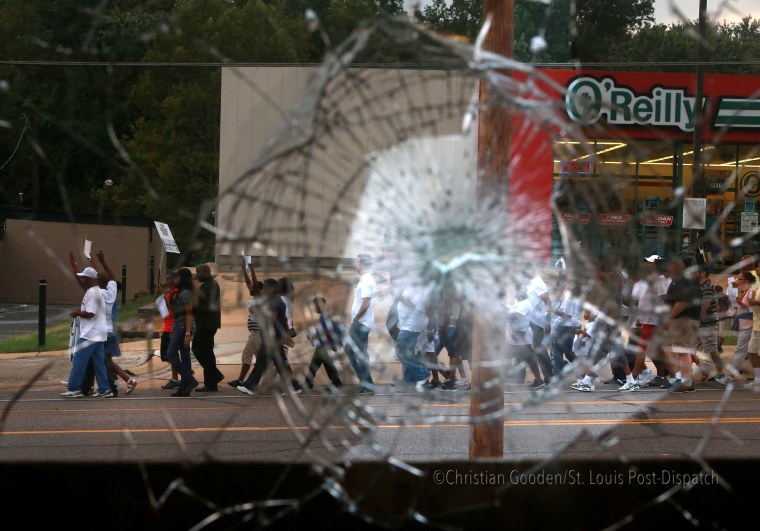 "Being a black man who considers himself socially conscious about racial matters, it was tough," he says. "I found myself angry and frustrated with all of the parties involved – the police, the press, the protestors and the residents. I even found myself angry at my own newsroom at times – about how we were covering it and how some people were reacting to what was happening. At the same time I was doing my best to cover it objectively as a journalist. It was tough navigating it all."
I was blessed to be at the epicenter of the birth of a movement.
Reflecting on the year after the non-indictment decision, he says he feels the Black Lives Matter movement has evolved. "It is very much alive and it's spreading to college campuses," says Gooden, who also recently covered the demonstrations in Columbia, Mo. surrounding the resignation of University of Missouri System President Tim Wolfe. "It's less violent and more targeted. [The demonstrators] have directed the energy from the streets so that it's more about directed action."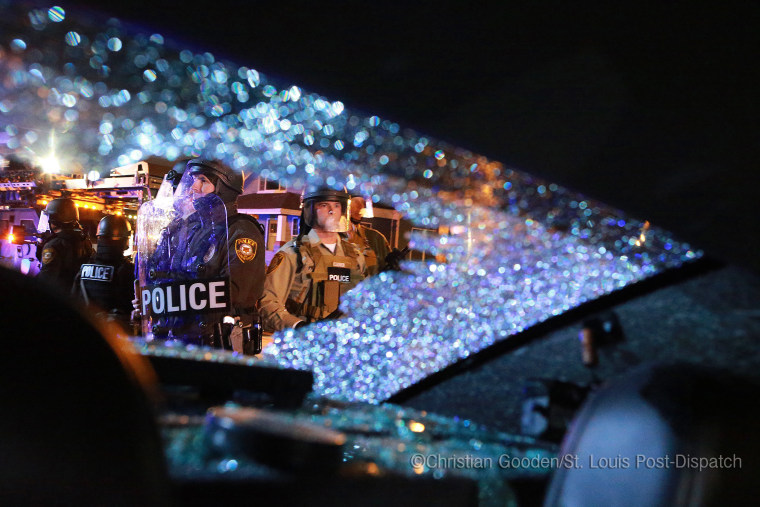 Even with the challenges he faced in Ferguson, Gooden says the award served as a bright spot for him professionally after an especially taxing two years in his personal life. His mother and the great aunt who helped raise him died in 2014, months before and after Ferguson began. His father passed away this fall, just after Gooden and his colleagues accepted the Pulitzer at a private ceremony at Columbia University in New York City.
He says he takes comfort in knowing that he was able to make his loved ones proud and be a part of history too.
"It took a little while for me to realize it, but now I see that I witnessed firsthand an important part of history," notes a reflective Gooden. "I see now that I was blessed to be at the epicenter of the birth of a movement."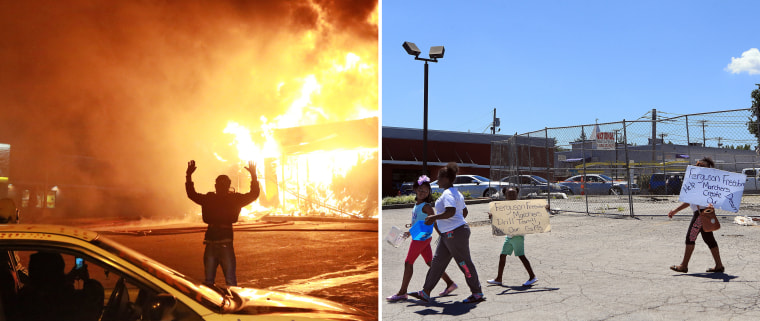 Christian Gooden put together this short edit of his coverage in Ferguson from the last year since the Nov. 24th non-indictiment of Officer Darren Wilson.