WASHINGTON — The U.S. Supreme Court's elegant marble courtroom was the scene of a historic event 50 years ago, when Thurgood Marshall took his place as the nation's first African-American justice.
A movie opening Friday commemorates his arrival by featuring a lesser-known case from Marshall's pioneering work as a lawyer for the NAACP Legal Defense and Educational Fund. Starring Chadwick Boseman, "Marshall" dramatizes his defense of a black chauffeur in Connecticut falsely accused of the rape and attempted murder of his white socialite employer.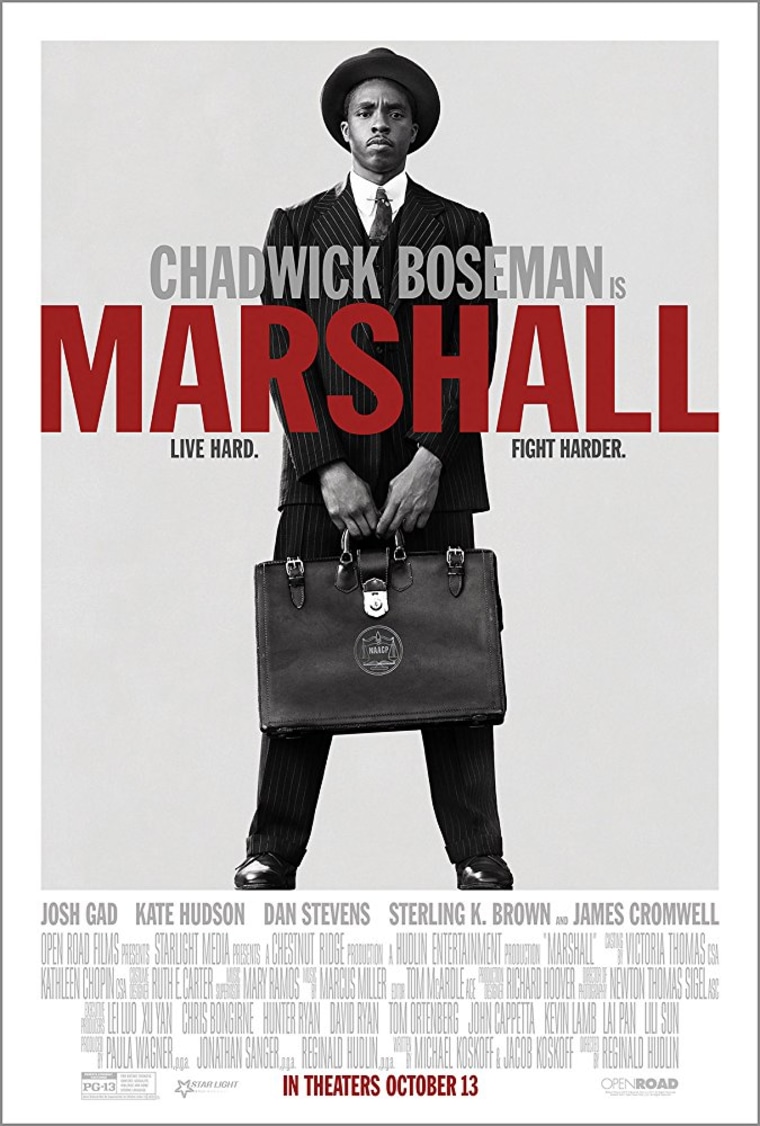 "Thurgood Marshall was almost single-handedly responsible for creating the concept of the civil rights lawyer," said Sherrilyn Ifill, the Legal Defense Fund's current president. "Before Marshall, it was unheard of — a lawyer who devoted his practice full-time to civil rights matters, and did so with the same level of excellence as attorneys practicing at the nation's top law firms."
When Marshall was sworn in Oct. 2, 1967, the man who nominated him, President Lyndon B. Johnson, sat in the Supreme Court's family section to witness the ceremony.
"It was a special moment for our nation, and a shining example of Washington working well," says Joseph Califano, who served as Johnson's special assistant for domestic affairs.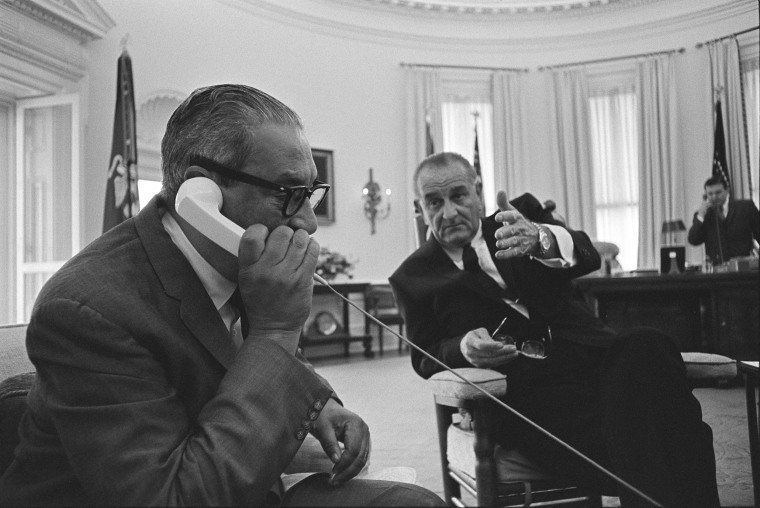 The great-grandson of a slave and son of a dining car waiter and a schoolteacher, Marshall knew the courtroom well, having argued landmark cases for the NAACP Legal Defense and Educational Fund that challenged racial discrimination in schools, the courts and housing.
Fifteen years earlier, he argued one of the most important cases in U.S. history, Brown v. Board of Education. Two years later, in 1954, a unanimous Supreme Court declared that the doctrine of separate but equal schools was, in fact, unequal and unconstitutional, setting off decades of efforts to desegregate the nation's classrooms.
"I always believed that Johnson had decided shortly after he became president to name Marshall to the Supreme Court," Califano writes in an essay on behalf of the LBJ Presidential Library in Austin, Texas. "It took all his persuasive power and Washington canniness to get this done."
In 1965, Marshall was serving on a federal appeals court in New York, having been nominated by President John F. Kennedy, when Johnson asked him to step down from that lifetime appointment to become U.S. solicitor general, the top courtroom advocate for the Justice Department.
To create a vacancy on the Supreme Court, Johnson moved Attorney General Nicholas Katzenbach to the State Department and indicated he wanted to nominate Ramsey Clark to become attorney general. Clark's father, Supreme Court Justice Tom Clark, then decided to retire to avoid a conflict of interest.
Marshall was confirmed by the Senate, 69-11, after Johnson talked 20 Southern senators into abstaining. "I don't know how he got my nomination through," Marshall told the LBJ Presidential Library in 1969.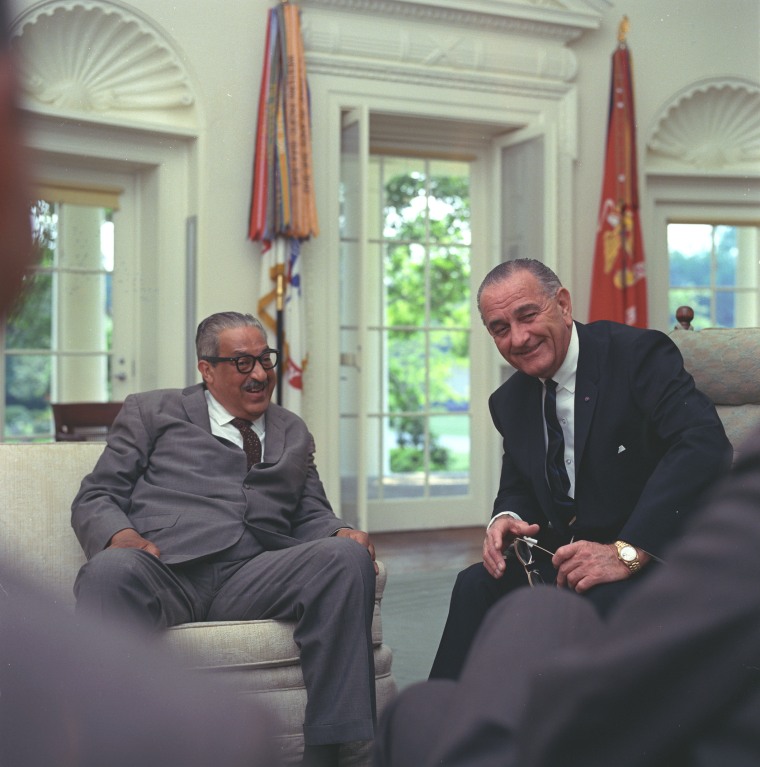 Marshall served on the court for 24 years, writing decisions that expanded free speech protections and the rights of defendants in criminal cases. His powerful dissents paved the way for future Supreme Court rulings on affirmative action. He also opposed the death penalty, dissenting every time the court upheld capital punishment.
"It's difficult to separate Marshall's legacy on the bench from his legacy off the bench," Ifill said. "He was the whole package. Generations of lawyers were inspired by him. He made us all believe that it was possible to work on behalf of the most powerless members of our society and still rise to the heights of the legal profession."
Justice Elena Kagan, one of Marshall's former law clerks, has called him "the greatest lawyer of the 20th century, bar none, not even a close contest."
Marshall announced his plans to step down in 1991, saying simply, "I'm old." Asked by a reporter what kind of justice he would like to see replace him, he said, "Me."
His successor was Clarence Thomas, who has proven to be far more conservative than Marshall and to hold markedly different views on affirmative action and the role of the courts in ending racial discrimination.
Among the buildings named for Marshall are the federal judicial center in Washington and the New York City headquarters of the 2nd Circuit Court of Appeals, on which he served.