Michelle Obama reminded a thousand New York City schoolgirls not to take their education for granted because there are more than 62 million girls worldwide who are not in school.
The message comes three days after Mrs. Obama appeared at the Global Citizen Festival in Central Park to announce the #62MillionGirls social media campaign encouraging people to tweet what they learned in school along with a photo of themselves.
"For me, this is personal," Obama said Tuesday during a panel discussion about global issues facing adolescent girls at the Apollo Theater.
"It is part of my passion and my mission to make sure that every girl on the planet has the same opportunity that I had, that my daughters have and I want to make sure that all of you here in the United States are taking advantage of the opportunities you have as well," she said. "I want you to be that hungry to get your education because it is going to be the key to your future."
In March, the First Lady and the President launched a government-wide initiative, Let Girls Learn, to provide programs that will ensure the more than 62 million girls who are not in school - half of which are of adolescent age - go to school and stay in school.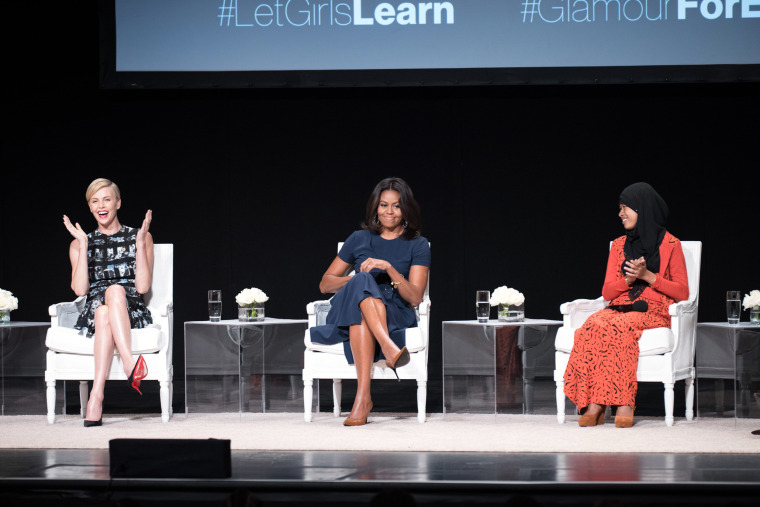 Obama hopes the awareness of this issue will also inspire children who are getting educations.
"We want you guys to know about these 62 million girls. We want this to spur and inspire you to not take your education for granted," she said told the energetic children at the world famous theater. "Let me tell you there's 62 million girls around the world who would give anything to be in your position."
The issue, Obama admits, will take time to address.
"Solving this problem will take generations," said the mother of two teenage-aged daughters. "It's going to take the work your children and your grandchildren. But we can never give up."
The Glamour magazine-sponsored panel discussion, which allowed girls in the room and other countries to ask questions via video, also featured actress Charlize Theron, former Australian Prime Minister Julia Gillard and Nurfahada, a 16-year-old activist from the Philippines.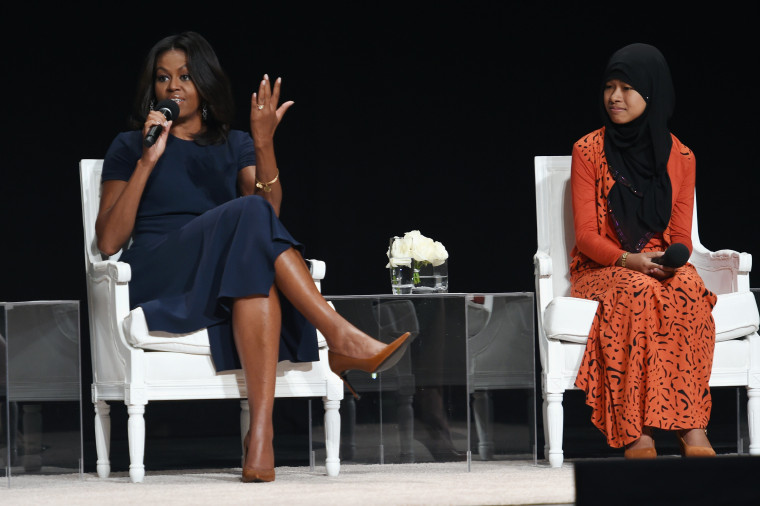 Nogaye Ndiaye, 12, was among the students inspired by the conversation.
"Sometimes I feel like because I'm young I can't make a difference," she said after the event. "But they helped inspire me to see that I can."
Obama urged students to pursue college - either community or four-year - and apply for financial assistance by filling out the Free Application for Federal Student Aid (FAFSA).
"Get your education," the First Lady said to the students, emphasizing that students in other countries don't have it so easy when it comes to getting an education.
"They are fighting and literally dying to get their education," Obama said. "So we cannot afford to take these opportunities here in the United States for granted."