The 2017 NCAA Football season is becoming one of the most memorable in recent memory. With the high scoring games, wild upsets, weekly highlight reels, and solid NFL prospects filling up our TV screens every Saturday, this year has given us one exciting game after another.
Many are familiar with upperclassmen such as Louisville quarterback Lamar Jackson, Notre Dame running back Josh Adams, Northwestern running back Justin Jackson, Ohio State quarterback J.T. Barrett, and Michigan defensive tackle Maurice Hurst. There's a solid group of freshmen players that have also made their presence felt.
Some of them have even established themselves as future Heisman Trophy contenders, while others have flown under the radar. These players have pushed their teams through the AP's Top 25 rankings and helped put them on the playing field for the College Football Playoff in January. We still have four weeks of football left before that's all decided, but these teams will fight it out until the very end.
Here are five dynamic freshmen to watch as the college football regular season draws to a close.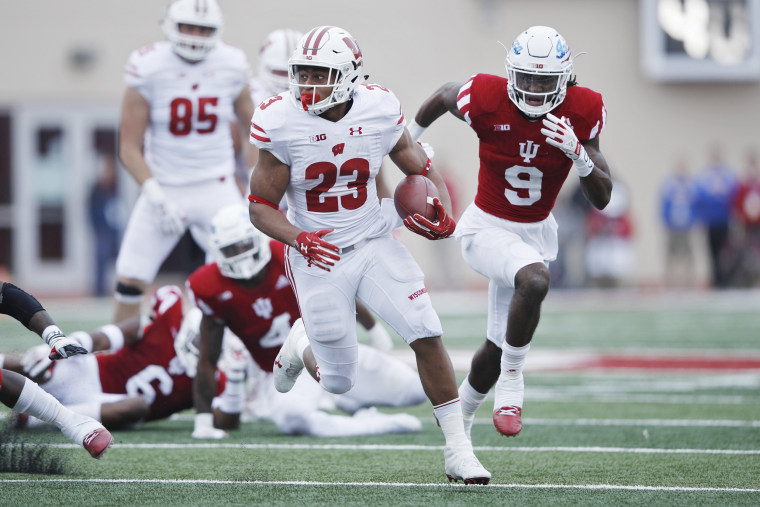 1. Jonathan Taylor: Wisconsin Running Back
Born in Salem, New Jersey, Taylor is the latest in a long line of successful running backs that have defined the legacy of the Wisconsin Badgers football program. Ten games into the season, Taylor has already run for 1,525 yards and 12 touchdowns for the fifth ranked Badgers. And in doing so, he's the first Badgers freshman running back to run for that many yards since former Heisman Trophy winner (and Wisconsin's all-time leading rusher) Ron Dayne ran for 2,109 yards back in 1996. He also has three 200-yard games on his resume, he scored at least one touchdown in each of the first seven games of the year, and he averages 7.2 yards per carry.
Taylor has been the driving force behind the Badgers undefeated season thus far (10-0) as they've already won the Big Ten's Western Division and will play in the Big Ten Championship Game in December. They're also a major contender for one of the four playoff spots, and perhaps Taylor will collect a Heisman of his own someday.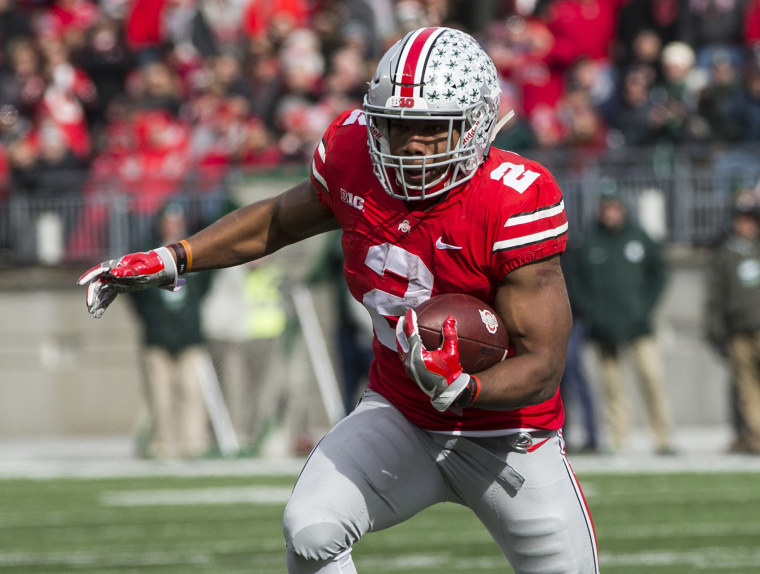 2. J.K. Dobbins: Ohio State Running Back
The Buckeyes are another football program with a proud running back history, one that boasts Archie Griffin as the only two-time Heisman Trophy winner in college football history. Dobbins hopes to add his name to that historic list someday and so far he's made his case by leading No. 8 OSU's rushing attack with 1,038 yards and five scores. He also has a tendency to break out for big chunks of yardage as he has made runs of 35, 52, and 34 yards thus far. At 8-2, Ohio State controls first place in the Big Ten's East Division.
If they win their final two games against Illinois and Michigan, they'll clinch the division and claim their spot in the Big Ten title game. In order to complete that task, they'll need every yard that Dobbins can give them.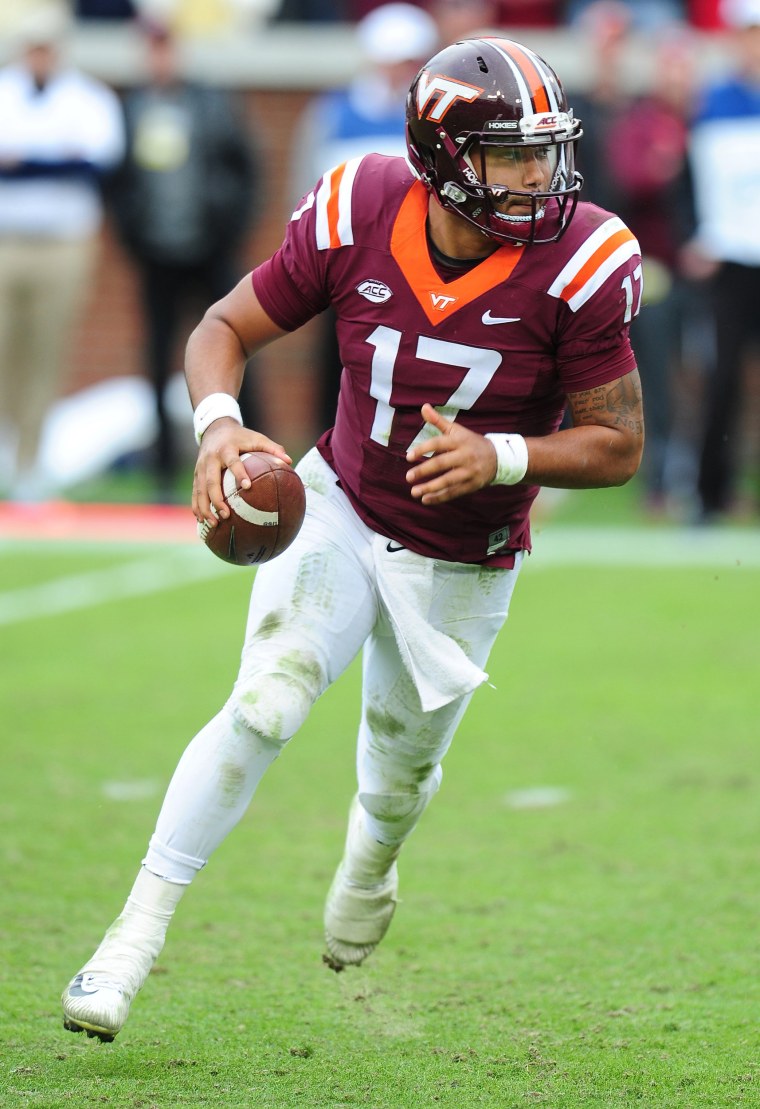 3. Josh Jackson: Virginia Tech Quarterback
If there's one thing that Hokies football is known for, it's churning out quarterbacks. Jackson thus far has proven to be no exception. And just like many VA Tech signal callers before him, the Michigan native can get it done with both his arms and his feet. In the first ten games of the season, Jackson has already collected 2,586 total yards and 20 combined touchdowns.
He has thrown for 200 or more yards in seven of those ten starts (6-1 record in those games), he has finished every game with a passer rating of well over 100, and he's a major reason why the Hokies average 32 points per game. He's just a freshman, so he still has three years of eligibility remaining. The sky is the limit for this young man.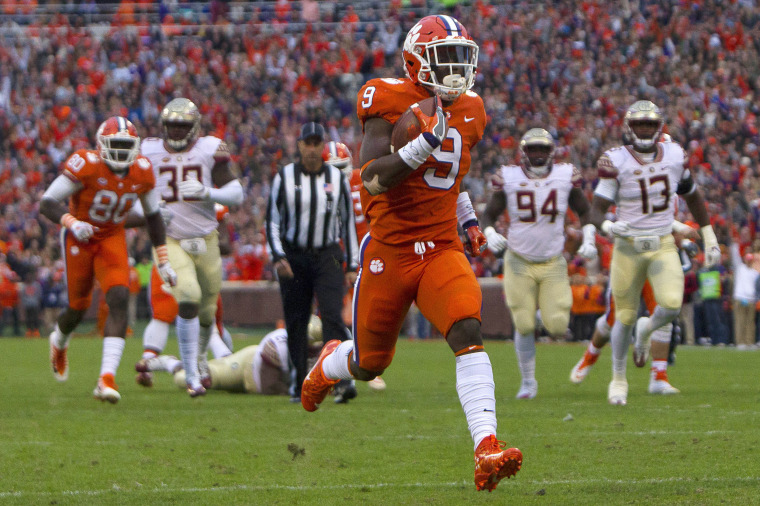 4. Travis Etienne: Clemson Running Back
When it comes to the No. 4 Clemson Tigers offense, quarterback Kelly Bryant gets most, if not all of the attention. But for as much attention as Bryant gets, his supporting cast cannot be ignored. Etienne, a freshman out of Jennings, Louisiana, is a big part of that supporting cast. He's become the balancing force in the Tigers high octane spread offense, as he's contributed 617 rushing yards and 9 touchdowns on 80 carries.
Clemson won their third straight ACC Atlantic Division championship with last week's win over Florida State, thanks in-part to the efforts of Etienne. And if Clemson wants to win the conference championship game in December, they'll need every yard that he can give them.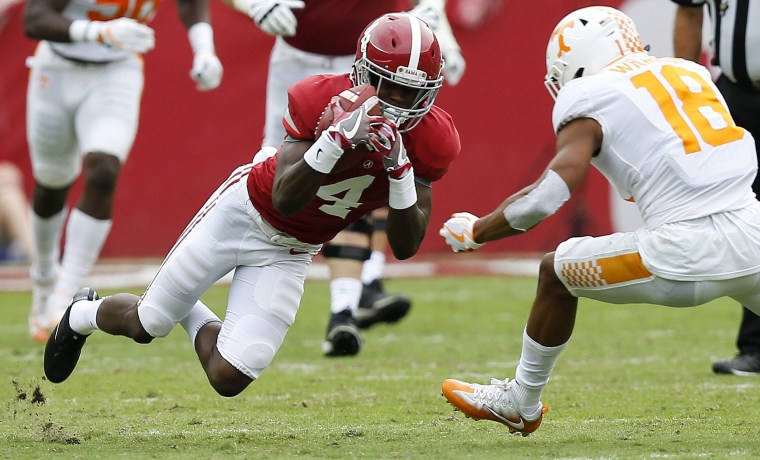 5. Jerry Jeudy: Alabama Wide Receiver
Quarterback Jalen Hurts is without a doubt the leader of the offense for the Crimson Tide, the No. 1 team in the country — and as such he has quite a few weapons at his disposal. Jeudy is one of those weapons who's contributing while also learning the nuances of the game. He's caught 12 passes for 208 yards and a touchdown so far this year.
While those numbers look low to the untrained eye, he averages 17 yards per catch and had a stretch in which he caught a pass in six consecutive games. He'll only get better as he continues to develop within the Tide's offense.