FLINT, Mich. -- In March, Estelle Holley bought a mock "for sale" sign decorated with a skull and bones and draped it across the front of her house.
Holley says the sign is a metaphor for the fact that her home is worth almost nothing, owing to this shrinking automotive town's myriad woes, most notably the water crisis that began two years ago.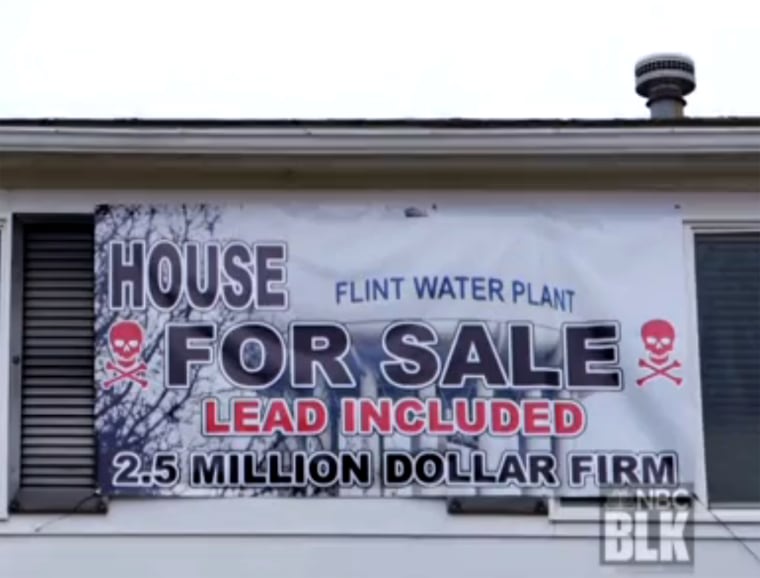 Flint's water supply was contaminated with lead and other toxins during a botched state takeover tied to the city's financial problems. This week, Michigan's attorney general filed charges against three government employees, with more to come. Earlier this month, a leading expert said Flint's water still fails to meet federal regulations despite improvements in its quality.
The city's water was contaminated when its source was switched from one of Michigan's Great Lakes, some of the largest bodies of fresh water in the world, to a polluted local river. Some have blamed Republican Gov. Rick Snyder for the fiasco.
In 1975, Holley and her then-husband bought a home on Flint's already decaying north side. Gutted of its appliances, pipes, water heater, sinks and more, the home cost just $5,600. The Holleys hoped their neighborhood, which was adjacent to a General Motors plant that would later be shuttered and torn down, would turn around. It never did.
Today, despite tens of thousands of dollars in improvements, the three-bedroom home is worth roughly $5,800. Its value has never increased significantly beyond that, according to Holley, a 66-year-old GM retiree and mother of three. "The whole city has been devalued."
"Even if we wanted to get out, how would we?"
Now divorced, Holley has also purchased and maintained 11 nearby empty lots, all of which once had houses sitting on them. They were later burned down or bulldozed. Today, just two homes are still standing on her block. "These are the types of conditions that we've lived with," she says.
Many residents like Holley worry that the city's two-year-old water crisis will only worsen the city's housing market. Holley says she could never move elsewhere, even if she wanted to, because her home is worthless. She's never been offered more than a couple of thousand dollars cash for it.
Flint's seeming avalanche of woes include its crumbling schools, its violent crime rate — one of the highest in the nation per capita — and its shrinking police force. According to local authorities, the force is just one-third the size it was in 2008. A shrinking population and tax base have left the city unable to balance its books.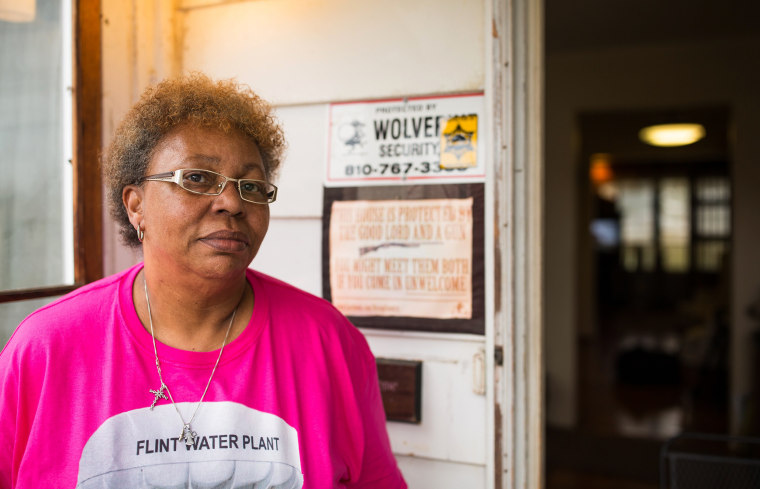 State revenue-sharing cuts have forced deep cuts in city services. Some neighborhoods are monitored largely by so-called citizens patrols rather than police officers. Roughly 40 percent of the city's residents live in poverty. Large swaths of the city are blighted, though downtown is home to several universities, and more trendy bars and restaurants have been added in recent years.
Despite several key resignations at the state and federal level and ongoing Congressional hearings, Flint's water still remains unsafe to drink today, forcing residents like Holley to rely on bottled water for drinking, cooking, and in some instances, even bathing.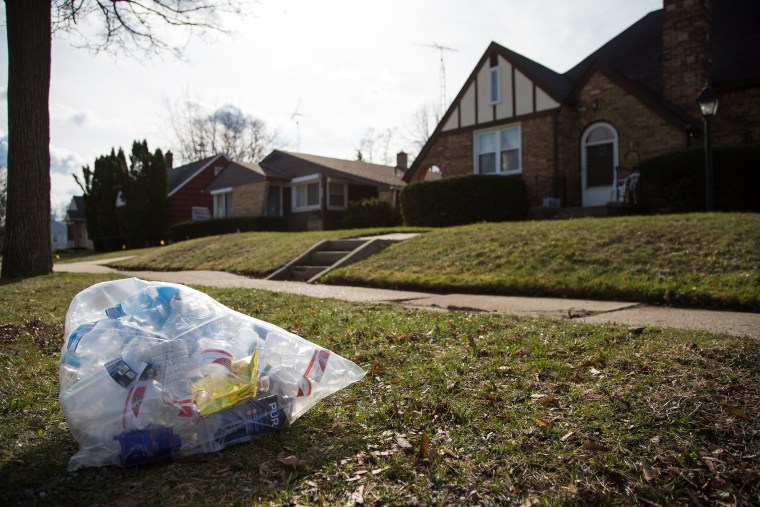 Amid accusations of bias against blacks and the poor — Flint is 56-percent black and one of the poorest cities in America — Gov. Snyder's office points to nearly $67 million in funding he has secured for the city, as well as $232 million in proposed state funding.
"The governor is disappointed that the federal government could not provide the funding they were working on," gubernatorial spokesman Ari Adler told NBCBLK.
RELATED: They 'Failed Us All': 3 Officials Hit With Charges in Flint Water Crisis
Residents still worry that the state's mistakes, which have poisoned an untold number of children, could hurt the already depressed value of Flint's older housing stock as well.
"There's no future in Flint," says the elder Holley, who is originally from New Haven, Conn. Like tens of thousands of other Americans, she migrated to Flint for the high-paying factory jobs this and other smokestack, rustbelt towns once promised. "Even if we wanted to get out, how would we?"
The value of all residential property in Flint has dropped roughly $500 million since the housing crisis and Great Recession. That depreciation in value is larger than the total current value of all residential property in Flint, a city of just under 100,000 people, half the size it was 50 years ago.
However, despite the water crisis, Flint homes have in fact added a modest amount of value in recent years — more than 10 percent since 2014, according to county figures.
Jocelyn, one of three of Holley's daughters, has been trying to sell a three-bedroom, two-story home on a relatively stable block on Flint's west side since she moved to a rural suburb two years ago. Her asking price: $10,000.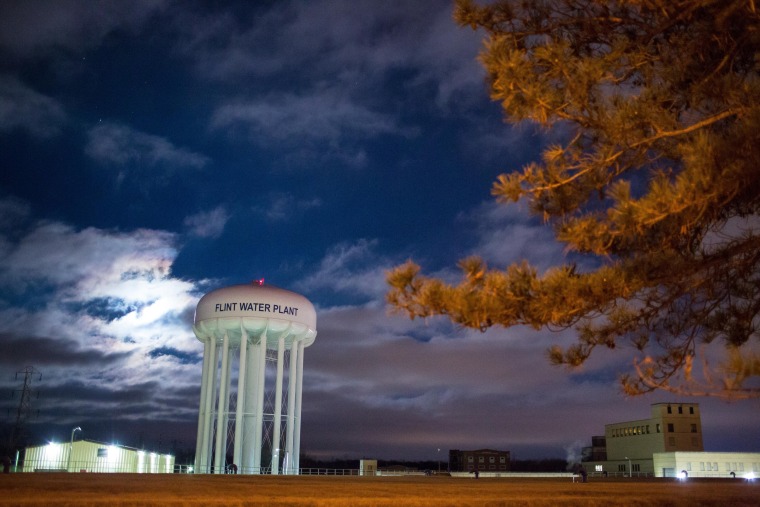 The 41-year-old GM parts packager bought the home more than 20 years ago with her twin sister for $8,000. But she says she hasn't gotten an offer for more than $2,000 thus far. So she keeps paying the taxes, water bill and for private security until the price hopefully rebounds.
"I'm only four miles from my old house, but it's a world of difference," says Jocelyn Holley, the only one of her siblings who hasn't left the state. "It's a lot quieter here, I'm not hearing gunshots every day. I don't have people in the middle of the street fighting, keeping me from getting to work."
The younger Holley escaped Flint, but her mother and many other Flint residents worry they'll never be able to get what their homes are worth. They are thus stuck in Flint with not enough capital to move out, though the elder Holley insists that she doesn't want to do so any longer.
"I can't walk away with all these years with nothing in my pocket, I can't even afford to pay to put myself somewhere," such as a nursing home, says Holley who lives off of a small GM pension.
RELATED: Report: Can Distressed Communities Achieve the 'American Dream'
The slight uptick in Flint home prices has continued to pick up this year. The 183 homes sold in the first quarter of this year, the latest period for which figures are available, went for an average of $30,028, according to Michigan's East Central Association of Realtors (ECAR), formerly the Flint Area Association of Realtors. In the first three months of last year, 200 homes sold for an average of $17,743, meaning home prices are up by more than $10,000 when compared with last year. The average home sales price during that same period in 2006 was $45,866.
But the number of homes that is selling is small, and homes are selling in neighborhoods closer to downtown and several other stable areas.
"There are areas of Flint that you wouldn't want to live in, nor would I," says Chris Theodoroff, president of ECAR, a realtor and a lifelong Flint resident until he moved to the suburbs in 2014.
While he's optimistic Flint's home values have already bottomed out and will continue to increase, "if they drag out fixing the infrastructure, then we'll have a problem."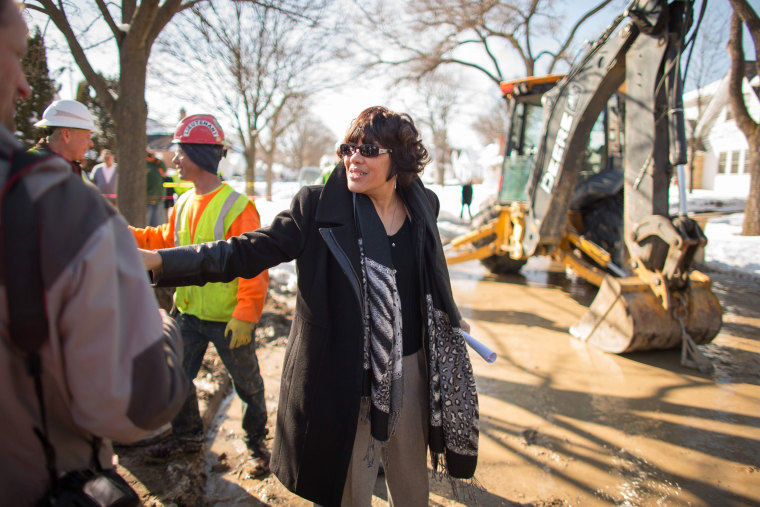 Karen Weaver, Flint's first female mayor and the daughter of local civil rights leaders, began replacing the underground pipes in January, even as she awaited additional state and federal funding to complete the task.
Aonie Gilcreast, an African-American businessman, who has lost tens of thousands of dollars because of falling property values in recent years, encouraged Weaver to run for office.
He previously owned 28 rental properties in Flint. Now, he owns 10. Half have gone empty the last few years, some in recent months because of the water crisis. Already stripped of precious valuables such as appliances and piping, some will be difficult to rent again in the near future, he says.
"You've got to drop the rent and everything just to keep people in there," says Gilcreast, who migrated from the city to a suburb decades ago.
But he says, "I still think that the recovery aspect of it looks somewhat promising."
He plans to invest in more homes now, while prices are low.
"The longer this drags out, the worse it's going to be," says Gilcreast, 65. "We have to get some resolution to this water crisis for Flint to be a shining light, we've got to have some resolve, and people have got to believe that the water is again OK."