As New Jersey's largest city continues to grapple with urban violence, Former NFL player Ray Lewis sent an "urgent" call for residents of the predominantly Black city to "make lives matter."
The former Baltimore Ravens linebacker said while he understands that social conditions for Black people are among the worst nationwide, "it doesn't give people the excuse to kill each other."
"Remove the word black and say 'lives matter,'" he declared, in context of the Black Lives Matter movement. "Stop sending mothers back home empty. You can never replace a mother's child. If we want black lives matter, let's make it matter to us. That's the new call."
"People want to talk about violence without talking about inequality because they benefit from inequality."
He later decried a culture wherein artists, radio transmissions and television shows inject violence into the lives of at-risk youths who lack guidance.
Lewis was speaking at public safety summit on Wednesday in Newark, a forum that seeks to galvanize public support and develop concrete solutions with residents, law enforcement and community activists to curb urban violence.
Along with Lewis, the program, dubbed "Summit II: Redefining Public Safety" was headlined by NFL Hall of Famer Jim Brown. It is part of a national public safety campaign that Newark Mayor Ras Baraka says will "address violence as a mental health issue" and identify grassroots approaches to decrease gang-related, black-on-black and police perpetrated violence.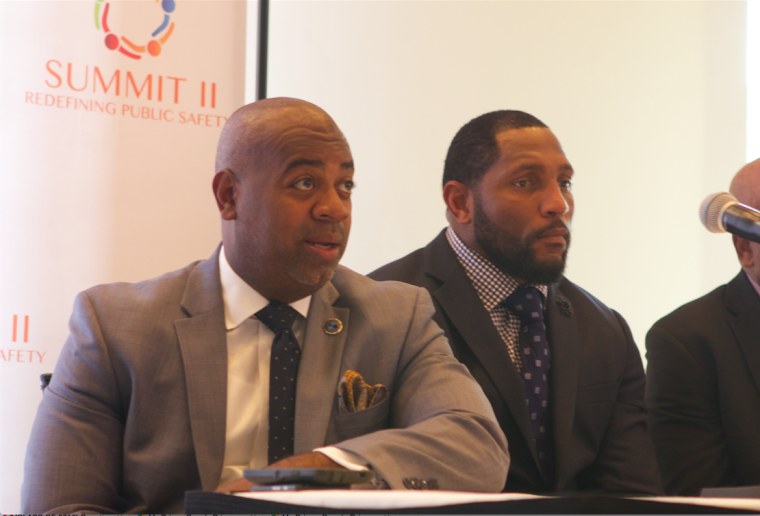 "We want to shine light on some opportunities to control the violence that has been going on in our communities," said Baraka, who is the son of America's influential literary figure Amiri Baraka.
He added that it would be inequitable for the community to depend solely on the police department to unravel the "black-on-black crime" epidemic and create meaningful changes.
"That is not the answer alone, and we need other opportunities to help us," he said.
Nevertheless, Baraka emphasized that underlying issues including racism, inequality and unemployment cannot be ignored from the discussion. He said "these systemic issues" have to be addressed as a "crisis," because they help perpetuate violence in poverty-stricken neighborhoods.
"People want to talk about violence without talking about inequality because they benefit from inequality," he added.
The gathering is a replica of the June 1967 "Muhammad Ali Summit" that Brown helped organized in Cleveland, which brought together key influential Black sports figures in support of the world heavyweight boxing champion who refused to join the U.S. Army in 1967 in protest of the Vietnam War. That forum also addressed social issues, including black-on-black crime, education disparity and police brutality.
RELATED: World's Largest Indoor Vertical Farm is Coming to Newark
In response to the ongoing racial outrage across the country, Jim Brown said he chose to host the Summit as an historical "passing of the torch" to Lewis. He charged Lewis to lead the social activism and black empowerment with the influence he carries, a move that Baraka lauded.
"We have to use the resources, and our NFL players due to the impact they have on young people," said Brown.
This is not the first time Brown has partnered with the city to combat issues of gun violence. Earlier this year, he helped the mayor launch the Newark Community Street Team pilot program that is being run by a former gang member.
Lewis made national headlines during the Baltimore riots this past spring, when he emotionally pleaded to rioters to stop the violence and seek an effective approach to reform. Days later, he and dozens of other current and former Ravens players traveled to the West Baltimore communities most affected by the riot, which was sparked by the death of 25-year-old unarmed Black man who died while in police custody.
Lewis, on Wednesday, called on influential figures like him who are "from the valley" to support the movement. Following the summit, organizers said groups will target 15 cities to introduce and identify various anti-violence strategies.
The summit in Newark had panel discussions with grassroots leaders who addressed criminal justice reform measures, community partnership strategy and recovering from trauma.