Alicia Garza, one of the three female founders of Black Lives Matter, will be the guest of Rep. Barbara Lee (D-CA) at President Obama's last State of the Union address on Tuesday night. Garza is a constituent of Rep. Lee, who is active on issues of poverty, civil rights and education.
"Looking forward to welcoming #BlackLivesMatter co-creator,@aliciagarza, as my #SOTU guest. She's a powerful voice for justice and reform," tweeted Rep. Lee on January 7.
Alicia Garza, Patrisse Cullors and Opal Tometi founded the Black LIves Matter movement in 2013 after George Zimmerman was acquitted of killing Trayvon Martin, 17, on February 26, 2012. The activism of Black Lives Matter dominated the news in 2015 and changed the conversation on policing and justice policy for 2016.
There will be other important guests in attendance for the State of the Union. According to the White House, twenty four special quests invited by the White House will watch the President lay out plans for 2016. Additionally in a symbolic act, first lady Michelle Obama will have an empty seat next to her as a statement on those lost to gun violence.
Over the weekend a White House official told NBC Black that President Obama's final State of the Union will "represent the progress we have made since the President first delivered this speech seven years ago - from the brink of a second Great Depression and two costly wars to an economy that is growing and renewed American leadership abroad."
The President's guests will include people he met in 2007 and 2008 while running for office. Two guests who will be seated in the First Lady's box are Edith Childs and Earl Smith.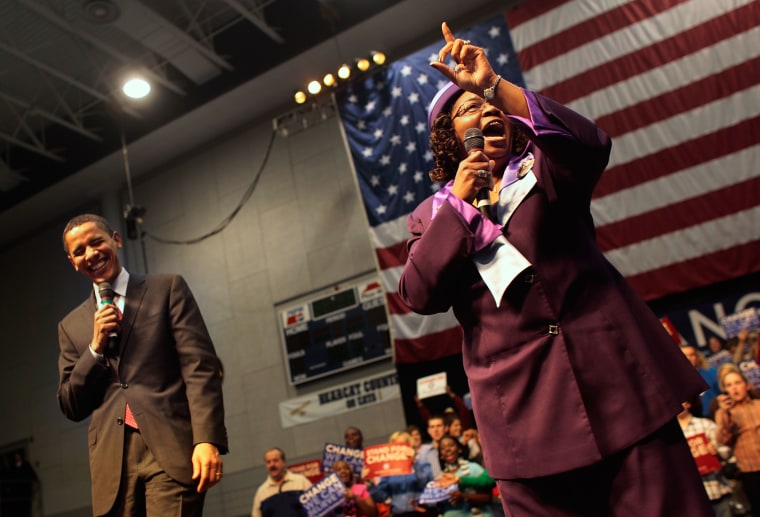 Childs is a Greenwood County, South Carolina Councilmember who is famous for the popular Obama campaign chant "Fired up! Ready to go!" Smith is a Vietnam veteran who met President Obama in a hotel elevator in 2008 and gave the then-Senator a military patch he had worn serving with an artillery brigade in Vietnam.
African American business owner Mark Davis will also be sitting in the First Lady's box. Davis "was inspired by the President's focus on climate change to do something to protect the planet" and owns a WDC Solar.
Another notable guest in the gallery will be Cedric Rowland of Chicago, who is a heath care insurance navigator. Richmond's work helping people to find the best health care plan at the right price led him to assist a woman named Stephanie Lucas. Lucas is a diabetic and did not qualify for Medicaid. But Cedric's help led her to a pan that costs $62 a month after tax credits.
Over 6 million African Americans are now eligible for health care coverage and the percentage of uninsured African Americans dropped from 24 percent to 16 percent since 2013 when the health care law was enacted.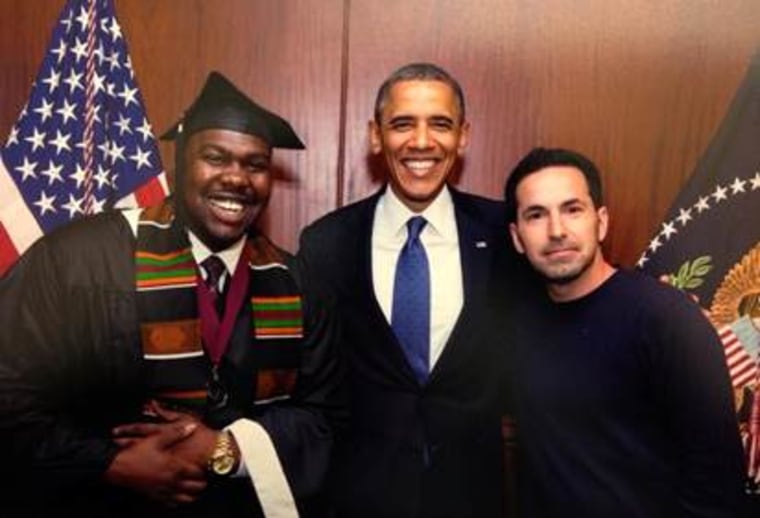 Rep. Tony Cárdenas (D-Calif.) will host Calvin King, whose personal story is living proof that juvenile justice reform is vital to rebuilding communities.
One of five children raised by a single mom in poverty, Calvin was, as a child, charged as an adult for a crime he didn't commit. King eventually graduated from Morehouse College with a degree in political science and is now a second grade teacher at Christina Seix Academy in Trenton, New Jersey, where he returned to Estes Park to teach, mentor and help support young people.
King is a recipient of the Presidential Service Award for 2000 hours of community service.