Founders Brewing Company settled a lawsuit with a former employee who claimed he was called the N-word by co-workers, denied a promotion because of his race and ultimately fired when he told a manager he was going to human resources.
The Grand Rapids, Michigan, company announced in a statement Thursday that the suit filed by Tracy Evans was dismissed after the two parties came to an agreement under undisclosed terms. Evans claimed in his 2018 lawsuit that he was subjected to a "racist work environment" during the four years he was employed by the Founders.
Mike Stevens and Dave Engbers, who co-founded the brewery, said that during the process, the company "listened, engaged in self-discovery, and reached common ground to make amends."
"We agreed that nobody be viewed at fault here," the men said. "Most importantly, this serves as an opportunity to place our full attention on the work we now have to do, as a company of more than 600 dedicated team members, to rebuild our relationships."
Founders said in their statement Thursday that it abhors discriminatory action of any type and is committed to moving issues of diversity and inclusion forward at the brewery.
Evans, who was hired at the Grand Rapids location in 2014 as a packaging machine operator, said Thursday that he wanted the "world to know the power we have when we step forward and make ourselves heard."
"When someone offers to change, as humans we have a few choices and I have made the choice to see what Founders does with the path that they are about to take," Evans said.
He also said that he was unsure what Stevens and Engbers had planned for the future, but he knows that "'seeing color' and valuing people for who they are, and their collection of experiences is the mission."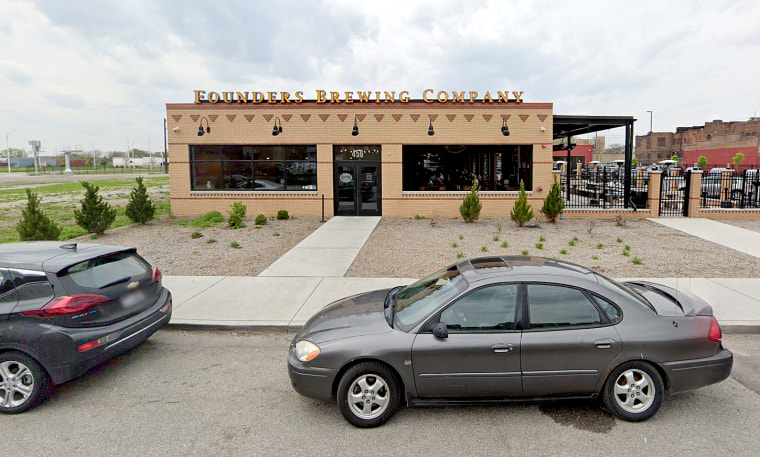 In a deposition regarding Evans' claims, Founders' general manager Dominic Ryan said he could not definitively say whether Evans is black.
"I don't know Tracy's lineage, so I can't speculate on whether he's — if he's from Africa or not," Dominic Ryan, who is white, said when an interviewer asked him about Evans' race.
When the interviewer continued to question Ryan and asked the manager if he knew whether Michael Jordan and former president Barack Obama are black, he responded that he had never met them.
Evans alleges that at both the Grand Rapids and Detroit locations he was either called the N-word by a co-worker or a colleague used the racial slur around him. When he reported both instances to human resources "his complaints fell upon deaf ears" and the employees were allowed to continue working for Founders, the lawsuit states.
At the Grand Rapids location, Evans' colleagues allegedly labeled an upstairs printer "white guy printer" and the one downstairs "black guy printer."
When Evans applied for a promotion in 2015, the two open positions were given to his white co-workers even though Evans had trained both of them and they had been employed with Founders for a shorter period of time.
In June 2018, Evans met with a supervisor and informed him of his plans to meet with human resources about the work environment and how he was treated. Days later, Evans says he was fired for "pretextual reasons."
Founders Brewing Company's diversity and inclusion director, Graci Harkema, resigned a week before the settlement was reached. Harkema said on Facebook Friday that she disagreed with how the company handled the lawsuit.
In a letter she posted online, addressed to the company's leadership, Harkema said that she was repeatedly dismissed when giving her suggestions on how to regain trust with LGBTQ and minority communities.
"In every conversation and with every action, you've been most concerned with winning the lawsuit," Harkema wrote. "You are most concerned with the ego of 'winning' than you are you are about the loss of costumers, loss of reputation, and loss of employees' wellbeing."
She also included in her post a phrase that Nike featured on an ad with former San Francisco 49ers quarterback Colin Kaepernick.
"Believe in something," the slogan read. "Even if it means sacrificing everything."