Four Afro-Dominican models can be seen gracing the cover of Vogue Mexico and Vogue Latin America's September issue — a historical feat made all the more exceptional by the fact that the September issue is considered the most important for fashion magazines as it is on magazine stands at the same time as fashion month.
Licett Morillo, Manuela Sánchez, Annibelis Baez and Ambar Cristal Zarzuela, the women featured on the cover, are clad in black clothes and smiling in the middle of a field.
"This is the fashion that unites us" is written in Spanish underneath the image.
"When envisioning the cover of Vogue Latin America's September issue, it was very important for my team and I to portray the natural beauty of Dominican Republic´s newest faces. In the past couple of years, Dominican models have dominated the fashion world, walking in shows such as Dior and Valentino, and starring in campaigns for Louis Vuitton, among others. We wanted to show these women as they truly are, capturing their beauty, natural hair and unique qualities," wrote Karla Martinez, the editor-in-chief of Vogue Mexico and Vogue Latin America, in an emailed statement. "As a top publication with high print and social reach, I want Vogue Latin America to be a platform where we highlight the diversity in Latin America and celebrate all types of beauty."
Though Vogue Mexico and Latin America only revealed the cover last week, it has already received widespread praise for highlighting Afro-Latinas, who haven't traditionally seen themselves represented in the pages of glossies. According to Fashionista, a style and beauty publication, only 5 of Vogue's 12 domestic covers in 2018 featured a non-white model.
"The Vogue Latin America September issue cover features four Dominican Afro Latinas. I'm ecstatic!!!!!!" wrote Sandra E. Garcia, a journalist at The New York Times in a tweet that received more than 4,000 likes and nearly 2,000 retweets.
"QUE ORGULLO!", she added, a Spanish expression that reflects feelings of pride.
Another Twitter user compared seeing the Vogue Mexico cover to the first time she saw a Teen People cover with Lineisy, Imaan, and Aya — three black models who posed for the magazine in 2015.
"I still remember seeing that cover of Teen Vouge with Lineisy, Imaan, and Aya as a 17 year old and that was the first time that I began to embrace who I was as a black girl and felt represented for the first time in a VERY long time," wrote the Twitter user.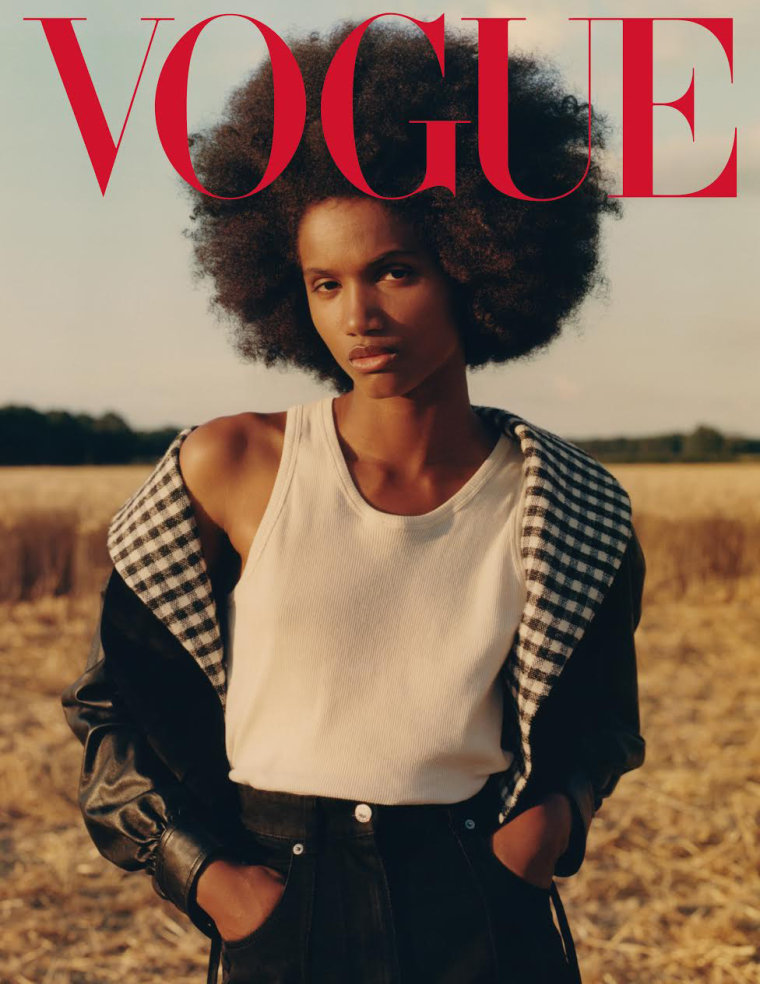 Though these cover stars are now inspiring others, some of them almost didn't pursue modeling because they didn't see examples of women who looked like them in the industry.
This was the case for Morillo, who was born and raised in Santo Domingo, and is one of 10 siblings. She worked in a plastics factory before going to school and had she not been recruited by IMG models, the talented model — who has since walked in several prestigious shows including Hedi Slimane's debut at Celine, Valentino and Saint Laurent — might not have undertaken such a career because she didn't believe she met the industry's standards of beauty.
"In the Dominican Republic, women who are considered beautiful look very different to me and models I saw in magazines looked very different to me. So honestly, it didn't even cross my mind," Morillo said in an interview with Dazed.
The Vogue Mexico and Latin America cover is only one example of these four women making history with their work in the industry.
Zarzuela was the first Dominican model to open a Louis Vuitton show and the second black model to do so this year. Morillo was the first woman of color to close a Prada show in 2018. Baez has walked for some formidable fashion brands including Dior Haute Couture, Kenzo, and Lanvin and Sánchez has walked in shows for Fendi, Valentino, Louis Vuitton, Prada, Dior and Versace.
"Today I want to thank God once again, seeing my face on the cover of Vogue, is like continuing to believe in fairy tales," Zarzuela wrote on Instagram in Spanish. "I come from a very humble family in my country, my mother educated us by selling soft beans in our grapefruit neighborhood. Today I want all young Dominicans to not stop dreaming and to know that everything can be achieved with faith and a lot of work."