The world of late night comedy is getting another dose of blackness.
Comedian and actress Franchesca Ramsey is heading back to Comedy Central, but this time she is calling the shots. Tuesday, Comedy Central announced that a yet-to-be-named late night comedy pilot will be executive produced and hosted by Ramsey as part of its 2017-2018 line-up of development shows.
Known to the online community as Chescaleigh, the rising star is known to be blunt and keep it real. Combining laughter and activism, she speaks out on issues of race and pop culture.
Ramsey got her start on YouTube video blogging. She did a writing stint on The Nightly Show with Larry Wilmore, hosting the segment '#HashItOut With Francesca.' Currently the host of MTV's Decoded, her show is nominated for a Webby Award for Public Service and Activism.
NBCBLK caught up with Ramsey to talk about her new and upcoming project on Comedy Central, digital activism, and the podcast that changed her life.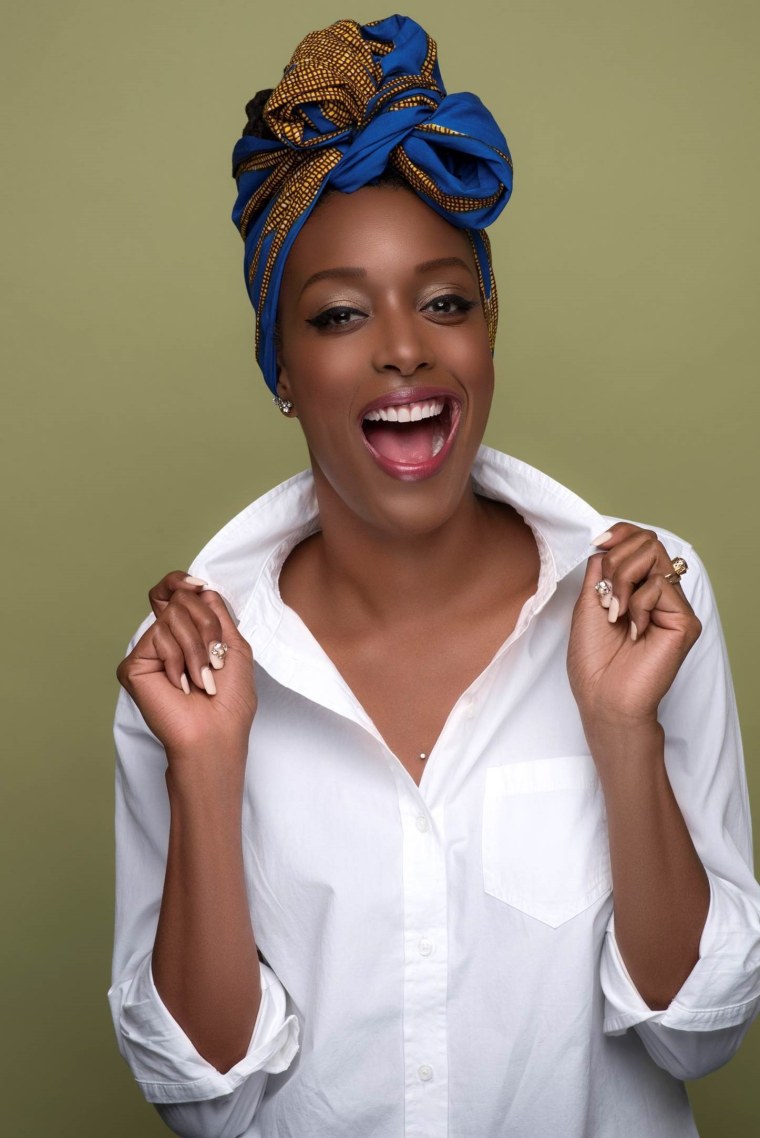 Congratulations on your new pilot on Comedy Central! We know you can't tell us everything about your pilot project, but give us some juice. How did this project come about?
For me I feel like this is a natural progression and it's what I've always wanted to do. It's just so cool that I've been able to start on YouTube doing my hair in my bathroom and in my living room making parodies, to MTV, to Comedy Central and now the chance to do my own show.
So it's really just been what I've always wanted to do and I'm just so fortunate that I've got an amazing manager, Kara Welker at Generate who has developed the show with me along with producers Eric Brown and Andrew Kornhaber, they've helped coordinate and develop MTV Decoded which is my web series. With Decoded we get to touch on so many great topics, but we only have five minutes. So we said, 'We gotta really figure out a way to create a 22-minute show that really gets to address some of the issues we're not seeing other people talk about.' So that's what we're going to do.
When can we see this kick off? Is it going to be this summer, fall, or next year?
I don't have any dates. Right now we're still in the pilot stage so we're still assembling a team and I'm really excited because I got a list of people I want to work with. People I got to work with at Nightly Show and people I've always admired and dreamed of working with. The goal is really to just try and get the most creative people together and really create something that is different from what everyone else is doing on TV right now.
Speaking of creating something different from what everyone else is doing right now, you have the opportunity to bring something new to late night. Give an idea of some things you plan to bring.
For us it's really important to talk about people and identity. There's such an incredible opportunity to shed light on different types of people and different issues that affect people from various walks of life.
In light of this most recent election we really saw that there are a lot of people who are misinformed about different types of people that live in this country and around the world. So we want to give them an opportunity to make their voices heard in a really funny and really smart way to hopefully educate people but also change the perspective and challenge some of the preconceived notions that they have been carrying around, maybe that they didn't even realize they've been harboring.
You've talked about Decoded and some of the other shows you've done. Do you think this will be a combination of Decoded mixed in with some new elements?
Absolutely! This is not Decoded. I am so thankful for the opportunity MTV has given me with that series. We've been doing Decoded for two years, we've most recently bene nominated for a Webby Award, but there's limitations to what you can tackle in five minutes. We really want to expand this lens and not just talk about racial identity. That's what we're really excited about, to expand and touch upon a lot of different communities.
Looking at late night comedy, you don't really see many women of color having a presence. What does this mean for you as a Black woman to have this opportunity?
It's really exciting! I think about this all the time just in the work that I do. When I get to meet my audience when I go speak at colleges or when I'm walking down the street, it's been really eye opening how many people have been touched, to see someone that looks like them on television.
Related: YouTube Star Tré Melvin Dishes Commentary on Race and Bisexuality
And just to see someone that doesn't look like them is carving their own path despite what mainstream media may have said in the past about what it means to be a Black woman in media. Sometimes it surprises me how many people seem to be inspired by that. I don't take it lightly at all. I feel very fortunate to have this opportunity and I'm so blessed to have so many great people supporting me and cheering me on.
As an activist you've done a lot, including participating in the Women's March on Washington after the inauguration in which some people say is a 'one time momentum event'. What would you say is the state of Black activism right now and where we're headed?
I think what's been really awesome about the Internet is the ability to reach people from so many different walks of life and stages in their life. I think participating in marches is really important for sure but there are lots of people for a variety of issues who are not able to go and protest. Whether it be they are someone with a disability or they are someone who works multiple jobs and is not able to take time off from work or is someone who lives in a community where there is not support for whatever that issue they feel passionate about.
Related: Andre Royo Went Through 'The Wire' to His Breakout In 'Hunter Gather'
For a Black activist, for an activist of all walks of life, the internet has become this kind of meeting place where we can exchange ideas, where we can learn from each other, where we can get inspired about new ways that we can make changes within our own communities and own homes.
For me that's what has been really exciting is just watching people organize whether it's being on the ground and using live stream on Twitter or Instagram in order to share what's really going on in the world. Or just helping connect people with resources via the internet, I think it's a really exciting time for all activists.
What do you want people to takeaway from your late night project? Is there anything else you'd like to add about your project?
I want people to be inspired, to forge their own paths and create opportunities for themselves where they don't necessarily see them. I'm so inspired by people like Issa Rae who started on YouTube or Abbi and Ilana from Broad City who also started on YouTube. It is definitely a new time in media where if you don't see your voice represented you can go out there and make your voice heard on a variety of platforms. You just never know where it's going to lead you to.
This is just a lifelong dream realized that I worked 10+ years for and if anyone can see my journey and say, 'Oh wow that's something I want to do,' I'm hoping that inspires them to go after whatever it is that they want.
Last question. What are some things you've been reading and podcasts you've been listening to? What are some things out there that have caught your interests?
I swear I should be getting commission but I'm not. The "Making Oprah" podcast changed my life. It's only three episodes but I absolutely love it! I actually listened it right before we flew to LA to pitch this show. It's just so inspiring, all of the barriers that Oprah kind of broke down in order to become the empire that we know her as today, is such a great retrospective on where she started and some of the challenges that she faced.
As a black woman in media she has really paved the way for myself and others like me. So I encourage anyone who needs motivation or inspiration to listen to that podcast. It is chalked full of gems that anybody can learn from.