Jelani Alladin was dressed in a baggy T-shirt, stylish pants, fitted hat and Nike Air Force 1s when he walked into the audition room for "Frozen" on Broadway.
He had just come from a commercial audition for the activewear retail store Finish Line and said he remembers questioning if this new role was meant for him.
"I didn't really see myself being in 'Frozen.' It's an all-white piece," Alladin said, referring to the 2013 animated Disney film. "There aren't really any characters in there for me."
But after his audition, the casting director gushed and asked: "Who are you? Why have I not met you?" A few callbacks later, he was cast in the principal role of Kristoff, played by Jonathan Groff in the movie, and would later make his Broadway debut.
Alladin is one of many black actors starring in new productions on Broadway this season in roles that have traditionally been played by white actors. He is joined by:
Denzel Washington as Hickey in "The Iceman Cometh." (The role hasn't been played by a black actor on Broadway since James Earl Jones in 1973. Washington's performance earned him a Tony Award nomination)
Joshua Henry as Billy Bigelow in "Carousel." (This Rodgers and Hammerstein classic has never before had a black man play this role on Broadway. He received a Tony Award nomination for his performance.)
Noma Dumezweni as Hermione Granger in "Harry Potter and the Cursed Child." (Emma Watson played the clever witch in the films. J. K. Rowling publicly defended Dumezweni's casting when the announcement was made in 2015 before the play's world premiere in London and after social media spewed vitriol at the idea of a black Hermione. Dumezweni also received a Tony nomination.)
Condola Rashad as Joan of Arc in "Saint Joan." (The only black actress to play the historical figure on Broadway before was Diana Sands, in 1967. Rashad is also a Tony nominee this year.)
Jordan Donica as Freddy in "My Fair Lady." (He is the first black actor to play this role on Broadway.)
These casting choices suggest a shift among directors and producers in their openness to reinterpreting characters through a more racially diverse lens and expanding roles beyond how they may have been written or traditionally portrayed.
Nearly every actor and director interviewed for this article preferred to use "color-conscious casting," rather than "colorblind," as a way to describe this approach.
"Hamilton," the 2015 musical that cast African-American and Latino actors as America's Founding Fathers, has spawned numerous productions around the country and abroad, creating dozens of jobs for actors of color.
For an industry that has struggled with diverse representation on its stage, the success of "Hamilton," with its innovative casting, and this season's Broadway lineup is a sign that improvement is possible. A diversity study released by Actors' Equity (the national union representing professional theater actors and stage managers) examining Broadway and touring productions that opened from 2013 to 2015 highlights great disparity in the number of black actors hired in principal roles. Out of 459 contracts for leading roles in plays, just under 11 percent went to African-American actors. Out of 695 contracts for leading roles in musicals, that number drops to 9 percent.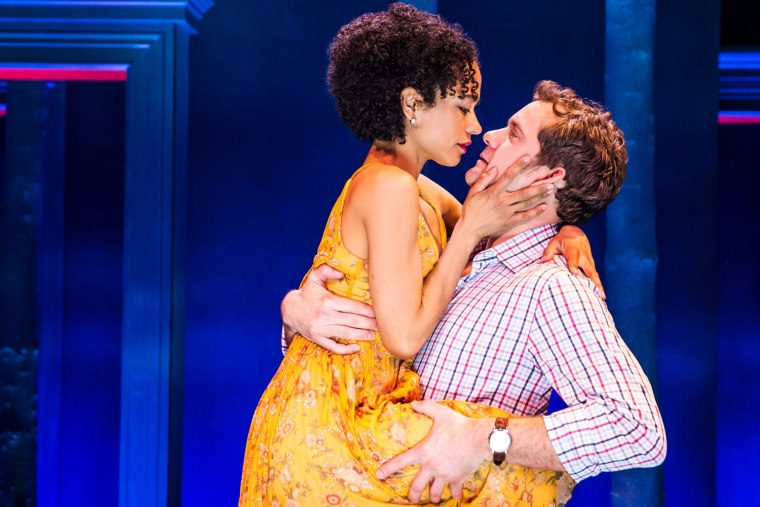 Lauren Ridloff could not even imagine herself in the role of Sarah in the revival of "Children of a Lesser God" — a performance that has earned her a Tony Award nomination for best leading actress in a play. The role was originally played by Phyllis Frelich when it debuted on Broadway in 1980 and by Marlee Matlin in the 1986 movie — both white actresses.
"I just did not think that I fit the idea of Sarah, being a multiracial mother of two children," Ridloff said.
The play focuses on a deaf woman's complicated romance with a hearing man, James (played by Joshua Jackson, who is white, from "The Affair"), who teaches at a school for the deaf. Ridloff was hired by director Kenny Leon to teach him American Sign Language while he was developing the production, and rather than audition, she was offering to recruit for the role. "I was trying to be helpful by suggesting several deaf actresses who were young and white," Ridloff said. "In retrospect, I cringe at how oblivious I was about diversity casting."
Leon, who is black, was inspired to cast Ridloff from his time spent being tutored by her.
"All of a sudden I said, I'm looking at Sarah right in front of me," Leon said. "I just started expanding my worldview in terms of what the role would be."
Leon's creative decision led to critical raves for Ridloff (who had only a few acting credits when she was cast) and invited new depth to the play's themes through a fresh interpretation of the character.
"I used my own upbringing as a multiracial child of parents who separated when I was young," Ridloff said. Sarah's father left the family when she was 5. "In my mind, Sarah's father was white and out of the picture for years, leaving a hole for her that needs to be filled. Hence, her inexplicable attraction to James."
In addition to the struggles of the deaf community in society, "Lesser God" now took on racial undertones.
"Now instead of just looking at it on one dimension, it works on three," Leon said. "If she brings her new, hearing boyfriend to meet her mother, and her mother is African-American and Sarah's African-American, now you're dealing with not only deaf and hearing issues, but you're also dealing with race and class."
The Tony-award and Oscar winner Denzel Washington made his return to Broadway this season in Eugene O'Neill's "The Iceman Cometh" as Hickey, the play's protagonist. The role has been played by an African-American before — James Earl Jones on Broadway in 1973 — but recent major productions have featured white actors like Kevin Spacey and Nathan Lane.
While Ridloff and Leon were vocal about diverse casting adding new dimensions to "Lesser God," the key players behind "Iceman's" revival emphasized that the impact of casting depends on the play.
"I'm a human being, so hopefully I have human experiences that I bring to any role," Washington said of playing Hickey.
The play's director, George C. Wolfe, echoed Washington's perspective.
"Denzel is a black man, so he's going to bring all of who he is to the role," Wolfe said, adding that the character was "not really" changed by being played by a black actor. "There are rhythms that are in play that are Denzel's and rhythms that are O'Neill's, and I think they marry each other beautifully."
Discussing nontraditional casting in this Broadway season, Wolfe said, "I think what's really thrilling is you have producers who are smart and realize they need to cast brilliant people, and those brilliant people have turned out to be black, or women or whatever."
Wolfe's open-minded view is what Actors' Equity is striving to achieve throughout the industry. Christine Toy Johnson, who is the national chair of the union's equal employment opportunity committee, says universal access to auditions is the ultimate goal to achieve widespread inclusivity in theater. "We're working toward getting our members entry into the room, not only physically but also philosophically," Johnson said. "That means shifting perceptions of who we are and what we can do."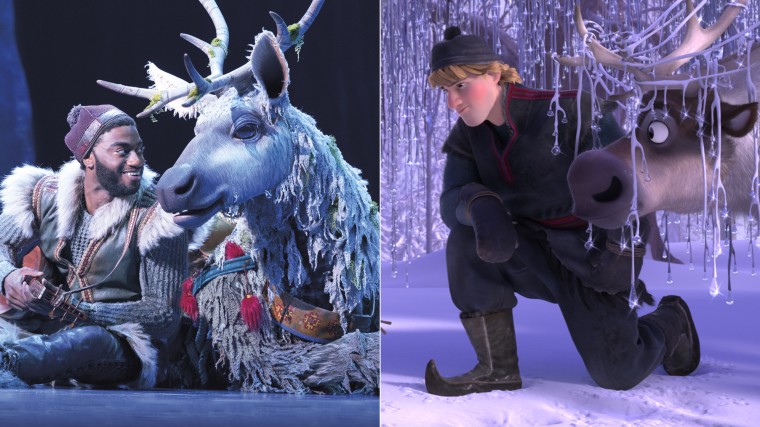 To Alladin of "Frozen," that representation is everything.
"I think it's quite major for a black man to be playing this part that is about love and vulnerability," he said. "Usually you see the black man in torment or the black man in rage. To see him be the one that you're rooting for [to end up with Princess Anna], that is huge."
While developing the show, Alladin was careful to ensure that Kristoff would be a character audiences would root for. During rehearsals, a scene was altered at Alladin's request that had Kristoff stealing items that he and Anna need on their wintery journey. Cautious not to "perpetuate a stereotype," Alladin suggested that the characters convince the shop owner to give them the items instead. "I'm not going to be up here as a black man stealing something from this man's store, because that is wrong," Alladin said.
The change was made.
This is why for Nicole S. Smart, Equity's first director of diversity, inclusiveness is much more than casting actors of color. "It just can't be something you put together and not really nurture or curate it, because it will show," Smart said. "It has to be intentional in order to be successful as well."
Smart says a show's creative team needs to be as diverse as its cast to have earnest conversations about character identity and to display cultural sensitivity. "We want to make sure there's a diverse group of people in the room during development, so it does not come across as offensive in any way and it's culturally appropriate in the way that it's being presented."
"It's not blind, it's eyes pulled open," Leon said of the importance of recognizing actors of color and their potential on stage. "I see you and it's OK. If we don't, we kick a lot of beautiful things to the peripheral."