Georgetown will offer an admissions edge to descendants of slaves as part of a comprehensive atonement for the university's historical ties to slavery, its president announced Thursday.
Those ties go back nearly two centuries, when the Washington, D.C., school sold 272 slaves and used the proceeds to pay off debt.
Georgetown President John J. DeGioia offered a public apology Thursday afternoon for the 1838 sale and outlined what the university plans to do to acknowledge racism in its past.
"Some descendants and their families have joined us in person and some have joined online, and it is with gratitude and humility that I recognize your presence," DeGioiga said from Georgetown's Gaston Hall auditorium. The crowd responded with a standing ovation.
Special section: Get college tips at College Game Plan
In addition to offering descendants the same preferential status in admissions that Georgetown currently offers children of alumni, the university will develop a memorial to the enslaved and will rename two buildings — one after Isaac Hall, a slave whose name is the first mentioned in the 1839 sale documents, and another in honor of Anne Marie Becraft, an African-American who founded a school for black girls in Georgetown's neighborhood in 1827.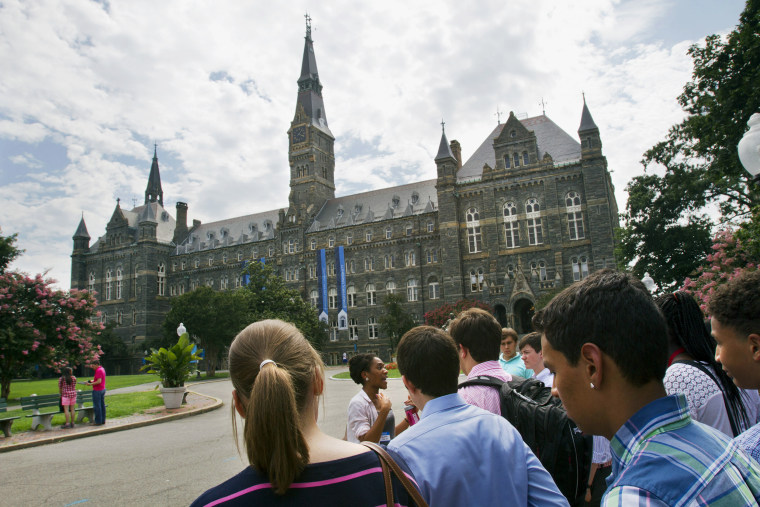 The moves come a year after DeGioia asked a group comprised of faculty, students, alums and staff with coming up with ways to address the university's history of slavery.
Related: Voting Hurdles Often Keep College Students Away From the Ballot Box
"I look forward to continuing to work together in an intentional effort to engage these recommendations and move forward toward justice and truth," DeGioia wrote in the introduction to the group's 104-page report.
Led by history professor Adam Rothman, the group did extensive archival research to inform its report.
"I hope that what we're doing has a lasting impact. That what we're doing now to engage with this history will endure decades from now," Rothman said in a press release.
Related: 'Drunkorexia' Prevalent Among College Students, Study Finds
A couple months after the group started its research, the need to address Georgetown's history became more apparent: Students staged a sit-in last November outside DeGioia's office calling for a dialogue about how the school benefited from slavery.
"The most appropriate ways for us to redress the participation of our predecessors in the institution of slavery is to address the manifestations of the legacy of slavery in our time," DeGioia, who met with descendants over the summer, said in Thursday's press release.
Georgetown was founded by Jesuit priests in 1789. It joins a handful of other colleges that have publicly addressed their legacy of slavery, including Brown and Harvard.