KINGSLAND, Ga. — A Georgia police officer was in jail on Thursday, charged with voluntary manslaughter and violating his oath of office, after state investigators said he fatally shot a black man who was running away from him last week.
Kingsland Police Officer Zechariah Presley surrendered Wednesday to the Camden County Sheriff's Office after the Georgia Bureau of Investigation obtained warrants for his arrest.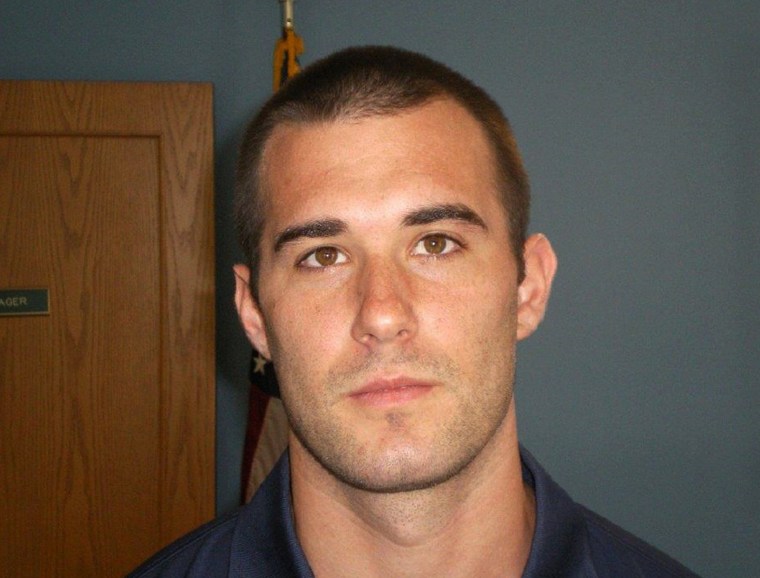 A GBI statement says Presley, who is white, was following a vehicle that stopped at an intersection on June 21 when the driver and passenger ran. Presley pursued the driver, later identified as Anthony Marcel Green.
Presley, 25, caught up with Green, 33, making physical contact, but Green again fled, "at which time Presley fired multiple shots resulting in the death of Green," the statement says.
Green's family attorney, Reginald Greene, released a statement saying the family is "seeking justice."
"Tony Green was gunned down in cold blood by Officer Presley. We are encouraged by his swift arrest, but we intend to remain vigilant until he is brought to justice and the family is able to get answers as to why this happened in the first place. The senseless killings of black men by police must stop," the statement said.
Local media reported that Kingsland Police Chief Daryl G. Griffis recommended terminating Presley, and Kingsland City Manager Lee Spell agreed.
The department also released Presley's personnel file, which shows he was hired last year despite admitting that he had physically fought with his wife, had bought or sold marijuana, repeatedly shouted at people, was involved in "2-3" accidents and had been arrested for "reckless, eluding, speeding," according to his handwritten text.
Presley also racked up nine incidents during in his year in the police department, at one point parking outside the house of a black man who had complained to the chief, prompting the man to say that Presley had him fearing for his life.
Green's record, the station says, includes a traffic ticket in March for a suspended license and a 2016 misdemeanor arrest.
Presley is being held in the Glynn County Jail rather than the Camden County Jail, where he worked as a guard before joining the police force. Local media reported that they couldn't determine whether he has an attorney who might speak on his behalf.