Finally, a horror movie where the Black guy doesn't get killed in the first few minutes.
"Get Out," the directorial debut of Jordan Peele of "MADtv" and "Key & Peele" fame, opens nationwide on February 24, to great acclaim.
For Peele, the film in many ways pays homage to a genre he adores, but it's message, purpose, even the success of its production and release has greater and deeper meanings.
He sat down with NBCBLK while visiting Morehouse College in Atlanta to screen the film and discuss why its themes are personal.
"I never thought this movie would get made," he told Amber Payne, NBCBLK's Managing Editor during a Talk Back with Morehouse students Wednesday afternoon. "Honestly! I have been on television for years and I still didn't feel like this movie was possible."
His motivation for writing the movie was more of a personal challenge – to write a project — a horror movie — that did not exist.
"It started out as a game to make me a better writer," he said.
Peele draws upon some of the ingredients made iconic by some of the greats. There are clues and nods to films like "Halloween," "The Shining," "Silence of the Lambs," even the "Stepford Wives."
In the film, Chris Washington (Daniel Kaluuya), a photographer and only child whose mother was killed when he was young in a hit and run accident, is on his way to meet the parents of his girlfriend of a few months, Rose Armitage (Allison Williams). The family presents itself as the stereotypical liberal-elite, white, well-to-do family living in Upstate New York.
"I would have voted for Obama for a third term," Rose's father, Dean (Bradley Whitford), tells Chris as he gives him a tour of their home.
But reality isn't always reality.
The movie opens with Andre, a guy Chris and his best friend Rod know from the neighborhood. Andre or "Dre," is walking alone at night in an affluent white neighborhood and meets trouble. Initially the scene may not seem obviously important, but when Chris comes into contact with Dre during a party at the Armitage home, he recognizes Dre. But Dre isn't Dre. Dre is now going by the name of Logan, the younger Black husband of one of the Armitage guests, an older white woman twice his age.
This pivotal encounter – as well as encounters with the Armitage's two Black housekeeping staffers – triggers a spiral of events where Chris isn't sure whether he's being persecuted or just being paranoid.
"It is a very personal movie and based on my experiences as an African American," Peele states making reference to the interactions Chris and Dre/Logan experience at the party among the non-Black guests. "Especially when I am in a situation where I feel like the outsider. A lot of this takes place in a party where a lot of elderly white guests approach the main character and try to connect directly with what they think is blackness."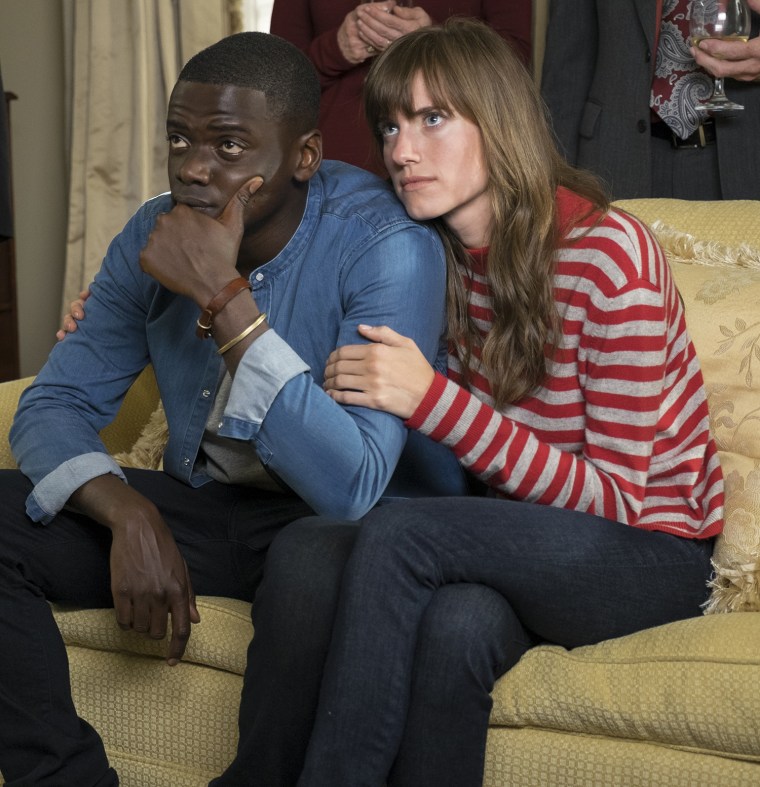 The experience of being an outsider adds up, said Peele.
"After awhile it adds up to something important. It adds up to the fact that we cannot be in a post-race world because I am being approached with my blackness first and foremost," he said during the Talk Back. "I am not having the same conversation with these people as a young white man."
There are also some scenes where some of the most familiar stereotypes of Black life, as well as the genre of horror movies, are challenged. Of course, there is the trope of the manipulation of white women on black men, the commodification of black bodies, and the rhetoric of liberal whites. But also, there are moments where Chris does things that the "usual" Black person would not do.
Related: Critics Love 'I am Not Your Negro.' Are Internet Trolls Trying to Tear it Down?
For example, when he and Rose hit a deer while traveling to her parents house, Chris gets out the car to get up close and investigate. During one of the screenings in Atlanta prior to Peele's Talk Back, a moviegoer yelled at the screen, "What are you doing? Don't go look. We don't do that!"
But that's what happens when you create something that doesn't exist – things change.
While he admits that the movie is in some ways an autobiography, he is sure to clarify that the experiences of Chris in the film are not directly from his own life. They are a combination of details from his life – or as he puts it, imagery that has affected him.
But what is "Get Out"? Is the movie truly a horror movie; a suspense thriller; a horror farce; allegory?
For Peele, the movie is all of these – the sum total of each of its parts.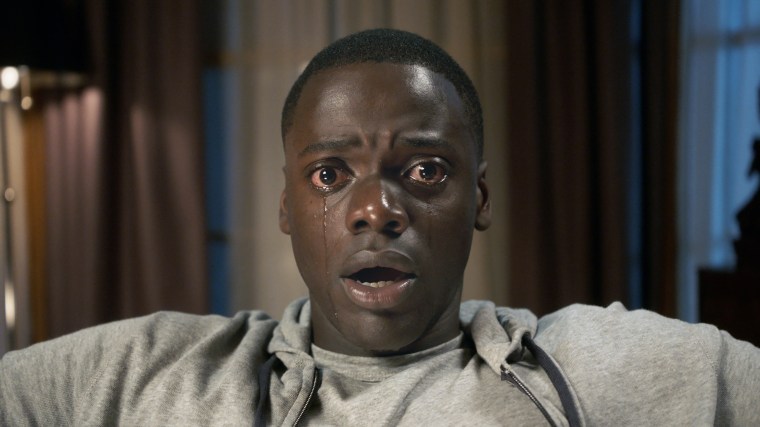 "I love horror and the imagery is firmly rooted in what I know and love about horror," he told NBCBLK. "But it is a social thriller. It is like a psychological thriller. It's about the mind. Allegory is the best way to get people to talk. One of the best ways to enter the conversation about race is through art. If we can have a shared experience in a movie theatre, it gives us more of a basis for conversation."
One of the deepest themes of this movie, said Peele during the talk back, is the disproportionate incarceration of black men and women, as portrayed in Ava DuVernay's documentary, "13th", about the intersection of race and justice in America today and how the prison industrial complex is modern day slavery.
Borrowing from that theme, Peele presents a 21st century slave auction block and a surreal interpretation of what really happens when black men and women disappear.
"Black men and women get abducted and we toss them to the back of our minds," he said. "Literally in [the case of the movie], the back of the mind but also figuratively in the real world, we neglect that whole situation."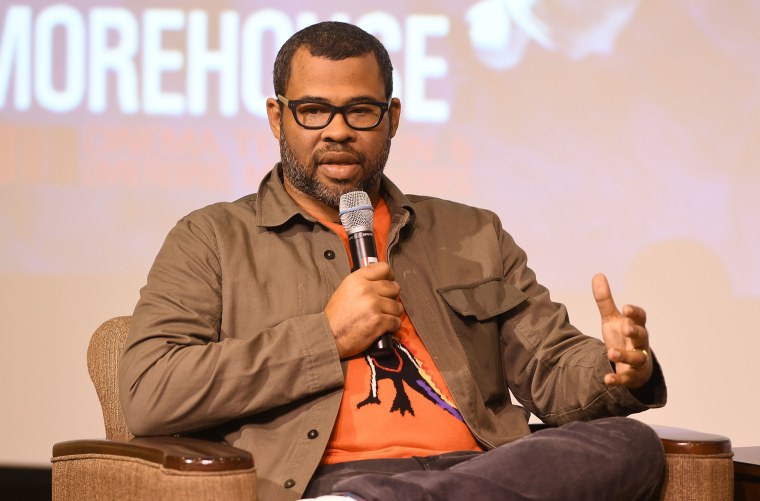 Dr. David Wall Rice, chair of the Psychology department at Morehouse and assistant Provost, saw the film with a group of his students prior to Peele's visit to the campus.
Suspenseful, artful and authentic are three words he used to describe the movie.
"I really went in trying to have that academic hat on and was pleased that it did not take its audience for granted," he told NBCBLK. "It really resonated with me as an artistic piece that was entertaining, that was fun, and was making a commentary on the present times that we are in."
In the end, Peele hopes conversations are sparked.
"I do not pretend to want to tell people what that conversation is necessarily, but I want them to have something to discuss," he said.