Soul-singing superstar Anthony Hamilton is known for "putting that North Carolina stank on it."
It's funky fresh praise for his vocal stylings — and his confidence in the kitchen. The Grammy award-winner (who also has 16 nominations) is known to seduce crowds with his smooth vocals. And his friends, family and road crew know he can also cast a spell with aromas of garlic shrimp, jerk turkey and twists on salmon seasonings.
And now, "Chef Hamilton" has prepped his kitchen to feed your soul—with delivery right to your front door—through a new partnership with the meal prep delivery service Chef'd.
Hamilton's bass guitarist and friend Lamont McCain provided the following testimonial on sampling a signature dish at Hamilton's house — the salmon spaghetti:
"My first reaction when I saw it was, 'Can you put salmon inside spaghetti?' When I tasted the dish, it was off the charts!! I had to stop a minute and just stood in awe! I called my wife and told her about how crazy the salmon spaghetti was. I talked about it for days and told her to make some. Of course it didn't come out as good as his!"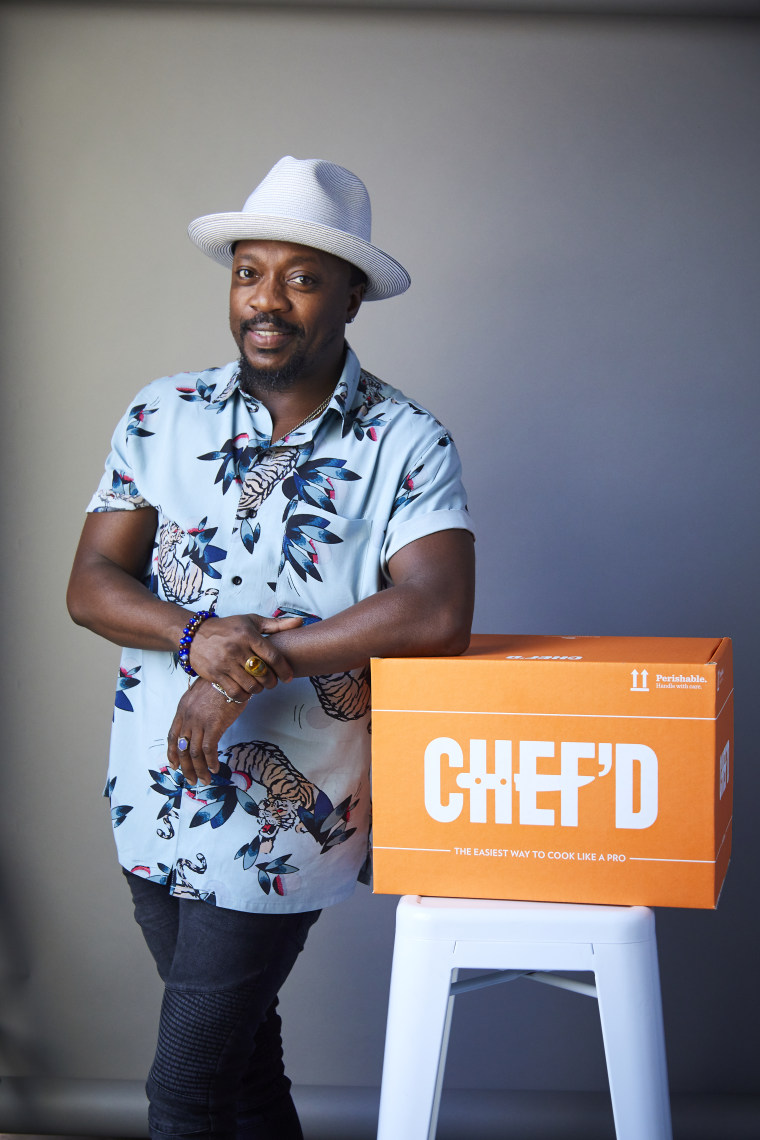 Hamilton reps his self-proclaimed southern, country style with pride. NBCBLK caught up with the artist to chat about his recipe for a flourishing career.
NBCBLK: How did the famous salmon spaghetti recipe come about, Anthony?
Anthony Hamilton: I just stumbled upon the salmon spaghetti. I didn't have anything around when I was making spaghetti…I saw the salmon leftover and decided to do salmon. You just try things. I do make really great cabbage, turkey wings, honey dill salmon, it's all pretty good.
This new direction in your career may not be what fans expect. What brought you to this project?
It's interesting. I always have these ideas and I think, "Try something outside of what people know you for." And when you do that, you also create a path to turn it into reality.
What is your first memory of being drawn to cooking, and getting the feeling that you would be comfortable around the kitchen?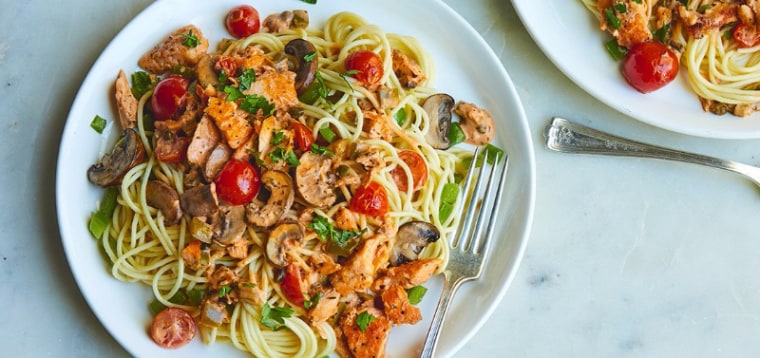 Well it was one time when I was in the New York/New Jersey area and I was at a house party with 20 or 30 people. There were different musicians, rappers, singers, and they bought all this food but nobody really knew how to cook.
Me and a guy named Gary just started putting everything together. I had to make the biggest pan of lasagna (laughs). I baked and fried so many pieces of chicken. I think we did alright!
Related: Black Chefs and Mixologists Inspiring the Next Generation
That sounds like a tough crowd with whom to make your debut!
We were hungry. We was ready to eat!
So this is another natural talent you have?
I think a lot of it is natural. My Dad and my Mom both cooked.
How much of your culinary art bleeds into your musical art? I'm thinking of your line from your song, "Amen."
Got me saying Amen / From the bed to the stove / From the church to the job / Best thing I know / Got me saying Amen / Girl you looking good / You keep that cooking good / Best thing fo sho
You gotta be a hell of a woman or a man to be able to cook—to shake and bake and all that. There's something spiritual about food to me. When we say the words, "God I thank you for this meal." It's awesome.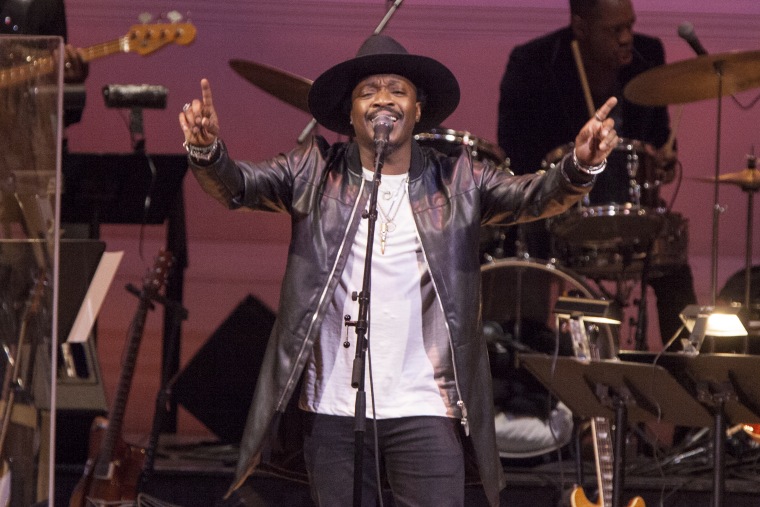 You're known for your sensuality—everywhere. It just surrounds you, Anthony. I mean, you know why the fans like you. Tell me the connection between sensuality, the food and you as a musician.
It's all sensual. Food is part of the foreplay. When those flavors get together, the palette gets excited….the woman gets excited. I'm excited--
(Since I'm getting excited, I opt to quickly change the subject!) So who is your biggest critic when it comes to your cooking?
My brothers. They compare everything to my Mom's cooking. I have four brothers and one sister. My brothers are my biggest critics, but my biggest supporters too.
Related: Southern Comfort: Black Female Chefs, Mixologists Featured at Atlanta Food & Wine Fest
What's the response from the ladies, when you cook for your dates?
Well I was married for a long time. I mean I cooked for my wife for 10 years. The bulk of my cooking was for her. If you put a lot of love into the food, you'll get a reaction.
It seems like you do—especially, I hear, from your crew.
Yes. They like the curry corn and there are quite a few things my crew likes.
Now most chefs look like they never miss a meal. You're pretty fit.
I'm 170 lbs.
How do you stay so trim when you're tearing it up in the kitchen?
Genetics. Also I try to eat pretty balanced. I don't eat too much heavy, starchy food. No cheese at all. I try to watch what I'm eating since I'm always touring and running around.
What's next for your music career?
I'm producing a group next. I'll produce them, then start work on my new album.
[This interview has been edited and condensed for clarity]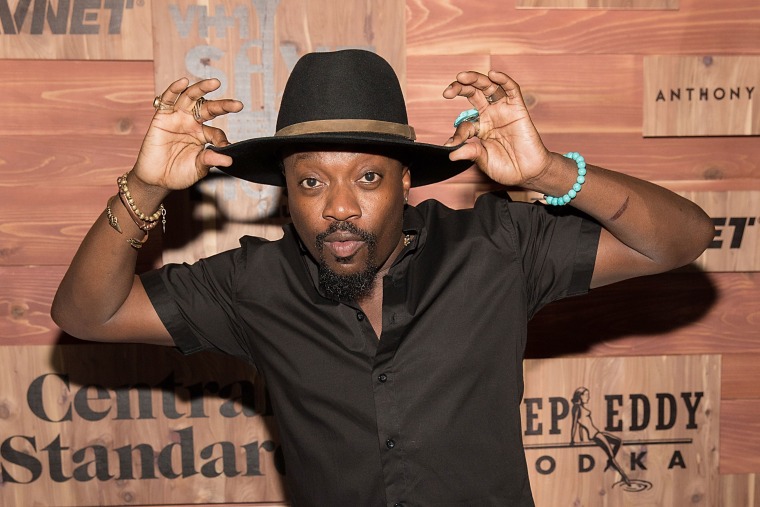 ---
Anthony Hamilton's Eggplant Recipe
---
Slice the eggplant in medium pieces (about ½ inch thick)
Drizzle a teaspoon of olive oil across both sides
Top both sides with salt, pepper
Place a frying pan on high heat
Place a tablespoon of olive oil in the bottom of pan
Brown eggplant for two minutes on each side until tender
---