To make ends meet, Jasmine Simon, 26, a single mother living in Las Vegas, Nevada, has to work three jobs while juggling classes as a political science major at the University of Nevada at Las Vegas.
"As women of color," she told NBC News, "We do that."
Which is why she has some concerns about the recently proposed, Republican sponsored tax overhaul bill. If passed, it would end the alternative minimum tax, reduce or repeal the estate tax, and cut taxes for pass-through entities. The Tax Policy Center reports that the proposed plan would also allow businesses to expense new investment, not allow businesses to deduct net interest expenses; and reduce federal revenue, raising federal debt over the next decade.
"If we just look at the proposed childcare tax credit alone, it does not help people like me; people who look like me," she said. "Each month I pay anywhere between $950 and $1,100 a month in childcare. To just give me a credit of $1,000 a year? That is not enough. It just does not help people who look like me."
During the Obama Administration, laws such as the Affordable Care Act were touted as benefits to African-Americans. According to a White House statement released in October of last year, the permanent expansions of the Earned Income Tax Credit and Child Tax Credit, during the Obama years provided relief for about 2 million African-American working families.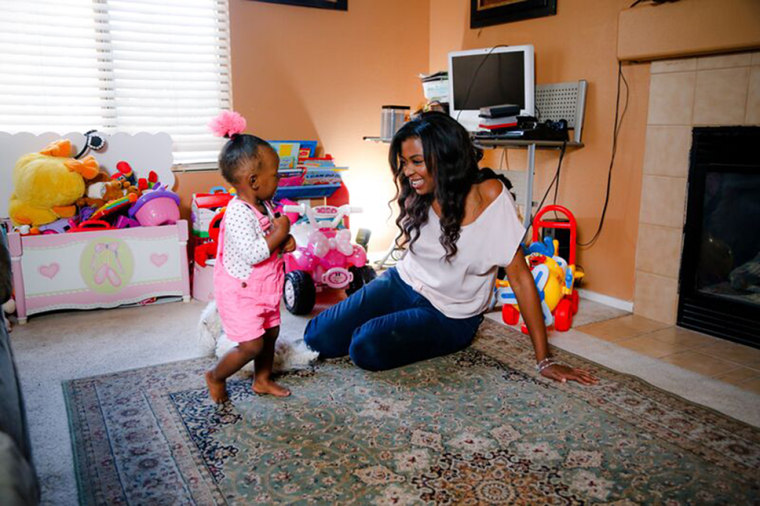 Simon is just one of several within the African-American community expressing their concerns over the Republican proposed bill. Marketed as a fix to the ills of the middle class, Julie Kashen, Policy Director at Make It Work points out that cuts like childcare assistance is in no way friendly to true middle class members.
"The GOP has proposed a tax bill that is a trillion dollar gift to the wealthiest Americans at the expense of working families," Kashen said in a statement. "Families need a bold, comprehensive solution. For working families to do better, our policies must do better."
Josh Hoxie, director of the Project on Opportunity and Tax at the Institute for Policy Studies said the proposed bill would have devastating impacts on communities of color. The plan, he points out, makes massive cuts to programs beneficial to millions.
"If you're not outraged, you're not paying attention," he told NBC News. "It is an enormous gift to the ultra wealthy and pretty exclusively benefits the ultra wealthy."
Congresswoman Yvette D. Clarke, D-N.Y., agrees.
"The GOP tax plan is nothing more than a massive transfer of wealth to the richest Americans at the expense of working families and underserved communities," she told NBC News in a statement. "The bill cuts taxes for major corporations who already pay far less than their fair share and reflects Republican values: Billionaires first, everybody else second."
The New Markets Tax Credit (NMTC) program is just one of the eliminations from the proposed plan that concerns Clarke. The program incentivizes investment in underserved communities.
"Over the years, this program has pumped billions of dollars into African-American communities – money that was matched by the private sector – and created good-paying jobs and spurred economic development," she said. "Massive spending cuts coupled with a repeal of economic development incentive programs like NMTC will devastate African-American communities for generations to come."
Things are already seemingly bleak for communities of color, according to a report, The Road to Zero Wealth co-authored by Hoxie. They noticed, Hoxie said, that there was a long term widening trend in the racial wealth that ran counter to the narrative that things were getting progressively equal.
They also looked at the racial wealth divide over the next four and eight years and the year 2043, when the U.S. population is predicted to shift to majority non-white.
"We find that without a serious change in course, the country is heading towards a racial and economic apartheid state," the report states. "If the racial wealth divide is left unaddressed and is not exacerbated further over the next eight years, median Black household wealth is on a path to hit zero by 2053 — about 10 years after it is projected that racial minorities will comprise the majority of the nation's population."
A few of the most jarring findings of the report are:
If the middle class were to be defined by wealth rather than by income, Black and Latino families in the middle-income percentile would need to earn 2-3 times as much as White families in order to enter the middle class.
The accelerating decline in wealth over the past 30 years has left many Black and Latino families unable to reach the middle class.
Between 1983 and 2013, the wealth of median Black and Latino households decreased by 75% (from $6,800 to $1,700) and 50% (from $4,000 to $2,000), respectively, while median White household wealth rose by 14% (from $102,200 to $116,800).
If current trends continue, by 2020 median Black and Latino households stand to lose nearly 18% and 12%, respectively, of the wealth they held in 2013. In that same timeframe, median White household wealth would see an increase of 3%.
By 2024, median Black and Latino households are projected to own 60-80% less wealth than they did in 1983.
Policies such as theproposed GOP tax overhaul will only exacerbate the problem, Hoxie believes.
"The first and foremost solution right now we should be focused on is do no harm, don't make the problem worse," he said. "Those with the time and means should use their resources to ensure the proposed tax cuts are blocked and that their communities pass legislation to protect and bolster those most precarious."
Making efforts to defeat the bill is paramount, said Simon.
"At this point, we must hold our political officials accountable," she said. "And with elections coming up, voting for people who can potentially reform these policies. When it is time to vote, study the candidates to get an idea of what they stand for instead of voting for the person whose name you recognize."