One month after Hurricane Matthew devastated parts of Haiti, more than 1.4 million people are in need of humanitarian assistance and, according to the United Nations over 800,000 of them need food urgently.
The category 4 storm has killed 546 people and caused widespread damage displacement and flooding, making it the country's largest humanitarian emergency since the 2010 earthquake.
Although emergency aid is arriving, Haiti is grappling with how to effectively allocate aid received to those who need it.
This week, a teenage boy was fatally shot by police in the town of Les Cayes during protests over delays in aid distribution. "We don't even have the ability to move aid off a boat. The food has been there for days," Les Cayes Mayor, Jean Gabriel Fortune told the Associated Press.
Fortune told the AP that the teenager was killed as protesters who tried to climb aboard a boat full of supplies clashed with police. He added that he was frustrated by what he called the inability and weakness of the central government of Port-au-Prince to act on aid coming into Haiti since the hurricane hit the island's southwest region on October 4.
Over 1,500 miles away in Brooklyn, NY, home to one of the largest Haitian communities in the United States, Haitian–American businesses and community organizations have spent the last few weeks figuring out how to help.
One of the main goals of this community effort is to ensure that the medical supplies and toiletries sent to Haiti are actually received and utilized by those in need back home.
"When you give a donation, it sitting on water somewhere or in a warehouse is not the thought you have…We are working together so that what we send reaches those who need it," said Melissa Florus, a board member of 4 Haiti New York City Inc. (4HNYC Inc.).
The organization, which formed six years ago, initially had a mission of raising funds to educate Haitian youth who were affected by the 2010 earthquake. Now, in the aftermath of Hurricane Matthew, 4HNYC Inc. has expanded its mission to include relief aid.
Volunteers have gathered almost daily at Haitian restaurants, bakeries and other establishments to pack over 30 barrels full of medical supplies and toiletries to send to Haiti.
"Barrels, or doumes as many of us Haitians call them also means love.To me it means a big container of love and when it gets to Haiti, it not only means support, but also some relief," said volunteer Karyne Tinord.
"This is something that we as a people must do to help our own and not depend on corporations and non profits that don't do anything, said Anthony Cunningham, co-owner of Kafe L'Ouverture, a small Haitian café and market on Halsey Street in Bedford Stuyvesant.
The café is one several locations across Brooklyn that have doubled as collection centers for donations over the last four weeks.
These relief coordinators are using a three-part system for getting items into the hands of those who need them. According to Florus, after the barrels are packed in Brooklyn they are shipped to Miami. Once in Miami, members of the Haitian-American Hurricane Matthew Relief Effort heading to the island to provide medical care, work to track shipments as well as transfer items to large suitcases to personally distribute once on the ground.
While she acknowledges that this is not a sure proof way to stop delays in distribution of the aid they are sending, Florus says that it has made a difference. "We have already confirmed that some shipments sent so far have reached people in some of the most affected areas," she said referencing pictures, videos and other reports sent from collaborators who are currently on the ground in Haiti.
Florus, along with several other 4HNYC board members will head to the island in December to assist with aid distribution and work with children who cannot go to school due to storm damage.
RELATED: In Kenya's Umoja Village, a Sisterhood Preserves the Past, Prepares the Future
The Haitian community in Brooklyn want to change the media narratives often told about the world's first independent Black republic. "There is not just disaster and dysfunction in Haiti. We are beyond what we see in the media," said Tinord.
This is why amid the ongoing relief efforts, it was so important to this community that the inaugural New York City Haitian Day celebration was still held at the Brooklyn Museum in October. "That [negative] perception cannot define Haiti. It is very important that we Haitian people, with our friends, come together to spread the facts…There are so many good things that you can talk about when you talk about Haiti," Dr. Mathieu Eugene told NBCBLK.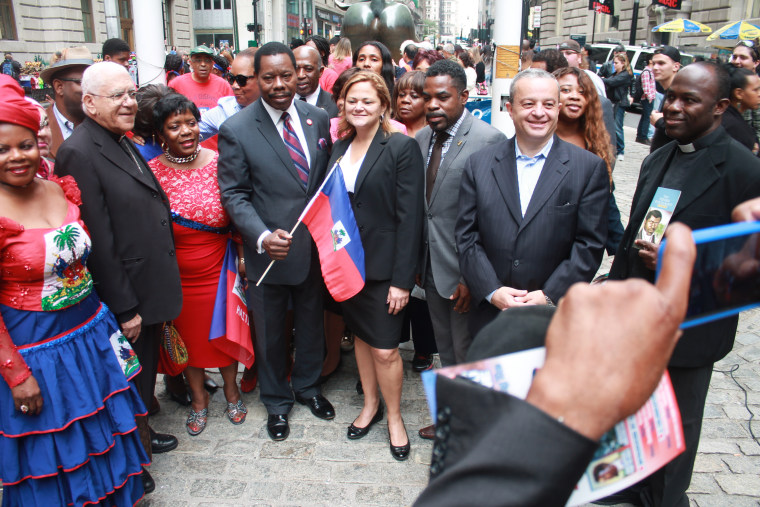 Dr. Eugene is the first Haitian-born official elected to the New York City Council. He introduced Resolution 687, which established October 9 as NYC Haitian Day and calls Congress to establish the holiday nationally. Dr. Eugene has also announced the formation of a permanent task force to aid relief efforts in Haiti.
"We are lawyers, doctors, taxi drivers, nurses, homeowners and we are business owners. We are part of the fabric of the United States of America. We have come together to help our home and we also have other stories," Dr. Eugene said.
Beyond donations, Florus says that another way to help Haiti is to visit. "By doing this we can show that there's more our island than disaster and you will support the local economy. You can come and have fun there. There are nice resorts and friendly people where you can come and enjoy yourself. The whole country was not affected."
For Tinord, this community-wide effort was a reminder of Haiti's motto — L'Union Fait La Force ("Unity Makes Strength"). "We are coming together and showing America, that yeah we might look like we're broken right now, but we're not. We're resilient. We're strong."