Just before bedtime on Monday night, Reginald Lysias sat his 6-year-old daughter down and told her something he knew would break her heart.
"I told her we have to go to Haiti," Lysias recalled. "She asked me, 'Why?' I told her that President Donald Trump doesn't want us to stay in the U.S."
The girl cried all night.
Lysias, a 40-year-old pastor at a Baptist church in Northern California, is one of as many as 60,000 Haitians living and working in the U.S. on a temporary residency program created after a catastrophic earthquake rocked the Caribbean nation in 2010. The Trump administration has announced that it plans to end "temporary protected status," or TPS, for those Haitians on July 22, 2019.
That means Lysias and his wife, Yolly, have just under two years to figure out what comes next. He is struggling to understand why his adopted country would turn him away.
Related: What does Haiti have to show for $13 billion in earthquake aid?
"I didn't sleep at all last night. I kept asking myself why this was happening," he said on Tuesday. "What will I do with my home, my car, the church that I lead?"
Lysias came to the U.S. to preach. He arrived in December 2009, spending several weeks speaking to churches across the Bay Area.
He was all set to return to his native country the following month, but disaster struck.
A magnitude-7.0 earthquake devastated Haiti in January 2010, killing tens of thousands of people and destroying countless homes and businesses. Lysias lost everything — including a school that he owned and where he had been principal.
"My life was gone. All of it," Lysias recalled.
But he and his wife soon found refuge. President Barack Obama, just days after the quake, granted 18-month protection status for Haitians living in America who otherwise might be forced to return to their shattered country. Obama renewed TPS every time it ran out.
"We had permission to stay and build a life," Lysias said. "We got a home, we paid our taxes."
Reginald and Yolly Lysias settled in Novato, a city in the affluent Marin County area of Northern California. He became a pastor at a small Baptist church, home to about 100 congregants. She became a nurse at Kentfield Hospital, just north of the Golden Gate Bridge. And together they raised four children. Three of their kids were born in America; the youngest is two.
Related: Families protected by U.S. plead with Trump administration to let them stay
All the while, Haiti continued to deteriorate. The nation grappled with horrid conditions — rampant homelessness, crumbling infrastructure, and the spread of disease and infection. And last year, the nation was lashed by Hurricane Matthew.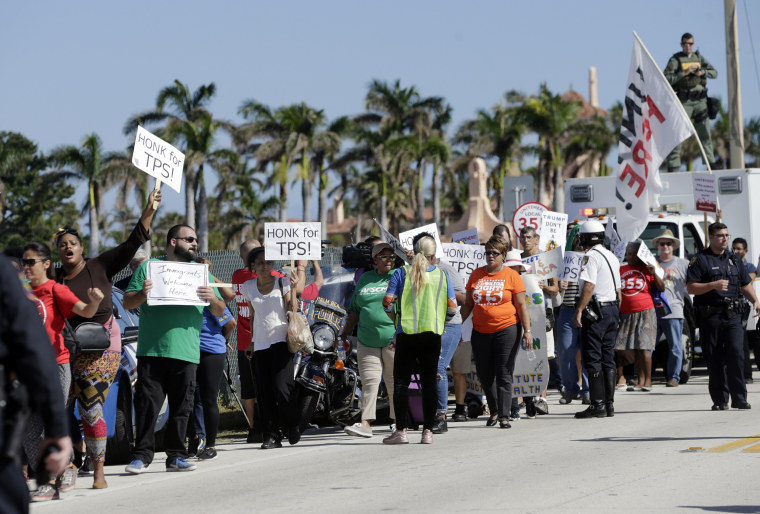 The Department of Homeland Security, however, has said life there has improved dramatically.
"Since the 2010 earthquake, the number of displaced people in Haiti has decreased by 97 percent," the department said in a statement on Monday night. "Haiti is able to safely receive traditional levels of returned citizens."
The administration announcement came 60 days before temporary status for the Haitians was set to expire. Homeland Security extended the program for six months in May, instead of the usual 18.
Lysias balks at the prospect of returning to Haiti, especially with his young kids in tow.
"I keep thinking about them," he said. "They don't speak Creole, they don't speak French. How will they go to school with a language they don't know? How will they adopt a home they don't know? How can we live in that country now?"
"We are terrified."