Historically Black colleges and universities have been embroiled in a student housing crisis for decades. Now, some are getting creative to address the problem.
Just in time for the fall 2023 semester, Fisk University in Nashville, Tennessee, will transform dozens of shipping containers into dorm rooms, forming a small residential community that will house 98 students, university Executive Vice President Jens Frederiksen told NBC News. The low-cost, easily manufactured dorms will have blue and gold exteriors — the university's colors — with private bathrooms, kitchenettes and showers inside. The project will cost about $4 million, Frederiksen said.
"I think this is a brilliant and innovative solution and it works for us," Frederiksen said. Fisk is believed to be the second U.S. higher education institution to utilize shipping containers for student housing after the College of Idaho implemented dorm-style containers in 2020. Although shipping containers have been used for everything from housing to urban farming in the U.S., colleges and universities have only recently turned to the solution to meet student population needs. 
"The enrollment is growing so fast, and the shipping containers provide some sustainable flexibility. We have four current residence halls, but they are aging dormitories. So I think the containers will serve as a sustainable solution for the foreseeable future," Frederiksen said.
The housing crisis at HBCUs is long-standing and well documented: There isn't enough housing available to accommodate rising HBCU enrollment, students endure poor living conditions on some campuses, and off-campus housing is largely inaccessible. 
Fisk is one of several HBCUs working to provide housing accommodations for a rising number of students as HBCUs are seeing a modest increase in enrollment after years of decline. Applications at HBCUs have spiked in recent years, according to a report from Inside Higher Ed. And in fall 2021, Morehouse College in Atlanta saw a 70% increase in new students compared with fall 2020, with residential student applications increasing by 17% between 2020 and 2021, according to the school's website. Even smaller schools like Cheyney University in Pennsylvania, which lost 38% of its student body during the 2017-2018 school year, saw a 50% increase in enrollment from 2018 to 2022, according to the school's website. As for Fisk, the small liberal arts university saw its total enrollment jump from 630 to 1,050 in just under five years, Frederiksen said. 
This is good news after HBCUs saw their lowest enrollment in nearly 20 years during the 2018-2019 school year. But it's also spelled trouble for the historically underfunded schools as they've struggled to house the new students.
HBCUs were founded to give Black students an opportunity for a higher education — and, in turn, upward mobility — when most colleges were segregated. But decades of underfunding, exacerbated by national economic downturns, have laid the groundwork for the current housing crisis, experts say. For example, Tennessee State University reportedly put some students up in hotels ahead of the fall 2022 semester and invited students to take classes online at a free or discounted rate as officials worked to address housing issues. 
In 2021, Howard University's decades of housing issues reached a boiling point when undergraduate students began occupying a student center to protest poor living conditions in residential halls. Students complained about rodents, flooding and other haphazard conditions, and a university official said mold was identified in at least 38 dorm rooms. A group of students staged a sit-in at the Blackburn University Center — known as the "Blackburn Takeover" — for weeks in the fall of 2021 until the students reached a confidential agreement with administrators at the Washington, D.C., university. 
In September 2022, Howard University officials announced the development of a new residential and commercial building near the campus, with up to 500 residential units inside. 
Of nearly 5,000 surveyed students at HBCUs in 2020, 55% said they struggled to maintain safe, affordable and consistent housing — and 20% said they experienced homelessness in the prior year, according to a 2022 report from the The Hope Center for College, Community and Justice at Temple University and Virginia Union University's Center for the Study of HBCUs. Nearly 50% reported having limited access to food within the month before taking the survey. 
"The forces driving these trends of housing insecurity, food insecurity and other basic need insecurities at HBCUs are many," said Terrell Strayhorn, director of the Center for the Study of HBCUs. "One is the fact that what happens in society impacts colleges and universities. Colleges and universities are microcosms of the greater society."
At Fisk, university leaders sought student input for the shipping container project, and it was immediately popular among the student body — a majority of whom live on campus.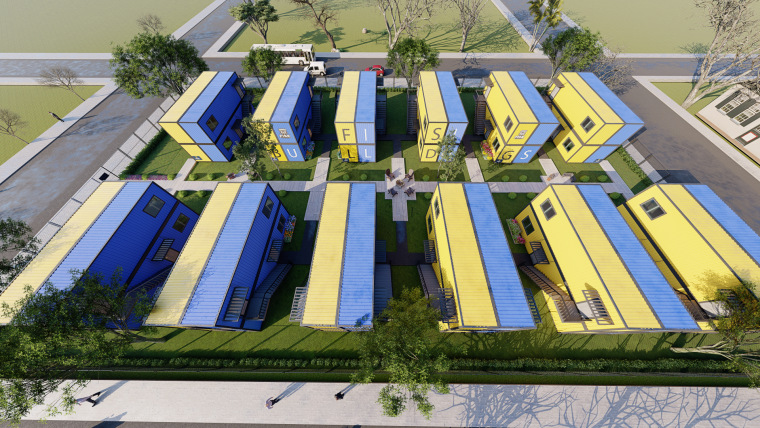 "We went to the student body, we did town halls, we did some surveys, and the response was incredible. They all wanted to live in these shipping containers," Frederiksen said.
President Joe Biden campaigned on vows to fund HBCUs. In its first year, the Biden administration invested $5.8 billion in HBCUs, including through pandemic relief, debt relief and grant funding, it said in December 2021. 
And the U.S. Department of Housing and Urban Development announced in September 2022 that it would give $5.5 million in grants for HBCUs to conduct housing and community development research.
Frederiksen said Fisk University received funding through a federal loan program to build a large, traditional residence hall, but that structure wouldn't be ready for students until 2024 at the earliest. The container dorms, Frederiksen said, serve as a quicker solution to the school's housing problem. He added that the $4 million came from additional donors.  
Meanwhile, other projects like the HBCU Healthy Housing (H3) Initiative from the Virginia-based advocacy group Student Housing of America are partnering with universities to build additional housing. So far, the organization has worked with Southern University and A&M College in Baton Rouge, Louisiana, to transform an abandoned property near campus into housing for 564 students, SHA President Shaun Wiggins told NBC News. It's the first in what the organization hopes will be many properties affordably transformed for HBCU students. Wiggins said the organization is currently working to acquire another property for housing at an HBCU in Georgia, but their efforts aren't just about providing students with places to live.
"Students need more than just affordable housing," Wiggins said. "We want to take a holistic approach. Housing is just one part; success means that while you're studying you have a safe place to live, food to eat, you have to have good credit. We want to partner with food banks or restaurants. We're constantly looking to grow this initiative. We're asking what else we could offer."
Experts like Wiggins and Strayhorn say it will be increasingly important for colleges and universities to be creative and innovative in the face of student housing insecurity. And for Fisk University, the container dorms are a quick fix that the school will utilize for years to come, Frederiksen said.  
"I don't have enough perspective to say what will work for other institutions. But do I think it's a situation that is replicable elsewhere? Absolutely," he said.