The late journalist and newscaster Gwen Ifill will be commemorated with a Forever stamp from the U.S. Postal Service next year.
The Postal Service announced on Tuesday that Ifill's photograph will be featured on the 43rd stamp in the Postal Service's Black Heritage series.
"Among the first African Americans to hold prominent positions in both broadcast and print journalism, Ifill was a trailblazer in the profession," the Postal Service said in their Tuesday release.
Ifill made history at PBS as the first Black woman to host a national political talk show on "Washington Week", and as a member of the first all-female anchor team on a nightly newscast with NewsHour.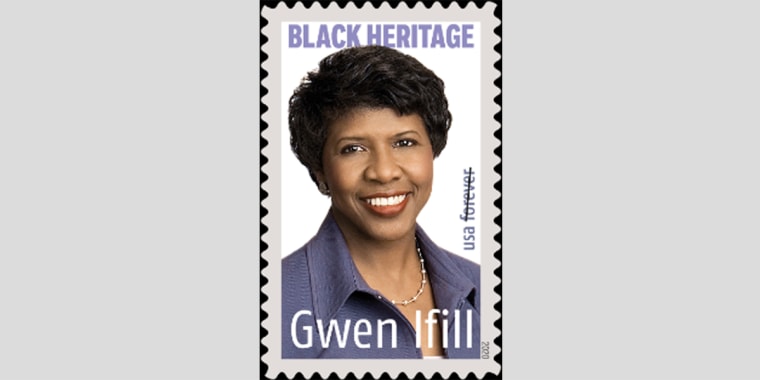 "Never have we faced tougher challenges, and no one would have risen to them better," Judy Woodruff, Ifill's co-host on PBS' "NewsHour," said.
In her 17 years at NewsHour, Ifill covered eight presidential campaigns and moderated vice-presidential debates in 2004 and 2008. In 2009, she wrote "The Breakthrough: Politics and Race in the Age of Obama," which was published on inauguration day.
"Gwen covered politics and the presidential race with class, wisdom and insight, separating her from the pack," Sarah Glover, president of the National Association of Black Journalists, said.
Before her groundbreaking career at PBS, Ifill also wrote for The Washington Post and The New York Times. In the 1990s, she transitioned to television and covered politics and Congress for NBC News.
Ifill's alma mater, Boston's Simmons College, which she graduated from in 1977, renamed its communications school the Gwen Ifill College of Media, Arts and Humanities in her honor.
At the age of 61, Ifill died after a yearlong battle with cancer while in hospice care.
"She was the most American of success stories," said Sherrilynn Ifill, a law professor, director of the NAACP Legal Defense Fund, and Gwen Ifill's cousin. "Her life and her work made this country better."